Wonder who are the the best NFL players of all-time? Here are our picks:

Offense

QB: Joe Montana (1979-94). Montana is a two-time league MVP, but he is best known for winning four Super Bowls. Perhaps the best pure passer of all-time, Montana revolutionized with timing and accuracy that had never been seen before. He's our pick for the top NFL Quarterback in history.
RB: Walter Payton (1975-87).
Known simply as "Sweetness", Payton was a nine-time Pro Bowl selection, once held the League's record for most career rushing yards, touchdowns, carries, to go along with a number of other categories. Here's an opinion that
Walter Payton was the best football player ever
.


RB: Jim Brown (1957-65). Brown retired as the NFL record holder for both single-season (1,863 in 1963) and career rushing (12,312 yards), as well as the all-time leader in rushing touchdowns (106), total touchdowns (126), and all-purpose yards (15,549). Not only is he considered one of the best football players of all-time, but Brown is widely considered one of the greatest athletes to ever live. In fact, SEC Sports Fan named Jim Brown as the best pro football player of all time.

WR: Jerry Rice (1985-04). The all-time leader in most major statistical categories for wide receivers and the all-time NFL leader in touchdowns scored with 207, Rice was selected to the Pro Bowl 13 times (1986–1996, 1998, 2002) and named All-Pro 11 times in his 20 NFL seasons. Here's more about the best all time pro wide receiver.

WR: Randy Moss (1998-Present). Still playing at an elite level at the age of 34, Moss has amassed an amazing 926 receptions, for 14,465 yards and 148 touchdowns. By the time he retires, Moss could challenge some of the top receiving records of all-time.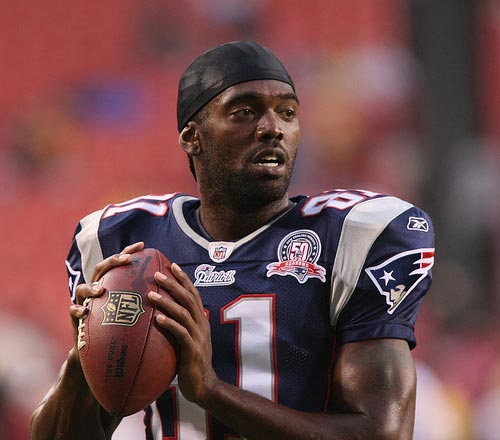 Thanks to Keith Allison from Flikr.com for this great picture of Randy Moss at FedExField.
---

TE: Kellen Winslow (1979-87). Winslow is credited with revolutionizing the tight end position. One of the first and best pass-catching TEs, Winslow exceeded the 1,000 yards receiving milestone in 3 different seasons, including setting a single season record for receiving yards (a record that still stands) by a tight end with a whopping 1,290 yards in the 1980 season. In a 1981 regular season game, Winslow tied an NFL record by catching five touchdown passes.

OL: 
OT – Anthony Munoz (1980-92)
G - Gene Upshaw (1967-81)
C - Mel Hein (1931-45)
G - John Hannah (1973-85)
OT – Orlando Pace (1998-2009)

Defense

CB: Rod Woodson (1987-03). Woodson's big play ability is proven by holding the record for career interception return yardage (1,483), interception returns for touchdowns (12) and 71 career interceptions. Woodson was also named the NFL Defensive Player of the Year in 1993.

CB: Mel Blount (1970-83). With the pass interference rule not yet implemented, Blount is considered the most physical and feared defensive back of all-time.

S: Ronnie Lott (1981-94). In his 14 NFL seasons, Lott recorded 8.5 sacks and 63 interceptions, which he returned for 730 yards and five touchdowns.

S: Ken Houston (1967-80). The definition of consistency, Houston was an all-league player for twelve consecutive years. Throughout his career, Houston intercepted 49 passes, recovered 21 fumbles, gained 1,498 return yards (on interception, fumble, blocked field goal, kickoff, and punt returns), and scored 12 touchdowns.

LB: Lawrence Taylor (1981-93). Widely considered one of the best defensive players of all-time, Taylor won a record three Defensive Player of the Year awards and was named the league's Most Valuable Player for his performance during the 1986 season.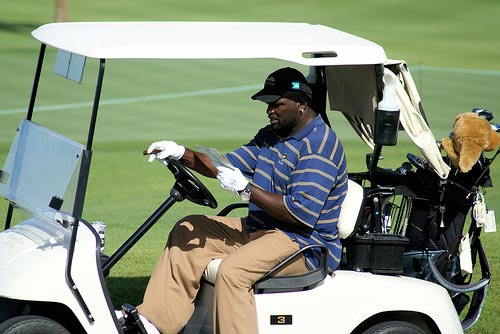 Thanks to Barbara from Flikr.com for this great picture of Lawrence Taylor's Post-NFL life.
---

ILB: Dick Butkus (1965-73). Butkus does not have glaring statistics, but his is considered one of the most feared linebackers to ever play the game. He was the hart and soul of some of the best teams in history.

LB: Jack Ham (1971-82). Ham's career statistics include 25 sacks, 21 fumbles recovered, and 32 interceptions. Those numbers place him in the Defensive 20/20 Club (20 interceptions and 20 sacks) with eight other recognized members.

DL:
DE – Reggie White (1985-00)
DT – "Mean" Joe Greene (1969-81)
DT – Bob Lilly (1961-74)
DE - David "Deacon" Jones (1961-74)
Check out our
All-Time College Football Fantasy Team
.
What do you think?

We'd love to hear your comments and/or opinions. If you submit them here, other visitors can read them, rate them and comment on them. An e-mail address is not required.


---
Top 2010 Fantasy Football Picks | 2010 NFL Power Rankings Preview | Best Football Player of All Time | Best All Time Professional Football Player | Best All Time Professional Football Team | Best All Time Defensive Professional Football Team | Best All Time Professional Football Coach | Best All Time Professional Football Fans | Best All Time Professional Football Franchise | Top All Time Professional Football Franchise | Best All Time Professional Football Linebacker | Best All Time Professional Football Rivalry | Best All Time Professional Football Quarterback | Best All Time Professional Football Runningback | Best All Time Professional Football Linebacker Unit | Best All Time Professional Football Stadium | Best All Time NFL Football Division | Best NFC West NFL Fans | Best All Time Professional Football Defensive Player | Best All Time Dallas Cowboys Linebacker | Best All Time Super Bowl | Best All Time Pro Football Quarterback Never Win Super Bowl | Best All-Time Professional Football Wide Reciever |
---
From NFL All-Time Team to History of Professional Football | Best All Time Sports Blog | MLB History | History of NBA | History of Hockey | NCAA Football History | NCAA Basketball History | NCAA Baseball History | Small College Football History | History of College Sports | Olympic Sports History | History of All Sports | Best Moments in Sports History | Worst All Time Sports Moment | Current Best All Time Sports News | Best Sports Forum | Best Sports Blogs | NFL Football Apparel and Merchandise | MLB Baseball Apparel and Merchandise | NBA Basketball Apparel and Merchandise | NHL Hockey Apparel and Merchandise | College Fan Apparel and Merchandise | Small College Sports Apparel and Merchandise | Other Sports Fan Apparel and Merchandise | Best Sports Gifts | Fathead | Sports Tickets |
---
Home Page

About Us | Contact Us | Site Search | Advertise | Terms of Use |
---