Best All-Time Professional Football Quarterback to Never Win a Super Bowl


This article is meant to recognize the greatest quarterback never to have the good fortune to win a Super Bowl.  That QB is Dan Marino.  Some say he's the best quarterback ever.  We can't buy that – after all, he never won it all.  But, we do think Marino is the best pro QB to never win a Championship. 


Dan Marino, loved by many fans worldwide, was a first-round draft pick for the Miami Dolphins in 1983.  He went to college at Pittsburgh, Pennsylvania.  He spent seventeen professional seasons as the starting quarterback of the Miami Dolphins and broke almost every passing record possible.


His throwing strength and receiver accuracy was consistently among the supreme elite throughout his illustrious and celebrated career.  Despite breaking record after record and producing phenomenal stats, Dan Marino has had to carry around the encumbrance of being known as the best quarterback not to win the Super Bowl.  Though he did make it to the Super Bowl (lost to Joe Montana's 49rs) and was named NFL MVP in 1984.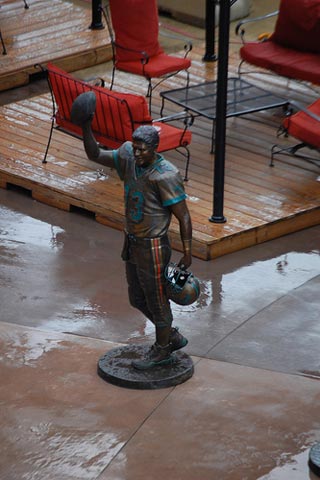 Dan Marino in Bronze. Thanks to flickr.com for the picture. Source: Mr. Usaji
---

His legacy and place among past quarterback will be in question because of his lack of post-season success with some.  Arguably, if Marino had won just a single Super Bowl, then he would be officially documented as the best all time pro football quarterback ever, similar to how Michael Jordan has been hailed as the greatest basketball player of all-time.


It is one thing to be the kind of player who makes it to the championship and wins.  It is one thing to be recognized for the achievement of the dream.  It is quite another thing entirely to be recognized by so many devoted fans as the man who just did not quit.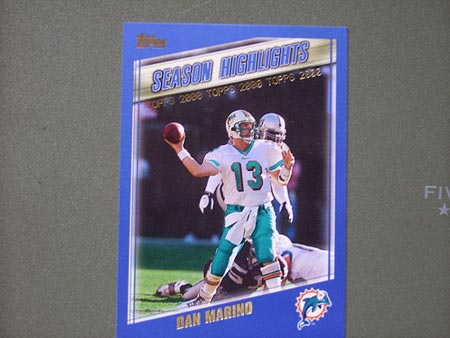 Dan Marino. Thanks to flickr.com for the picture. Source: jblpn
---

When you watch any footage of a pro game that Dan Marino was in you will see a quarterback who is giving his all to his team and his fans even when there were only seconds to spare on the clock in a losing game.


His stats alone state that not only is he the best all time pro football quarterback not to win the Super Bowl, but it was his spirit and heart in the game that makes him one of the best pro football quarterbacks ever to grace the gridiron.
Check out our Super Bowl Trivia Questions, Best Sports Super Bowl Trivia Questions and Free Superbowl Trivia Questions
What do you think?

We'd love to hear your comments and/or opinions. If you submit them here, other visitors can read them, rate them and comment on them. An e-mail address is not required.


---
Best All Time Professional Football Player
|
Best All Time Professional Football Team
|
Best All Time Defensive Professional Football Team
|
Best All Time Professional Football Coach
|
Best All Time Professional Football Fans
|
Best All Time Professional Football Franchise
|
Top All Time Professional Football Franchise
|
Best All Time Professional Football Linebacker
|
Best All Time Professional Football Rivalry
|
Best All Time Professional Football Quarterback
|
Best All Time Professional Football Runningback
|
Best All Time Professional Football Stadium
|
Best All Time NFL Football Division
|
Best NFC West NFL Fans
|
Best All Time Professional Football Defensive Player
|
Best All Time Professional Football offensive Line
|
Best All Time Dallas Cowboys Linebacker
|
Best All Time Super Bowl
|
---
From Best All Time Pro Football Quarterback Never Win Super Bowl to History of Professional Football | Best All Time Sports Blog | MLB History | History of NBA | History of Hockey | NCAA Football History | NCAA Basketball History | NCAA Baseball History | History of College Sports | Olympic Sports History | History of All Sports | Best Moments in Sports History | Worst All Time Sports Moment | Current Best All Time Sports News | NFL Football Apparel and Merchandise | MLB Baseball Apparel and Merchandise | NBA Basketball Apparel and Merchandise | NHL Hockey Apparel and Merchandise | College Fan Apparel and Merchandise | Other Sports Fan Apparel and Merchandise | Fathead | Sports Tickets |
---
Return to Home Page
About Us | Contact Us | Site Search | Advertise | Terms of Use / Privacy Policy |
---