Defining the "greatest" NFL team to take the field is really an impossible task. To name the top quarterback was difficult but not impossible; opinions will always vary but no QB combined statistical greatness, longevity, and rings quite like Joe Montana. When it comes to teams, however, there are so many different factors in picking the top team ever that the question becomes impossibly muddled.
Are you looking for the 1999 Rams whose, "Greatest Show On Turf" marked them as the NFL's best all time offensive team? Or the 1985 Bears team that set a defensive standard that has never been matched? A combination of the two? How do you weigh single season performance versus dynastic longevity? Do eras matter? Does star power matter or do you follow the San Antonio Spurs model? All these questions factor in and, in the end, everyone's criteria differs so widely that each answer amounts to an opinion only. That said, here is my answer to the question: my opinion on the greatest NFL team ever to play is the 1989 San Francisco 49rs.

In my view, four main factors come into play. The chosen team must have been in the top five all time both offensively and defensively; played within the last thirty years; had some level of dynastic continuity; and finally, captivated the nation with its performance and star power.

Why do these factors matter and which teams do they eliminate? First, while teams like the 1999 Rams and 1985 Bears were undeniably special, neither was totally dominant on both sides of the ball. Furthermore, like the 1991 Redskins, they were, to a large degree, one-hit wonders because they had no other Superbowl wins, or even appearances, to bookend their respectively historic seasons.

The second factor, the playing era, is important because the pro football game has progressed so much in the past three decades. While I enjoy watching Lombardi Packer film from the 1960s as much as the next guy, the fact is that those old legends simply couldn't match up in the game today. As tough as the offensive lineman were in those days, I am firmly convinced that if you released Texas DE Mario Williams, all 6'7" and super-humanly fast 350 pounds of him, onto those lines he would simply ravage them. And, on the flip side, if you unleashed Chris Johnson and his 4.24 combine time onto 'Mean Joe Green' and the 1975 Steelers defense they would be hopeless. Mean Joe might eat Johnson after the game but I doubt he could catch him on the field. Therefore, while teams such as the 1972 Dolphins, who famously went 17-0, the 1962 Lombardi Packers, and the 1971 Cowboys were undeniably historic, they would be unlikely to match up against the top teams in the game today. To make a cross-sport reference, it is almost like comparing George Mikan's greatness from the 1950's to that of Shaquille O'Neal today; while Mikan dominated in his day, every single he took would be blocked by the Diesel in his prime.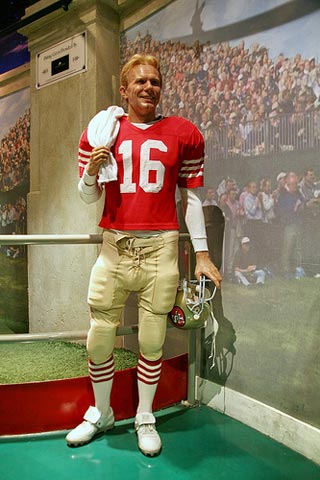 Thanks to Cliff from Flickr.com for this great picture of NFL hall of fame Joe Montana.
---

Ultimately, one NFL team fulfills all four factors and is therefore, in my view, the best team to ever march onto a football field. The team is the 1989 49ers were exceptional in every way.

Offensively, the team boasted the best QB and WR tandem ever to play, Joe Montana and Jerry Rice, who connected for 82 passes and 1483 yards that season. The offensive also boasted a strong line and capable complimentary performers in RB Roger Craig (1000+ yards) and WR John Taylor. However, what made this team rise above its peers was its exceptional play on the defensive side of the ball as well. Featuring Hall of Fame safety Ronnie Lott and six other multiple pro-bowlers, the defense quietly had an exceptional season complementing the squads' offensive firepower. After a 14-2 season, the 49ers blazed through the playoffs and erased a top notch Broncos team 55-10 in the Superbowl. Furthermore, in addition to excelling at both ends of the field, this 49ers team was sufficiently recent to, in my view, compete effectively today. And, lastly, the 1989 49ers were a bookend of the 1980's dynasty that won four Superbowls and were, therefore, a team that had both dynastic continuity and star power that endures to this day.

So, I pick the '89 San Fran 49rs as the best all-time professional football team.
What do you think?

We'd love to hear your comments and/or opinions. If you submit them here, other visitors can read them, rate them and comment on them. An e-mail address is not required.


---
Best All Time Professional Football Player
|
Best All Time Defensive Professional Football Team
|
Best All Time Professional Football Coach
|
Best All Time Professional Football Fans
|
Best All Time Professional Football Franchise
|
Top All Time Professional Football Franchise
|
Best All Time Professional Football Linebacker
|
Best All Time Professional Football Rivalry
|
Best All Time Professional Football Quarterback
|
Best All Time Professional Football Runningback
|
Best All Time Professional Football Stadium
|
Best All Time NFL Football Division
|
Best NFC West NFL Fans
|
Best All Time Professional Football Defensive Player
|
Best All Time Professional Football offensive Line
|
Best All Time Dallas Cowboys Linebacker
|
Best All Time Super Bowl
|
Best All Time Pro Football Quarterback Never Win Super Bowl
|
---
From Best All-Time Professional Football Team to History of Professional Football | Best All Time Sports Blog | MLB History | History of NBA | History of Hockey | NCAA Football History | NCAA Basketball History | NCAA Baseball History | History of College Sports | Olympic Sports History | History of All Sports | Best Moments in Sports History | Worst All Time Sports Moment | Current Best All Time Sports News | NFL Football Apparel and Merchandise | MLB Baseball Apparel and Merchandise | NBA Basketball Apparel and Merchandise | NHL Hockey Apparel and Merchandise | College Fan Apparel and Merchandise | Other Sports Fan Apparel and Merchandise | Fathead | Sports Tickets |
---
Return to Home Page
About Us | Contact Us | Site Search | Advertise | Terms of Use / Privacy Policy |
---