MLB History


---
Jump straight to our
Best All Time Professional Baseball Articles
---

Major League Baseball (MLB) is chock full of history and tradition. After all, it is THE Great American Past Time.


MLB history began with a single ball and has risen to become the great American past-time it is today. Most people think that a man by the name of Abner Doubleday is responsible for "inventing" the game. It is true that Doubleday created the game of "Rounders" -- which is now known as baseball. However, it was Alexander Cartwright who added rules to the game of "rounders" and established the first team competition played by the new rules back in 1846. That was what really started the baseball craze.


The first professional MLB team was created in 1869 with the first all-salaried team, the Red Stockings. In 1871 the first professional baseball league was formed, the National Association. The National Association was later replaced by the National League of Professional Baseball Clubs. In 1903 the National Agreement was signed, giving the American Association Major League status and uniting it with the National League. If you have to pick one date; one event, as the beginning of Major League Baseball, this would be it.


After 1903, the American and National Leagues gradually developed a joint organizational structure. However, it actually wasn't until 2000 that the two leagues, as separate legal entities, were officially disbanded and joined under one MLB Commissioner's office.


During the 1920's when Major League Baseball began, games were played using the same ball throughout, ending in the ball being a battered piece of mush. That was the reason that time is known as the "Dead Ball Era". Homeruns were fewer and plays were made from base hits, singles, or doubles. It was the hit that mattered with the greatest hitters being the ones who could actually hit a homer with a softened ball or at least advance a runner on base a couple plates.


Some great hitters in the early years of MLB history were Ty Cobb and Honus Wagner. Great pitchers of those days included Cy Young and Walter Johnson. These baseball greats laid the foundation of what baseball is about today and were some of the first to see what is known today as the World Series.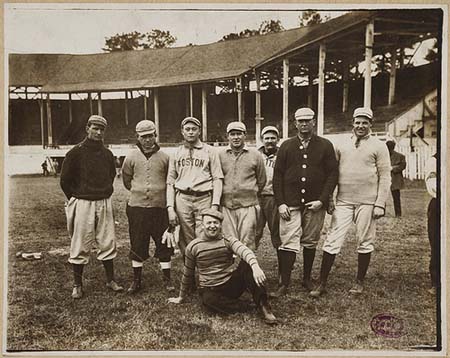 Left to right: Railing, Killian, pitcher Ralph Glaze, Michael T. McGreevey, pitcher Cy Young, pitcher Rube Kroh, and trainer Charlie Green in front.
Thanks to Boston Public Library at flickr.com for the picture.
---


Even back in the 20's, professional baseball players like the New York Yankees' Babe Ruth (previously a member of the Boston Red Sox) were getting hefty compensation for playing the game. Ruth made $125,000.00. Was he worth it? Heck yes he was; every single cent with his first season with the Yankees hitting 54 home runs. Other greats of Babe's time were Lou Gehrig and Hank Greenberg.


It wasn't until after World War II that African Americans were allowed into the all-American game of Major League Baseball which even brought more excitement to the game as well as a bunch of new talent -- such as Jackie Robinson. Extra balls started seeing their way into the game and more home runs came with them. Lighted baseball fields brought the sport of MLB to the evening time, broadening its viewers as well as fan base.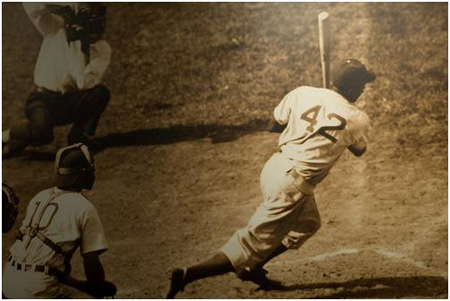 Jackie Robinson.
Thanks to Patrick - msigarmy.com at flickr.com for the picture.
---

In 1953 the Major League Baseball Players Association (MLBPA)was formed and with the MLBPA came higher salaries and more rights for the players.


MLB history is full of many greats; firsts; and all-time bests that will continue as long as there is a plate, bat, ball, and rivals.

There's lot's more really interesting stuff about baseball history at Baseball Farming.

Now, for our Best All Time Professional Baseball Articles

Finding a special gift for the Baseball fans Best Major League Baseball Gifts
What do you think?

We'd love to hear your comments and/or opinions. If you submit them here, other visitors can read them, rate them and comment on them. An e-mail address is not required.


What Other Visitors Have Said
Click below to see contributions from other visitors to this page...

Best Rivalry in Baseball History Not rated yet
Without a doubt in any baseball fan's mind, the top rivalry in baseball history is definitely between the New York Yankees and the Boston Red Sox. The …
---
From MLB History to Best All Time Sports | Best All Time Sports Blog | History of Professional Football | History of NBA | History of Hockey | NCAA Football History | NCAA Basketball History | NCAA Baseball History | History of College Sports | Olympic Sports History | History of All Sports | Best Moments in Sports History | Worst All Time Sports Moment | Current Best All Time Sports News | Best Sports Forum | NFL Football Apparel and Merchandise | MLB Baseball Apparel and Merchandise | NBA Basketball Apparel and Merchandise | NHL Hockey Apparel and Merchandise | College Fan Apparel and Merchandise | Other Sports Fan Apparel and Merchandise | Fathead | Sports Tickets |
---
Return to Home Page
About Us | Contact Us | Site Search | Advertise | Terms of Use / Privacy Policy |
---