The sports world saw an all-time low when Mike Tyson decided to take a bite out of Evander Holyfield's ears during a June, 1997 boxing match. Tyson's infamous chomp wins the auspicious honor of being the worst all-time sports moment. What makes this event memorable enough to go down in history as the all time worst sports moment? This incident perfectly illustrates how hard and far the lofty can fall and how low human nature can sink in the arena of public competition.
Previously, the sports world had watched and been horrified by petty squabbles that turned nasty, such as when skater Tonya Harding hired a henchman to take out Nancy Kerrigan, but Harding didn't chow down on Kerrigan's kneecaps. Tyson's bites showed the world that animalistic hungers are not always controlled and people can give in to their more feral instincts that push them to win at all costs. Tyson was fueled by his humiliating defeat by Holyfield eight months prior to the infamous June '97 match up. One can only assume that Tyson allowed his rage at being knocked out by Holyfield in their late 1996 face off to build and consume him.

The scheduled grudge rematch between Tyson and Holyfield was touted and hyped by every media outlet and every person who even mildly cared. The $100-million rematch was called "The Sound and the Fury." It should have been called "Appetite for Destruction" as that's exactly what Tyson showed.

After two rounds of being dominated by champion Holyfield, Tyson allows his blind and mindless rage to take over. He comes out of his corner without his mouthpiece. Holyfield signals to the referee who forces Tyson to return to his corner, but apparently the breaking point has been met because Tyson comes after Holyfield with a vengeance - grappling and pummeling while Holyfield returns fire, meeting Tyson in both strength and ferocity, but not in anger. Tyson then does the unthinkable. With 40 seconds left in the third round, Tyson gets Holyfield in a clinch. He spits out his mouthpiece then bites down on Holyfield's right ear, taking a chunk with him.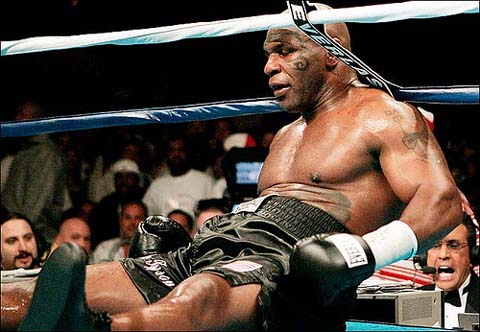 Mike Tyson.
Thanks to german rocca on flickr.com for the picture.
---

The live crowd - and those watching from the comfort of their own homes - are horrified at the gruesome and animalistic display. Worst sports moment in history? It doesn't get any worse than this - but this one does get worse as it takes another low turn. After the referee stops the fight, a bleeding Holyfield turns to walk back to his corner, but Tyson isn't finished. Tyson attacks Holyfield from behind, slamming him in the back and sending the champion into the ropes. After stern warning from the referee, the fight resumes, but the taste of blood has apparently whetted Tyson's appetite. In another shocking move, Tyson gets Holyfield in another clinch, and bites again - taking an even bigger piece of Holyfield's left ear.

Chaos ensues with Tyson taking a swing at a police officer who enters the ring and making obscene gestures at fans. Tyson is immediately suspended and relegated to the hall of shame in the history of worst all-time sports moments.

Here's the video:
Which do you think is the worst all-time sports moment?