Worst All-Time Sports Arena


When debating the all-time worst sports stadium, fans usually think of terrible football or baseball stadiums. However, if you are looking for the worst arena or stadium ever, in sports history, you need to look to the wonderful world of tennis.
Tennis is a bigger sport than many might realize. It is popular enough to be followed on television. The US Open is a pretty big event each year. So why wouldn't stadium owners put a little more thought and care into how they build their arenas?
As an example of just how bad a tennis arena can be, let's take a look at Arthur Ashe Stadium in Queens NY. We are not going to look at any of the positive sides of Arthur Ashe stadium unless those points are come upon by accident.
Arthur Ashe Stadium is no hidden treasure to say the least. While some stadiums are infamous for being hated by the fans, others by the players themselves, and others just look garish on television, Arthur Ashe stadium is famous for achieving all three points of distinction to earn it's rightful place as the worst sports stadium anywhere.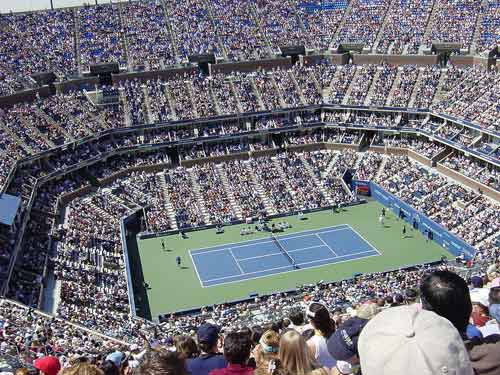 Arthur Ashe Stadium 2005 US Open.
Thanks to wikipedia.org for the picture.
---
With a seating capacity of over 23,000, the casual observer might think that being the largest tennis stadium in the world would be good. Wrong. The sheer size alone can only guarantee nothing more than more bad seats than any other venue on earth.
Besides the sheer number of bad seating, you'll need to add to the discomfort that, the architects who designed this monstrosity had absolutely no thoughts for any fans other than those sitting in the luxury boxes. There is a double-decker stack of those to give any other fan, at best, a good case of eyestrain while trying to watch a match.
Tennis should be a fun sport to watch. It shouldn't be a bad headache after so much squinting. If this stadium's owners were hoping to keep revenue up by focusing solely upon those VIP's who would be using the luxury boxes…they failed. Besides, wouldn't it be better to sell 23,000 plus tickets, at $20 each, repeatedly than it is to sell a few season passes every now and then?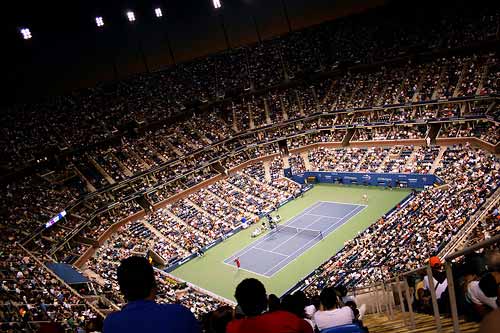 Arthur Ashe Stadium US Open 2007.
Thanks to coolgates on flickr.com for the picture.
---
As for the fans level of comfort, well, that's quite bad enough. Arthur Ashe even looks bad on TV. So even the home viewing fans don't quite get to enjoy the ambiance that's usually associated with the sport of tennis. Even the players complain about the ambiance. The odds are good that all fans are even missing out on players giving their best just because of the general disdain for the worst stadium ever amongst players.
When there are fewer and fewer fans attending, not only are ticket sales in the slump, but vendor sales are going to hurt too. Low fan turnout alone is a great indicator that this is the worst sports arena currently. As a vendor it's all about the Benjamin's baby. Why would any vendor want to invest their funds in any location that gets less traffic than downtown Manhattan?
Sorry, Arthur Ashe was great; but, the stadium in his name -- it's the pitts.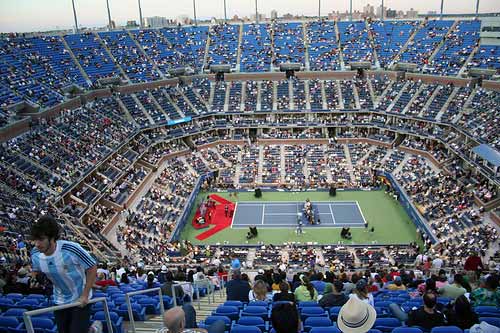 Arthur Ashe Stadium US Open 2009.
Thanks to adamisserlis on flickr.com for the picture.
---
What do you think?

We'd love to hear your comments and/or opinions. If you submit them here, other visitors can read them, rate them and comment on them. An e-mail address is not required.


---
Worst All Time Football Game
|
Worst All Time Baseball Game
|
Worst All Time Basketball Game
|
Worst All Time Sports Team
|
Worst All Time Sports Franchise
|
Worst All Time Draft Pick
|
Worst All Time Heartbreak in Sports
|
Worst All Time Sports Fans
|
Worst Current Sports City
|
Worst All Time Sports Injury
|
Worst All Time Sports Movie
|
Worst All Time Sports Play
|
Worst Chokes in Sports History
|
---
From Worst All Time Sports Arena to Worst All Time Sports Moment | Best All Time Sports Blog | History of Professional Football | MLB History | History of NBA | History of Hockey | NCAA Football History | NCAA Basketball History | NCAA Baseball History | History of College Sports | Olympic Sports History | History of All Sports | Best Moments in Sports History | Current Best All Time Sports News | NFL Football Apparel and Merchandise | MLB Baseball Apparel and Merchandise | NBA Basketball Apparel and Merchandise | NHL Hockey Apparel and Merchandise | College Fan Apparel and Merchandise | Other Sports Fan Apparel and Merchandise | Fathead | Sports Tickets |
---
Return to Home Page
About Us | Contact Us | Site Search | Advertise | Terms of Use / Privacy Policy |
---