Best Sports Blogs

Finding the best sports blogs is like finding a needle in a haystack. There are many thousands of sports blogs and new ones pop up each day. But, when you find a great one, wow, that's awesome. Great sports blogs are informative, insightful, accurate, interesting and entertaining. The best ones will also give you a chance to interact with other fans and make yourself heard as well by posting your own opinions and comments.
Of course, blogs, websites and forums all kind of run together and it's not always real clear which is which. So, really we just look for great sports sites. I love Southeastern Conference (SEC) Football, so I LOVE
SEC Talk
and
SEC Sports Fan Blog
.

The blogs we have included in our "best of the best" sports blogs are organized by sport so that you can find what you are really looking for quickly. You will see that we list all sorts of blogs, from huge sports blogs covering almost every sport imaginable to small, but great, personal blogs. Sometimes professional writers get in their experience to the posts in the blogs while at others it's just a sports fanatic like you and me writing down his or her thoughts on the web.

The Best Sports Blog: Cover everything in the world of sports from the hottest current story to the issues that have been around forever. Share your opinions and read comments from other fans about issues relevant to the world of college and pro football, basketball and baseball.

SEC Sports Fan: The SEC sports fan's source for SEC Sports information, opinion, discussion, merchandise and tickets.

Saturday Down South: Saturday Down South is the home of SEC Football fans. SDS is the ultimate source of uncensored commentary and fanaticism on the Southeastern Conference. Breaking SEC Football news one story at a time.

SportsAsToldByAGirl: A Girl's Account of All Things Sports. SportsAsToldByAGirl is a female brand dedicated to promoting the voice of women in sports with the utmost integrity.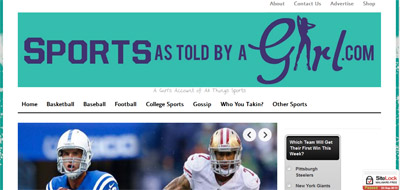 At this point we have four different categories of blogs. They are our:

Some other specific blogs we follow religiously are:
Are you on the lookout for best sports blogs? Check out these blogs! They have posts that will rebel against your thoughts that will make you laugh, cry and show all sorts of emotions, that you never thought you were capable of. They are written by people who are celebrities in their own right; sometimes eccentric and others perfectly normal.

Blog by Mark Cuban

Mark Cuban is the billionaire owner of Mavericks. He is straight spoken and does not mince words when the time is right for him to share his opinion on any and everything under the Sun. His blog is one that has received quite a bit of attention because of his straight talk attitude. There have been numerous occasions when he has been fined for criticizing NBA officials. Can you imagine the man has been fined to the tune of $1.3 million for his words? Does not that make you curious to have a look at a few of his posts? Well it certainly made me curious when I heard of that figure. The way he writes his posts you will get the feeling that he is incredibly well informed on the topics, which I personally believe he is. And if he is not, they he surely is one of the best copy writers of our times.
http://blogmaverick.com
Chris Cooley's Blog
Not everybody starts his or her blog to share the thoughts bombarding the brain cells. Different people have different reasons of starting their personal blogs. Washington Redskins Pro Bowler Chris Cooley had his own reason to start this blog. He wanted to support his brother by providing him financial support to get into medical school. That is when he thought of this idea to start up his blog to earn money through merchandise sales and advertisements that could be used for his brother's medical school tuition fee. Chris estimated an income of $250000 per year from the blog, good enough to support a medical school education in any country on the planet. Cooley's writings are factual and his style is entertaining. One of the major reasons I read his blog is that he more often than not believes in the thoughts that he projects in his posts. This is certainly one of the best sports blogs I would recommend to anybody.
http://chriscooley47.blogspot.com
Curt Shilling's Blog
Boston Red Sox pitcher Curt Shilling is a veteran when it comes to professional baseball. He is known for his contribution to the Red Sox victory in ALCS 2004. He is a loudmouth we know that, and I can see you giving that smile anticipating the tempo of the posts on his blogs. Let me tell you, you are right. The blog is just an extension of his brain and mouth. Curt is one star who firmly believes that "a successful man is known by the enemies he has". What else could you say about an individual who has got enemies in his front offices, in media and even in his own club house? He is a Conservative supporter and that is pretty much evident from some of his posts. The blog contains posts from almost all aspects of social life and hence is not a standalone sports blog.
http://38pitches.com
Joe Torre's Blog
This Los Angeles Dodgers manager has had quite a transformation from being a hardnosed New Yorker to a relaxed and fun loving Los Angeles dude. His blog posts are interesting to read. He does not write exclusively on sports. But if you notice the pattern of the posts on his blog then there are three things that he focuses on. The first being sports, followed by travel and glamour.
http://joetorre.mlblogs.com
Anonymous Blog
What else could be more intriguing than a sports blog by some anonymous fellow that is highly popular among its loyal readers? That is exactly the reason why this is a part of my list of best sports blogs. This blog belongs to the MLBlogs network. The topics are well distributed across a variety of topics. The posts are light hearted and fun to read. The amazing part which keeps readers glued to it is that this blog is the first to give insider information about the happenings in the Red Sox dressing room. So be it a new hiring rumor or a specific strategy, you will get the most reliable information here, before it is made public.
http://redsoxinsider.mlblogs.com
Tonys Soccer School Football Academy.

http://www.tonys-soccer-school.net/

Let us know what you think of any of the blogs we recommend or if you know of others we should be talking about.
What do you think?

We'd love to hear your comments and/or opinions. If you submit them here, other visitors can read them, rate them and comment on them. An e-mail address is not required.



What Other Visitors Have Said
Click below to see contributions from other visitors to this page...

Best T&F Assistant coach Not rated yet
Mississippi Southern now has Jon Stuart (former UGA asst.) in place as head T&F, X-country coach. UT never interviewed him to take J.J. Clark's place …
---
From Best Sports Blogs to Best All Time Sports | Best All Time Sports Blog | History of Professional Football | MLB History | History of NBA | History of Hockey | NCAA Football History | NCAA Basketball History | NCAA Baseball History | Small College Football History | History of College Sports | Olympic Sports History | History of All Sports | Best Moments in Sports History | Worst All Time Sports Moment | Current Best All Time Sports News | Best Sports Forum | NFL Football Apparel and Merchandise | MLB Baseball Apparel and Merchandise | NBA Basketball Apparel and Merchandise | NHL Hockey Apparel and Merchandise | College Fan Apparel and Merchandise | Small College Sports Apparel and Merchandise | Other Sports Fan Apparel and Merchandise | Best Sports Gifts | Fathead | Sports Tickets |
---
Home Page

About Us | Contact Us | Site Search | Advertise | Terms of Use |
---