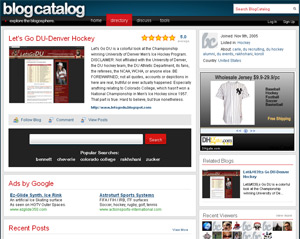 nhlhockeyonline.com
In fact this is the most widespread NHL Hockey fan website on the internet featuring hockey blogs, forums, schedules, news, tickets, scores, standings, player roster and much more. The blog is a conglomerate of many smaller blogs. It invites NHL enthusiasts to join them and write their own blogs on the network.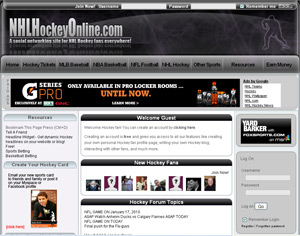 http://www.nhlhockeyonline.com
pensburgh.com
This is a team centric blog site of, by and for the fans of Pittsburgh Penguins. This is another community from the SB Nation network. No one could ever match the commitment of SB Nation to serve fans so broadly. I am sure the site will tempt you to visit again and again if you are not allergic to authentic information on the Pittsburgh Penguins team.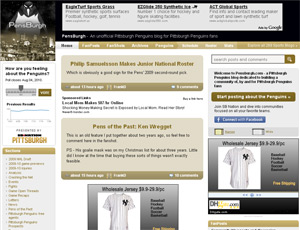 http://www.pensburgh.com
greatesthockeylegends.com
If you have been intrigued by the history of hockey and the stars of yesteryears then this is one blog you should not miss out on. The author Joe Pelletier has been a freelance hockey journalist and hockey history blogger for more than a decade. His effort in the form of this blog isto profile the biographies of the famous international stars and I must say he has done a very good job of it. The profiles are well organized depending on the year during which those players were at their best.
This is quite an interesting read for anybody attracted towards the hockey history.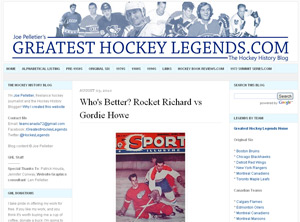 http://www.greatesthockeylegends.com
philadelphiaflyersnews.com
This is one of the most comprehensive Philadelphia Flyers fan website on the internet. The website writes about flyers and consists of blog posts, forums that brim with a lot of insider information. Creating an account in this website is free and gives you access to all the website features including interacting with other fans.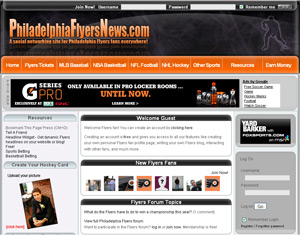 http://www.philadelphiaflyersnews.com
milehighhockey.com
SB Nation proudly presents this Colorado Avalanche fan community, one of the 250 distinct team and sports-centric sites they offer. In fact, this blog is the second hockey blog to join the SB Nation network and the most visited and appreciated blog on Colorado Avalanche. The content is top notch.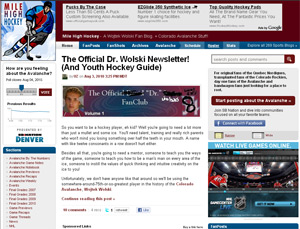 http://www.milehighhockey.com
pensionplanpuppets.com
Do you support the Toronto Maple Leafs?
If yes, then you will have a good time at this Maple Leafs supporters' website. This blog is one of the many SB Nation blogs that have carved a niche for themselves in the sports blogosphere. The blog features in depth analysis, game recaps, previews, news, podcasts and lot more. You will also find a section dedicated to the history of the team.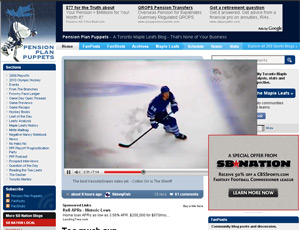 http://www.pensionplanpuppets.com
behindthejersey.com
Christy Hammonds started behindthejersey.com when she was force to quit playing due to a knee surgery. Little did she know that her crazy little endeavor of voicing her opinion about the Detroit Red Wings would make a significant mark on the World Wide Web and become one of the major blogs for Red Wings fans all across the globe. This blog is not about the conventional stuff you find in most others around. Rather, doing justice to its name the blog focuses on the inside scoop that most other blogs miss out on.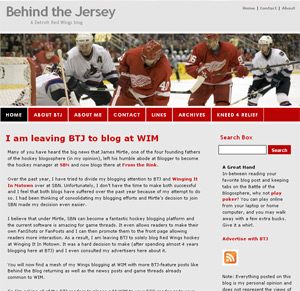 icycoyotes.com
The latest happenings of the Phoenix Coyotes can be found at IcyCoyotes.com, from the Fanball Sports Network. Katlyn Gambill maintains this blog and is responsible for all the good content you find over there.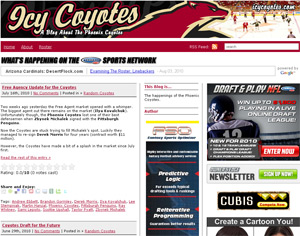 http://icycoyotes.com
stanleycupofchowder.com
I am not surprised at bumping into an SB Nation community every now and then. Being the largest sports network featuring more than 250 blogs, this one serves the right choice for Boston Bruins fans. You might even find one of those rare fan gears out there on the Stanley Cup of Chowder store.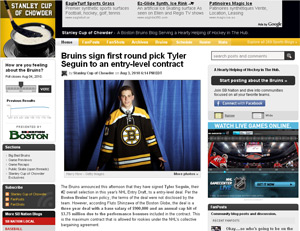 http://www.stanleycupofchowder.com