If you love basketball you probably would love some of the
Best Basketball Blogs
we follow closely. Reading the top basketball blogs is the best way to stay on top of the game -- college or professional b-ball. So, here's our list:
Voepel Blog
This is a personal blog of Mechelle Voepel who has written for ESPN.com on women's college basketball. She has also spent quite an amount of time covering the pro basketball games. The blog is an extension of her writing career, and is obviously inclined towards her preferred sport: women's basketball. Mechelle has an unbiased approach towards her stories and thus has developed a decent following for her articles. She has a great sense of humor that is so conspicuous from her posts. Check out her blog now if you are looking for a basketball blog dedicated to women.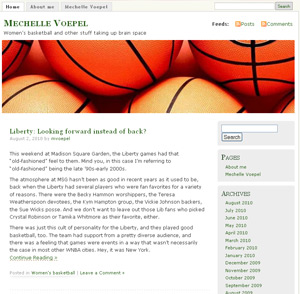 http://voepel.wordpress.com/
Blog a Bull
You guessed it right!
This blog is one of the popular SB Nation blogs dedicated to Chicago Bulls. If NBA means, Bulls to you then you must check this blog out right away. It's got loads of content in the form of views, reviews and interviews from authors that are die hard Bulls fans. You will also find interesting fan posts that are created by Chicago Bulls followers like you. It's a cool hangout online for all the Bulls fans.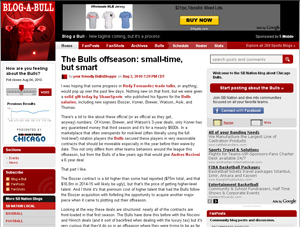 http://www.blogabull.com/
NBA Tipoff
You are up for a surprise with this basketball blog. This is the melting pot of everything NBA. You will find exclusive coverage of the entire on field and off field drama as far as NBA is concerned. The blog posts include in depth analysis of games, analysis of emerging trends that shape the future of basketball. Let me reveal a secret to you here. The guy who runs the site is only 17 years old (in 2010). And he started it when he was 14. Amazing. He does have some older writers who post there as well (although then tend to be quite young as well). Amazing what they've accomplished. You'd never guess the young age from the high quality posts.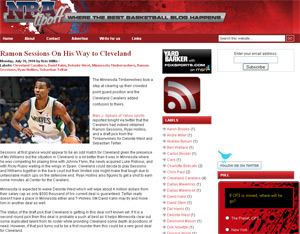 http://nbatipoff.com/
Supersonic Soul
As the name suggests this blog is an unofficial guide for the Seattle Supersonics fans. The blog features Sonics news and information and has been doing so since the early 2004. In its long time of stay in the blogosphere the blog has established itself as the go to destination for all stuff Sonics.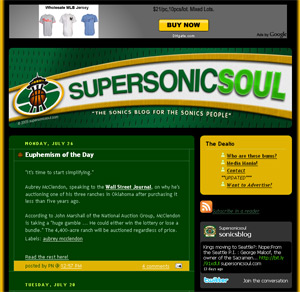 http://www.supersonicsoul.com/
Fantasy Basketball Coach
If you are into fantasy basketball then I am sure you are very well aware of the near religious devotion people have to win a league. Wouldn't it be great to have someone help you out in strategizing to improve your chances of winning the league or at the least give you an unfair advantage over many other competitors? You can have that support and a lot more with this blog where Coach T, a five time league champion of Yahoo Fantasy NBA, shares his insight into the game. Get on board and have him stand by you. Check out his blog.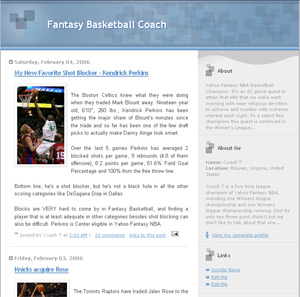 http://fantasybbcoach.blogspot.com/
UNCW Basketball
University of North Carolina Wilmington basketball has its own unofficial fan blog over here. The blog run by Brian Mull covers every imaginable aspect of UNCW basketball. Recruiting, scheduling, games, analysis; you name it, the blog has it. Have a look around.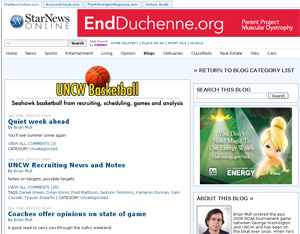 http://uncw.starnewsonline.com/
North Star Basketball
This is a one of the top blogs dedicated to high school basketball. The blog run by Alex Schwartz is comprehensive in nature. It includes a detailed list of class of various academic years, spotlight on coaches, interviews, information on high school basketball players, rankings, scouting reports and player diaries.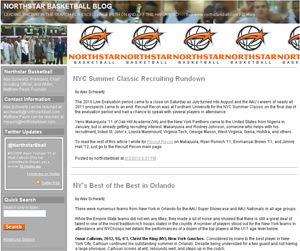 http://blog.northstarbball.com/
SEC Basketball News
This is a blog dedicated to SEC basketball news and reviews. If you are a SEC sports fan and basketball is on top of your priority list then you must check this out. Thesportsflow.com covers a number of sports; however the link below will take you straight to the basketball section of the website.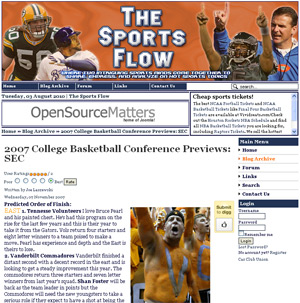 My Basketball World Blog
This is a personal blog by a basketball fan who has been blogging to improve his writing skills (I know he is kidding there!) and may be to vent out his thoughts on the sport. However I tend to disagree with the author of the blog on this, because I felt the blog is more of an outlet for all his basketball thoughts than anything else. Either ways for you it is going to be an interesting read. Check it out.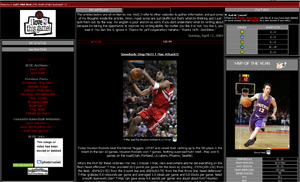 http://welcome-to-my-basketball-world.blogspot.com/
Basketball Rules
Don't get misled by the name, this blog covers a lot more than the rules of the game of basketball. You will find articles covering various aspects of NBA, WNBA and college basketball. The site has a number of interesting sections where you can ask questions and receive answers to your queries from people knowledgeable and passionate about the subject.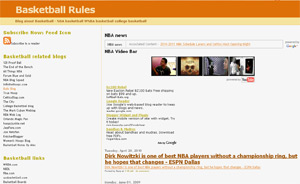 http://basketballrules.blogspot.com
Basketball Breakdown
The blog is a classic if I could say so among the many basketball blogs I follow. The blog focuses on the evolution of the game and strategies revolving around it. It gives a comparative study of the various moves. Apart from that you will find quality analysis of the game as a whole and NBA in particular. If you prefer quality over quantity then you must have a look at this blog.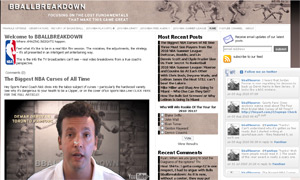 http://bballbreakdown.com
Binary Basketball
Binary basketball is the hub of all information a basketball fan might ever seek. It focuses mainly on NBA and covers NBA news, has a populated NBA forum, provides live NBA video streams, hosts a number of blogs, features images, videos, schedules, rankings, statistics and lots more.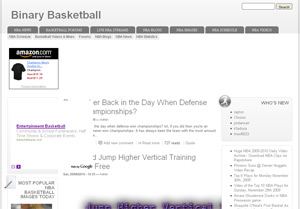 http://www.binarybasketball.com
Aaron's Blog
This is a personal blog by Aaron who happens to be a University of Kentucky supporter. The blog focuses on the University's Men's Basketball team. The blog posts by Aaron cover multiple aspects of the team and make for an easy read.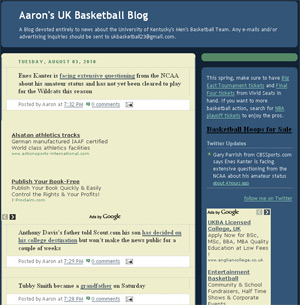 http://kybasketball.blogspot.com
Alabama Basketball Info

The blog specializes in Alabama basketball information. It focuses on college basketball. This blog is written in personal capacity by the writer and has some unique propositions on the pressing issues hovering over the game of basketball.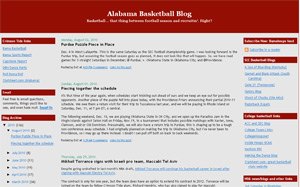 http://bamahoops.blogspot.com
Basketball Training Blog
Looking for a specialized blog for your training related information? You will find all your questions answered at hoopskills.com. The blog is dedicated to spreading awareness of the basic and advanced training instructions. Whether you are coach looking for innovative ways to teach your players or a player looking for resources to sharpen your skill, you will find resources at hoopskills.com very helpful.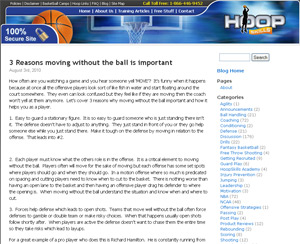 http://www.hoopskills.com/blog
For Florida Gators Fans
The SB Nation blog is all about Florida Gators. If you support the Gators then this is your destination. The blog focuses on the news and performances of the Gators and brings forth the good, the bad and the ugly. There is a thriving community of passionate teams of the Florida Basketball team that bring in their views to every topic let out for discussion.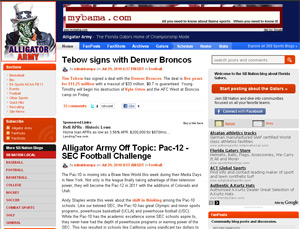 http://www.alligatorarmy.com
Use the form below to tell us what your own "best basketball blogs" are.