NCAA Baseball History


---
Jump straight to our
Best All Time College Baseball Articles
---

NCAA baseball history is quite a bit different from other NCAA sports because of two unique, and related, factors. The factors are weather and minor league baseball.

Baseball is an outside sport and for obvious reasons normally played in the warmer months of the year. Major League Baseball, for instance, runs from April - October. The problem that colleges have with baseball is that the academic year ends in early May. So, when to play baseball?
Historically, this problem was compounded because most colleges in the United States started in the Northeast and Midwest -- colder areas.. So, college baseball was slow to develop and especially slow to grow very fast.

Of course, baseball didn't start with games at the intercollegiate level. It had been played, informally, on American playing fields since the early 1800's. Baseball grew out of the English game known as "Rounders." In America, the game evolved and was variously known as "townball" "base" and later -- "baseball." Alexander Joy Cartwright is commonly credited with "inventing" the game. He didn't invent it; but, along with other members of his New York Knickerbocker Baseball Club, he did develop the first rules ("Knickerbocker Rules") that the modern game of baseball is based on. The first recorded game in baseball history was played in 1846 when the Knickerbockers lost to the New York Baseball Club. The game was played at Elysian Fields in Hoboken, New Jersey.

In 1858, the first organized baseball league was formed. It was called the National Association of Baseball Players. That eventually led to the development of Major League Baseball. You can read more about that at Major League Baseball History.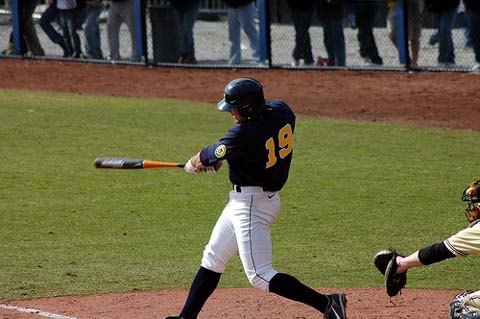 Oakland U vs UMich baseball doubeheader, which UM won both games, and although it was supposed to rain, the sun came out and the weather and the game play were fantastic. Thanks to churl at flickr.com for the picture.
---

College baseball history began when teams from Amherst and Williams Colleges played each other on July 1, 1859, in Pittsfield, Massachusetts. However, that game was a good bit different from anything we'd be familiar with today as it was played under what was known as the "Massachusetts rules." Amherst won 73-32 by the way. A few months later, on November 3 a New York baseball club from St. John's College (Now Fordham University) played against St. Francis Xavier College (no longer in existence). That game was played using rules that would be more familiar to us today: nine man teams and the "Knickerbocker Rules" that are still used today.

However, the National Collegiate Athletic Association (NCAA) wasn't formed until 1905. And, it was formed for the purpose of regulating college football. But, eventually baseball became an NCAA sport. Probably the biggest moment in NCAA baseball history was when the NCAA College World Series began in 1950. That championship has been held in Omaha, Nebraska every year since it started. LSU won the last Championship in 2009. You can read more about that at LSU Tigers Baseball.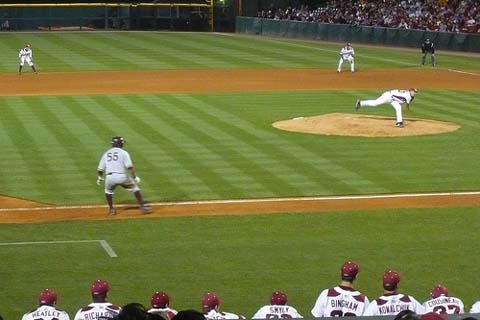 A shot from the UA Fayetteville Razorbacks' baseball game against Arizona State, ranked No. 2 in the nation. Thanks to MRHSfan flickr.com for the picture.
---

The NCAA Division II baseball championships started in 1968. However, that championship has been held in several places since then: Springfield, Illinois; Riverside, California; and since 1985 -- Montgomery, Alabama. The NCAA's Div. III Baseball Championship has been held in Appleton, Wisconsin in recent years.

The 1980's saw a fairly dramatic increase in the popularity of NCAA baseball. This was probably inevitable and past due. The reason for the rise in interest in college baseball happened simply because population in the sunbelt had dramatically increased as had the number and size of colleges in those areas -- the South and Southwest of the U.S. Of course, those are warmer areas; traditional baseball areas; and, coaches in those states saw the potential for playing more and better baseball in the spring college leagues.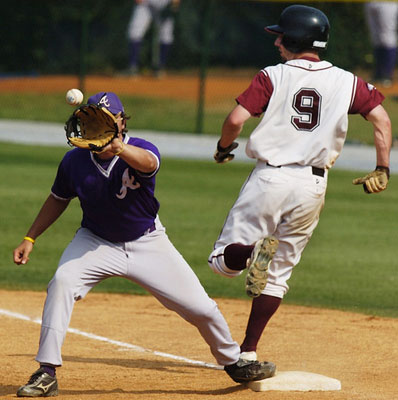 NCAA Division II Baseball Championship at Paterson Field in Montgomery, Ala.
Thanks to bamakodaker at flickr.com for the picture.
---

This can be seen by the fact that the Pac-10; Big 12 and SEC dominate college baseball. Coaches in those leagues, in particular, recruited better talent (after all, now a player could earn a college degree and still get drafted into the pros). College Athletic Directors began to increase the budgets for baseball; build bigger stadiums, hire more staff, etc. All of this resulted in more press coverage to the point that now NCAA college baseball playoffs and the College World Series can be seen on ESPN and obviously is now extensively covered by newspapers, magazines and radio.

The bottom line is that NCAA baseball history has seen a dramatic increase in its relative significance in the sports world. More articles about NCAA / College baseball are coming soon to this site. In the meantime you can post your thoughts using the form below.
Best All Time College Baseball Articles
Looking for a special gift for the Baseball fans Best College Baseball Gifts
What do you think?

We'd love to hear your comments and/or opinions. If you submit them here, other visitors can read them, rate them and comment on them. An e-mail address is not required.


What Other Visitors Have Said
Click below to see contributions from other visitors to this page...

college world series






Actually, the first and second CWS were held in 1947 & 1948 in Kalamzoo, MI, hosted by Western Michigan College. The third was held in Wichita in 1949, …
---
From NCAA Baseball History to Best All Time Sports | Best All Time Sports Blog | History of Professional Football | MLB History | History of NBA | History of Hockey | NCAA Football History | NCAA Basketball History | History of College Sports | Olympic Sports History | History of All Sports | Best Moments in Sports History | Worst All Time Sports Moment | Current Best All Time Sports News | Best Sports Forum | NFL Football Apparel and Merchandise | MLB Baseball Apparel and Merchandise | NBA Basketball Apparel and Merchandise | NHL Hockey Apparel and Merchandise | College Fan Apparel and Merchandise | Other Sports Fan Apparel and Merchandise | Fathead | Sports Tickets |
---
Return to Home Page
About Us | Contact Us | Site Search | Advertise | Terms of Use / Privacy Policy |
---