The history of sports is probably as old as the history of people. People have always searched for ways to entertain themselves and sports have been a way to master nature and their environment, as well as keeping them in shape and providing challenges. Sports have always seemed to involve basic human skills and have changed little over the years.
From ancient Greece during the Bronze Age bull jumping and bullfighting was practiced. There were also several funeral sports games that were held to honor the deceased warriors. According to Homer, engaging in a sport was the occupation of the noble when the wealthy, who had no need to do manual labor.

Greece was also the birthplace of the Olympics with the first one being recorded in 776 BC. The Olympics was originally a single sprinting event. This one event expanded to include footraces, boxing, wrestling, chariot racing, long jump and javelin throw and a discus throw. There were a variety of formal and informal games that were popular during the times of ancient Greece. Some of these games included musical renditions, reading and other non-athletic contests, as well as the regular sporting events.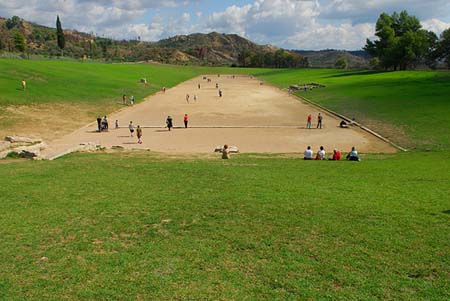 The Olympic games were the eldest and most important games of the periodos, held in honour of Zeus. They were founded in 776 BC and were held at Olympia.
Thanks to Rob Hogeslag on flickr.com for the picture.
---

Several of the sports that are popular today can be traced back at least 2 1/2 thousand years. This includes hurling in Ireland, harpastum in Rome, cuju China, and polo in Persia. All of these games have evolved into the sports that we know today as field hockey, rugby, football, and polo.

One of the major advancements in sports over the years has taken place in the 19th and 20th centuries that is the advent of women in sports. Many societies in the past have frowned upon women competing in sports events. As the 20th century moved in, women were involved many more times in sporting events. However, most of the time they were involved as fans, administrators, officials, coaches, journalists with athlete falling low on the list of women's positions in sports. Today women are involved in sports in a major way, with female teams for many professional sports.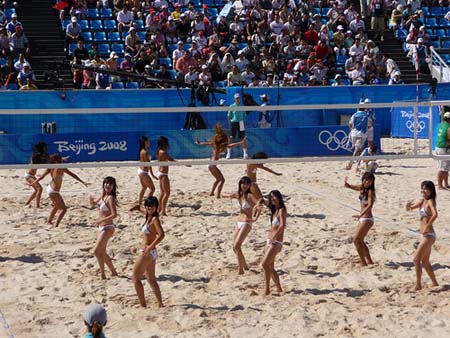 Beach Volleyball at Olympic Games 2008 Chaoyang Park, Beijing.
Thanks to Marc van der Chijs on flickr.com for the picture.
---

Sports can be individual, or they can be team activities. Even the smallest children enjoy playing sports, kicking the ball, pitching and attempting to hit a ball with the bat, and running across the field are all activities that a small child can do that may lead them to a further love of sports in the future.

Not only are sports an ancient activity. They are also very popular in today's world, and the choices today are much more varied, including martial arts, kickboxing and wrestling as well as football, baseball and soccer. There is some sport out there for every person to enjoy.

Playing a sport is healthy and sports help train people to compete with others in a healthy manner, as well as how to lose gracefully and be part of a team. Starting all the way back in ancient Greece up to today, sports have played a major part in the history of the world.

Women's baseball, for instance, was introduced during wartime to entertain the folks at home while their men were off fighting. Baseball is considered as American as apple pie. And even hunting and fishing are now habits and hobbies that have become a sport to people all across the country.

But, none of these sports is an olympic sport. They may be recognized internationally, but they are not played in the olympic games. If you want to read about an olympic sport, check out Olympic Sports History.

Tell us about your favorite sport using the form below.

Now, for our Best All Time Other Sports Articles:


Finding special gift for the All Sports fans Best Olympics Gifts


What do you think?

We'd love to hear your comments and/or opinions. If you submit them here, other visitors can read them, rate them and comment on them. An e-mail address is not required.



What Other Visitors Have Said
Click below to see contributions from other visitors to this page...

---
From History of All Sports to Best All Time Sports | Best All Time Sports Blog | History of Professional Football | MLB History | History of NBA | History of Hockey | NCAA Football History | NCAA Basketball History | NCAA Baseball History | Small College Football History | History of College Sports | Olympic Sports History | Best Moments in Sports History | Worst All Time Sports Moment | Current Best All Time Sports News | Best Sports Forum | Best Sports Blogs | NFL Football Apparel and Merchandise | MLB Baseball Apparel and Merchandise | NBA Basketball Apparel and Merchandise | NHL Hockey Apparel and Merchandise | College Fan Apparel and Merchandise | Small College Sports Apparel and Merchandise | Other Sports Fan Apparel and Merchandise | Best Sports Gifts | Fathead | Sports Tickets |
---
Home Page

About Us | Contact Us | Site Search | Advertise | Terms of Use |
---