Best All Time Surfer


The best all-time surfer in the world of professional surf boarding is Kelly Slater, an American professional surfer known for his prowess and style as well as competitive spirit.
Kelly Slater has been the ASP world champion, nine times, including five consecutive wins from 1994 to 1998. When he achieved his fifth world title in 1997, Slater became the most successful champion in the history of the sport, beating out Australian surfer Mark Richards. In 2007 he became the all-time leader in career event wins with his win at the Boost Mobile Pro event in California. Before that the record was held by a hero of Slater's from his childhood, Tom Curren. Besides the ASP tours Kelly Slater has also competed in the X Games in both 2003 and 2004. In May of 2005 during the Billabong Tahiti Pro contest Kelly Slater became the first surfer to ever win perfect scores for a full 20 of 20 points in the ASP scoring system.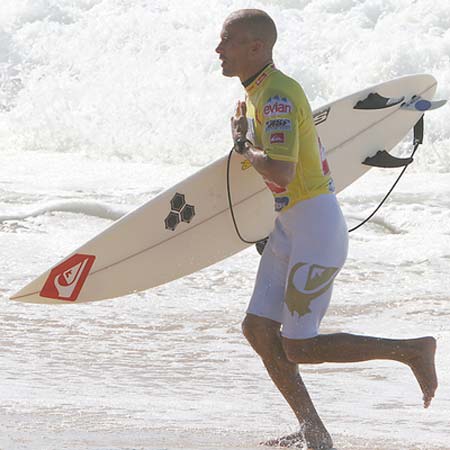 Kelly Slater. Thanks to envisionpublicidad on flickr.com for the picture.
---
Sponsored primarily by surf wear giant Quicksilver, Kelly Slater exclusively uses Channel Islands surfboards that are equipped with his signature series FCS fins. Slater primarily lives in Florida, California and Hawaii, where the surf is best. However, he travels all around the world to compete in surfing competitions.
Besides being a championship surfer Kelly Slater also plays the guitar and is friends with several well-known musicians. In the late 1990s, Kelly Slater, along with his friends and other pro surfers Rob Machado and Peter King had a band called The Surfers. The Surfers released one album entitled "Songs from the Pipe" in reference to the famous surfing pipeline on Oahu, Hawaii. Slater has also been found in other musical venues such as when he performed "Rocking in the Free World" with Pearl Jam in San Diego in 2006 or when he appeared with Garbage singer Shirley Manson in a promotional video and when he performed on stage with Ben Harper in Santa Barbara back in 2006.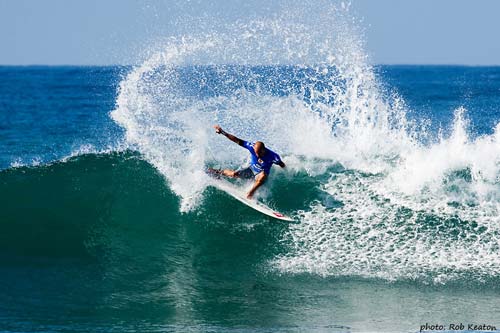 Kelly Slater surfing in the Boost Mobile Pro event at Lower Trestles, CA in 2006. Thanks to Rtwkeaton wikipedia.org for the picture.
---
Activision has published a video game called Kelly Slater's Pro surfer, which was released in 2002 and Slater is also a playable character in Tony Hawk's ProSkater 3 game with a surfboard. So whether you enjoy Kelly Slater as a videogame character or as a surfer, you can find some form of entertainment that stars him either on TV, video games, computer or in person at one of the many surfing championships around the world.
Anyone who has a love for surfing should definitely read the 2003 release "Pipedreams" which is Kelly Slater's autobiography. Kelly also wrote a 2nd book in 2008 bearing the titles "For the Love" To get back to the reasons why Kelly Slater is the world's all-time best surfer, its time to take a look at his statistics; 41 WCT victories, nine world titles, 2008 world champion appearances in the Quicksilver Pro Gold Coast 17, Rip Curl Pro, Billabong Pro Globe Pro and Rip Curl Search as well as the Boost Mobile Pro. Kelly Slater is currently ranked as the 25th surfer in the world for 2009. But considering his astounding record, as well as all of his championships, Kelly Slater is definitely the best all-time professional surfer.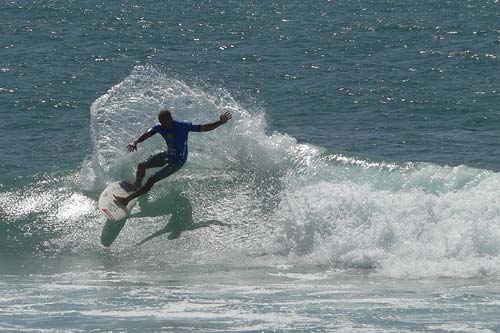 Kelly Slater at Trestles, San Onofre State Beach, California. Thanks to advencap on flickr.com for the picture.
---
What do you think?

We'd love to hear your comments and/or opinions. If you submit them here, other visitors can read them, rate them and comment on them. An e-mail address is not required.


---
Best All Time Bowler
|
Best All Time Cricket Player
|
Best All Time Golfer
|
Best All Time Jockey
|
Best All Time Karate Athlete
|
Best All Time Lacrosse Player
|
Best All Time Nascar Driver
|
Best All Time Nascar Venue
|
Best All Time Race Horse
|
Best All Time Racquetball Player
|
Best All Time Softball Player
|
Best All Time Ultimate Fighter
|
---
From Best All Time Surfer to History of All Sports | Best All Time Sports Blog | History of Professional Football | MLB History | History of NBA | History of Hockey | NCAA Football History | NCAA Basketball History | NCAA Baseball History | History of College Sports | Olympic Sports History | Best Moments in Sports History | Worst All Time Sports Moment | Current Best All Time Sports News | NFL Football Apparel and Merchandise | MLB Baseball Apparel and Merchandise | NBA Basketball Apparel and Merchandise | NHL Hockey Apparel and Merchandise | College Fan Apparel and Merchandise | Other Sports Fan Apparel and Merchandise | Fathead | Sports Tickets |
---
Return to Home Page
About Us | Contact Us | Site Search | Advertise | Terms of Use / Privacy Policy |
---