Best All Time Ultimate Fighter


When it comes to the court of public opinion among mixed martial arts (MMA) fans, a number of names are bandied about for the title of "Best All Time Ultimate Fighter. " But one name seems to cross every tongue for the Welterweight Class: 9-time Ultimate Fighting Championship (UFC) World Welterweight Champion, Matt Hughes. This 35-year-old Illinois farm boy has proven himself worthy of the "Best All Time Ultimate Fighter" title with an overall MMA record of 43 wins and 5 losses.
At 5'9" and weighing 170 pounds, Hughes has dominated the UFC thanks to his own special, well-known blend of physical strength, takedowns and wrestling ability. It's hard not to like and prefer a good old farm boy from Illinois - they make them sturdy and able to take a lickin' and keep on tickin' in the Land of Lincoln. Hughes shocked and wowed the UFC when he performed an unexpected smack down on reigning UFC Welterweight Champ Carlos Newton in the second round of a November, 2001 match up. Hughes came back from two early losses to establish his own kingdom with this fight and he went on to prove his chops and stamina - and willpower - to dominate his class.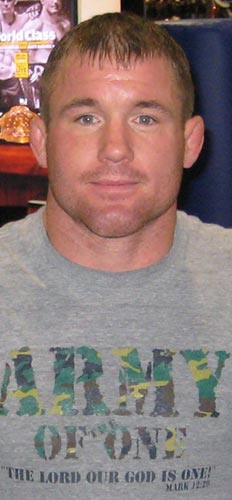 Matt Hughes. Thanks to enviziondotnet wikipedia.org for the picture.
---
While Hughes lost his UFC title to BJ Penn in January, 2004, it was a short-lived defeat. Hughes regained the title (and proved that he deserves the recognition as Best All Time Ultimate Fighter) after a bout with Canadian fighter Georges St-Pierre in an October, 2004 match. Hughes' next big match stands the test of time - and public opinion – as one of the best UFC fights of all time.
April 16, 2005 saw a rematch between Hughes and Frank Trigg - whom Hughes defeated in a November 2003 fight. Trigg demanded a rematch, and while Hughes wasn't thrilled with the idea, he agreed. This four-minute, five-second fight is widely viewed as an epitome of drama and ultimate fighting by fans worldwide. Hughes and Trigg grappled with a ferocity that thrilled the fans and Hughes emerged as the winner - cementing his spot - and his worthiness - as the top Ultimate Fighter in the sports history. While it might have been Hughes' fighting prowess that landed him in the spotlight with Ultimate Fighter fans, it is Hughes' personal persona that helped land him the title of Best Ever Ultimate Fighter in many fans' eyes.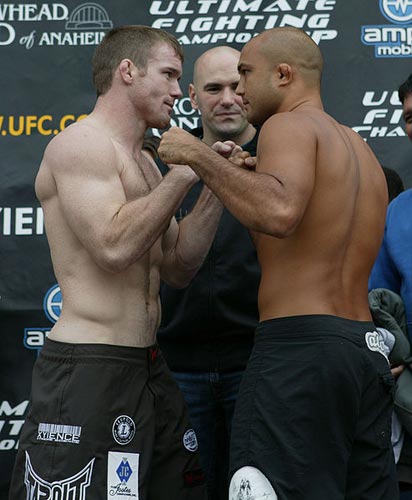 Hughes and Penn before their match at UFC. Thanks to wikipedia.org for the picture.
---
From his humble beginnings in his small, Illinois hometown, Hughes hasn't ventured far from his roots and core values of God, family and hard work. It is Hughes' personal, Christian faith, though that makes him stand head and shoulders above the rest in the Ultimate Fighter crowd. Hughes is not afraid to make his beliefs and his dependence upon God public knowledge. He shares his favorite scriptures and has done volunteer missions work at Mexican orphanages.
In truth, this family man wins respect best by this statement from his blog, "One thing I always do when I get in the cage is look for my wife." That says a great deal about Matt Hughes' character and priorities. This family man is a champion in every way.
What do you think?

We'd love to hear your comments and/or opinions. If you submit them here, other visitors can read them, rate them and comment on them. An e-mail address is not required.


---
Best All Time Bowler
|
Best All Time Cricket Player
|
Best All Time Golfer
|
Best All Time Jockey
|
Best All Time Karate Athlete
|
Best All Time Lacrosse Player
|
Best All Time Nascar Driver
|
Best All Time Nascar Venue
|
Best All Time Race Horse
|
Best All Time Racquetball Player
|
Best All Time Softball Player
|
Best All Time Surfer
|
---
From Best All Time Ultimate Fighter to History of All Sports | Best All Time Sports Blog | History of Professional Football | MLB History | History of NBA | History of Hockey | NCAA Football History | NCAA Basketball History | NCAA Baseball History | History of College Sports | Olympic Sports History | Best Moments in Sports History | Worst All Time Sports Moment | Current Best All Time Sports News | NFL Football Apparel and Merchandise | MLB Baseball Apparel and Merchandise | NBA Basketball Apparel and Merchandise | NHL Hockey Apparel and Merchandise | College Fan Apparel and Merchandise | Other Sports Fan Apparel and Merchandise | Fathead | Sports Tickets |
---
Return to Home Page
About Us | Contact Us | Site Search | Advertise | Terms of Use / Privacy Policy |
---