Best All Time NASCAR Driver


In the world of the National Association for Stock Car Auto Racing (NASCAR) there is no bigger name than Earnhardt. Make that Earnhardt, Senior. For most fans of the sport, Ralph Dale Earnhardt Sr. is the name that comes to mind when they think of greatness in the racing world. He was the best all time NASCAR driver. His legend includes 76 wins in the Winston Cup Series, now the Sprint Cup Series. The sport lost "The Intimidator" when he died in 2001 in a crash during the Daytona 500.
Earnhardt came by his love for racing at home. He was born to Ralph Earnhardt who was the greatest short track driver in North Carolina. His dad tried to discourage him from racing but the younger Earnhardt would not be swayed from his dream.
Dale Earnhardt drove the #3 car for most of his career. Its #3 logo is one of the most memorable motorsports icons. His success and style brought a lot of new fans to stock car racing. He has been inducted into both the International Motorsports Hall of Fame and the Motorsports Hall of Fame of America. He was the greatest.
His awards started with Rookie of the Year in 1975. That was the year he had 11 finishes in the top five. He holds the record at Daytona with 34 wins. In addition to being a highly awarded driver, Earnhardt was also highly rewarded. His career earnings totaled more than $40 million. His son, Dale Earnhardt Jr. carries on the legacy today.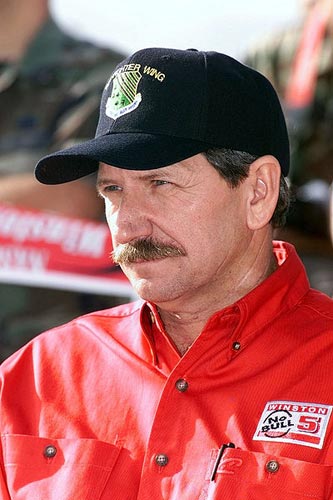 Seven time NASCAR Winston Cup Champion, Dale Earnhardt. Thanks to wikipedia.org for the picture.
---
Dale Earnhardt Sr. died from injuries sustained in a wreck in the last lap of the 2001 Daytona 500. His car hit the wall at 190 miles per hour. A four month investigation found that Earnhardt had died from a violent forward head-whip. The outpouring of grief from his fans was something that NASCAR had never seen. They raised three fingers on the third lap of races the rest of the year. Three was Earnhardt's car's number. Earnhardt's death prompted several changes in safety gear for the race cars. Improvements were made to the driver's compartment and all the tracks that NASCAR races on have had their barriers changed with a new material that reduces impact.
Earnhardt's winning style and even his death caused big changes in NASCAR. The sport burst into the national spotlight and Earnhardt fans have stuck with it. It's the kind of determination that Earnhardt, the best all time NASCAR driver, would have loved.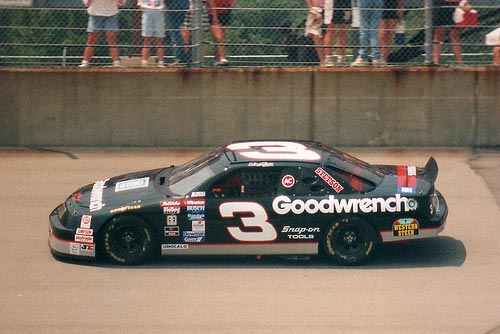 Michigan International Speedway – Dale Earnhardt June 1994. Thanks to James Marvin Phelps (mandj98) at flickr.com for the picture.
---
---
What do you think?

We'd love to hear your comments and/or opinions. If you submit them here, other visitors can read them, rate them and comment on them. An e-mail address is not required.


---
Best All Time Bowler
|
Best All Time Cricket Player
|
Best All Time Golfer
|
Best All Time Jockey
|
Best All Time Karate Athlete
|
Best All Time Lacrosse Player
|
Best All Time Nascar Venue
|
Best All Time Race Horse
|
Best All Time Racquetball Player
|
Best All Time Softball Player
|
Best All Time Surfer
|
Best All Time Ultimate Fighter
|
---
From Best All Time Nascar Driver to History of All Sports | Best All Time Sports Blog | History of Professional Football | MLB History | History of NBA | History of Hockey | NCAA Football History | NCAA Basketball History | NCAA Baseball History | History of College Sports | Olympic Sports History | Best Moments in Sports History | Worst All Time Sports Moment | Current Best All Time Sports News | Best Sports Forum | NFL Football Apparel and Merchandise | MLB Baseball Apparel and Merchandise | NBA Basketball Apparel and Merchandise | NHL Hockey Apparel and Merchandise | College Fan Apparel and Merchandise | Other Sports Fan Apparel and Merchandise | Fathead | Sports Tickets |
---
Return to Home Page
About Us | Contact Us | Site Search | Advertise | Terms of Use / Privacy Policy |
---