The Best All Time Racquetball Player


There are very few countries in the world that play racquetball. The sport of racquetball is very similar to tennis and badminton. Two players play against each other using a special racquet and a small hollow ball. There is one major difference to tennis and badminton though. Not only the floor, but also the ceiling and the walls are used as playing surfaces. This fact makes the sport of racquetball very thrilling and fast. The ball springs back very quickly and the athlete needs to have excellent coordination and agility.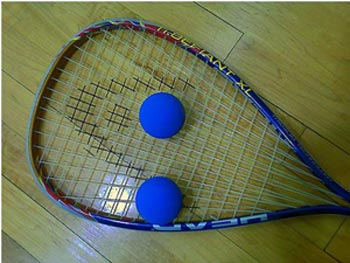 Racquetball. Thanks to Photo Denbow on flickr.com for the picture.
---
The origins of this interesting sport are found in the United States where Racquetball is most popular. This game is not well known outside of North America. However, there is an annual Racquetball World Championship - which the United States usually wins. So who is the best all time racquetball player?
The top seven contenders in my mind are Cliff Swain, Sudsy Monchik, Mike Ray, Marty Hogan, Mike Yellen, Charley Brumfield and Bud Muehleisen. Each has been a racquetball world champion and represents an era of sequential domination for a total of 28 world championships! I've played against each in tournaments except Swain, Sudsy and Ray, whom I've recently practiced against and scrutinized in pro competition. I feel qualified in offering a dossier of each player's game - before opening the final envelope.
The top professional r-ball players ever are Cliff Swain, Sudsy Monchik, Mike Ray, Marty Hogan, Mike Yellen, Charley Brumfield and Bud Muehleisen. Charley Brumfield used a soft serve to initiate a ceiling return helped him stay on top for over a decade which could possibly have made him best all time racquetball player. The earliest racquetball player on record is Bud Muehleisen who won 69 national and international titles over a 20 year career!
Marty Hogan took the title from Brumfield with a power style in the 80's. He invented what we call the power drive serve today. Winner of 6 World Championships, he gave it up to Mike Yellen who was the first player to use an oversized racquet in the early days to win five straight World Championships.
Mike Ray stepped in with his dual kill and overhead attack. He is known for winning the most sportsmanship awards and one Racquetball World Championship. Screamin' Sudsy Monchik started playing at age 5 and won five World Championships giving it up only to Cliff Swain whose secret weapon was his drive serve which won him Six World Championships.
Ironically enough, the best all time pro (or amateur) racquetball player comes down to one of the earliest players and the most recent; Hogan and Swain. But when it comes down to it, Swain's drive serve and hard hitting beats Hogans fast backhand ball to make him the ultimate top racquetball player in history.
What do you think?

We'd love to hear your comments and/or opinions. If you submit them here, other visitors can read them, rate them and comment on them. An e-mail address is not required.



What Other Visitors Have Said
Click below to see contributions from other visitors to this page...

---
Best All Time Bowler
|
Best All Time Cricket Player
|
Best All Time Golfer
|
Best All Time Jockey
|
Best All Time Karate Athlete
|
Best All Time Lacrosse Player
|
Best All Time Nascar Driver
|
Best All Time Nascar Venue
|
Best All Time Race Horse
|
Best All Time Softball Player
|
Best All Time Surfer
|
Best All Time Ultimate Fighter
|
---
From Best All Time Racquetball Player to History of All Sports | Best All Time Sports Blog | History of Professional Football | MLB History | History of NBA | History of Hockey | NCAA Football History | NCAA Basketball History | NCAA Baseball History | History of College Sports | Olympic Sports History | Best Moments in Sports History | Worst All Time Sports Moment | Current Best All Time Sports News | NFL Football Apparel and Merchandise | MLB Baseball Apparel and Merchandise | NBA Basketball Apparel and Merchandise | NHL Hockey Apparel and Merchandise | College Fan Apparel and Merchandise | Other Sports Fan Apparel and Merchandise | Fathead | Sports Tickets |
---
Return to Home Page
About Us | Contact Us | Site Search | Advertise | Terms of Use / Privacy Policy |
---