Worst All Time Sports Team


I thought about this long and hard because there are as many answers to this as there are teams to be cussed and discussed. I have looked at teams and their stats over the years and I think I have the answer to the Worst All Time Sports Team. I've never been one to make a long story short so bear with me while I explain.
Several years ago my older, loving, Cardinal fan brother mailed me a keep sake of my team, which has hung on the refrigerator door ever day since then. It listed seventeen items of interest (that's debatable) but I will not bore you with the entire list. Here are the highlights. Since this team won the World Series in 1908 four states have been admitted to the union. Radio and TV were invented. Since then we have fought our way through numerous wars and armed conflicts. Man has walked on the moon. Theodore Roosevelt was president at the time and there have been eighteen additional presidents including our current president, Barack Obama who have served in that capacity. Harey Carey, who was a famous, or some might say infamous, announcer for this team was born and died. Maybe the saddest item of all on the list was the fact that five flagpoles were installed for the purpose of holding a World Series Flag, have since worn out and been replaced without ever having held a pennant. Am I getting close to the Worst All Time Sports Team?
Almost as soon as this team gets their players into top performance condition it seems they start trading them off. In my opinion this team has, soon to be past tense, the best playing park in the league. Some people should know that you don't mess with a good thing. If it's not broke, don't try to fix it. On a good windy day in this park, it's a homerun marathon. Of course, that works for the visiting team as well.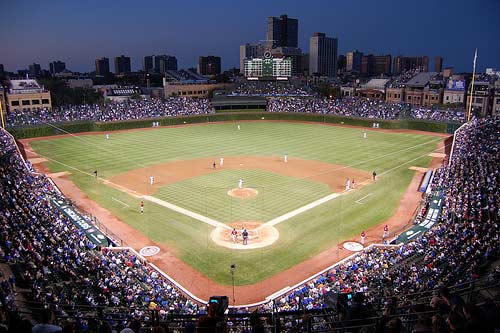 Cubs Vs. Houston Astros 1/1/09, Wrigley Field.
Thanks to Bari D on flickr.com for the picture.
---
Over the years this team has had some of the best players in the league. Several years it has been reported that they have the best team in the league. Every season starts with undying optimism and hope that this will be the year that the team will find its way through the playoffs and win the World Series. My brother never fails to rib me about their standings. I am always being reminded of the team's shortcomings so I could not forget even if I wanted to.
With all that said, this team has the most loyal fans of any team in any division. These fans stand and cheer when the team takes the field and the yelling doesn't stop until the game is over. The fans wear the team's jerseys and are darned proud of it. They are not ashamed to stand up and root for their team even when they are losing. They don't leave early in the game just to beat the traffic. They are there for the duration and are not sorry they stayed to see it to the end regardless of the final score. Sometimes they are rewarded with a last minute win and that makes it all worth while. You can always spot window stickers or hats sitting in the window of a car and quite frequently you will see a license plate to advertise the driver's support of this team. In case you haven't guessed which team I'm talking about, it is the Chicago Cubs Major League Baseball (MLB) team. I know this is an article about the worst all time sports team, and maybe the Cubs are. All I know is that no matter how bad this season is, there is always next year to look forward to. And as a true and loyal Cubs fan I really do have to say that they are the worst team in sports history.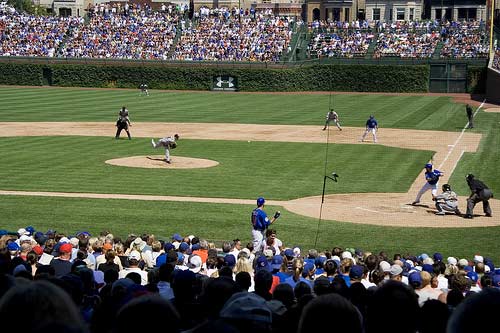 Cubs destroyed the Pirates with 10 runs in the second inning and won 17-2.
Thanks to Michael R Stoller Jr on flickr.com for the picture.
---
Obviously, I love the Cubs, so I hate saying they are the worst team ever. But, truly, if you consider the great support the Cubs get -- Cubs fans are the best all-time sports fans. Well, the team just doesn't measure up to that. When I picked the worst all-time sports fans I considered that they were fans of the Florida Marlins and thus had experienced lots of recent success on the field -- yet did not provide commensurate support. So, it's only right that in picking the worst all time sports team, I consider the how their play on the field is so much poorer than the fan support. So, in a way, it is the great Cubs fans that lead me to say the team is the worst ever.
OK, enough explaining my rationale. Which team do you think is the worst ever and why? Commment below, I'd love to read your opinion.
What do you think?

We'd love to hear your comments and/or opinions. If you submit them here, other visitors can read them, rate them and comment on them. An e-mail address is not required.


---
Worst All Time Football Game
|
Worst All Time Baseball Game
|
Worst All Time Basketball Game
|
Worst All Time Sports Franchise
|
Worst All Time Draft Pick
|
Worst All Time Heartbreak in Sports
|
Worst All Time Sports Arena
|
Worst All Time Sports Fans
|
Worst Current Sports City
|
Worst All Time Sports Injury
|
Worst All Time Sports Movie
|
Worst All Time Sports Play
|
Worst Chokes in Sports History
|
---
From Worst All Time Sports Team to Worst All Time Sports Moment | Best All Time Sports Blog | History of Professional Football | MLB History | History of NBA | History of Hockey | NCAA Football History | NCAA Basketball History | NCAA Baseball History | History of College Sports | Olympic Sports History | History of All Sports | Best Moments in Sports History | Current Best All Time Sports News | NFL Football Apparel and Merchandise | MLB Baseball Apparel and Merchandise | NBA Basketball Apparel and Merchandise | NHL Hockey Apparel and Merchandise | College Fan Apparel and Merchandise | Other Sports Fan Apparel and Merchandise | Fathead | Sports Tickets |
---
Return to Home Page
About Us | Contact Us | Site Search | Advertise | Terms of Use / Privacy Policy |
---