Worst Current Sports City


We started this article with the goal of picking the worst all-time sports city. We couldn't reach agreement on that. But, rather easily we reached agreement on which city is the worst sports city right now. So, we'll just go with that for now. It's Washington D.C. Easily.
First, our criteria. To be sure we were comparing apples to apples we only considered cities that have teams from all 4 major pro sports -- NFL, MLB, NBA and NHL. So, right away that greatly narrows the list of possibilities, taking some cities out of scrutiny that otherwise might have been picked. In a way, we are only considering the "worst of the best" because some would say you are automatically a great sports city if you have all 4 major sports.
Secondly, we are only looking at "current" stats and by current we mean the past two seasons (2007-2009). What we did is simply run the numbers comparing win-loss records in all 4 sports. DC came in dead last. And, I must say they are not looking any better now. They have the worst team in baseball; and one of the worst teams in basketball and even, now, football. The Redskins are also aweful.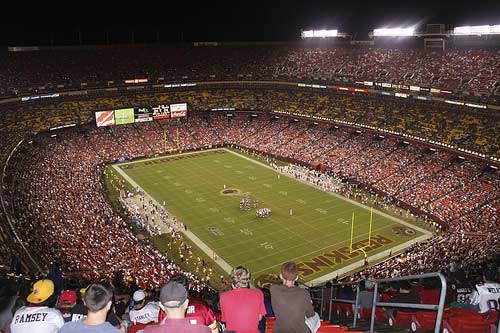 Washington Redskins vs. New England Patriots at 2009 FedEx Field.
Thanks to inneedofhelp08 on flickr.com for the picture.
---
My apologies to all of the citizens and fans of the DC pro teams, but your city, at present anyway, simply has a lot of losers for sports teams. All I can say is that Washington should be at least thankful for their NHL team, the Capitals because if it wasn't for them they would have absolutely nothing to brag about.
Notice I am not commenting on Washington DC fans. Although they did abandon the Senators back in the 70's, there probably was good reason for that. And, I do have to note that Washington is a transient city with people from all over the country moving in and out. Often when you go to a "home game" in DC, you hear more fans cheering the visiting team than t;he home team. This seems especially true when Pittsburgh or Boston visit town. But, we also know DC fans have historically offered tremendous support for the Redskins --- selling out for years. So, we aren't basing this one way or the other on fan support, simply wins/losses of the teams.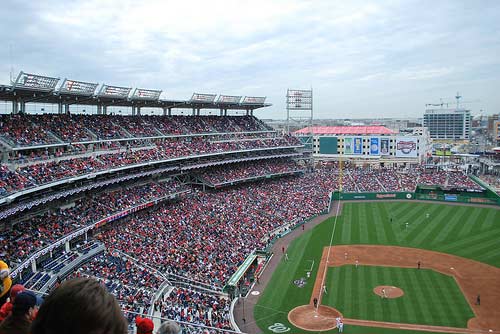 The game drew a paid crowd of 40,386 Phillies-Nationals, opening day 2009.
Thanks to The West End on flickr.com for the picture.
---
By the way, the "best" pro sports cities currently in terms of wins/losses is a toss up between Philadelphia and Boston.
In case you are wondering, no DC area sports doesn't really improve when you include college sports. The Universities of Maryland and Virginia are both in the general area. Both have good basketball programs; pretty much terrible football programs -- at least right now.
What do you think?

We'd love to hear your comments and/or opinions. If you submit them here, other visitors can read them, rate them and comment on them. An e-mail address is not required.


---
Worst All Time Football Game
|
Worst All Time Baseball Game
|
Worst All Time Basketball Game
|
Worst All Time Sports Team
|
Worst All Time Sports Franchise
|
Worst All Time Draft Pick
|
Worst All Time Heartbreak in Sports
|
Worst All Time Sports Arena
|
Worst All Time Sports Fans
|
Worst All Time Sports Injury
|
Worst All Time Sports Movie
|
Worst All Time Sports Play
|
Worst Chokes in Sports History
|
---
From Worst Current Sports City to Worst All Time Sports Moment | Best All Time Sports Blog | History of Professional Football | MLB History | History of NBA | History of Hockey | NCAA Football History | NCAA Basketball History | NCAA Baseball History | History of College Sports | Olympic Sports History | History of All Sports | Best Moments in Sports History | Current Best All Time Sports News | NFL Football Apparel and Merchandise | MLB Baseball Apparel and Merchandise | NBA Basketball Apparel and Merchandise | NHL Hockey Apparel and Merchandise | College Fan Apparel and Merchandise | Other Sports Fan Apparel and Merchandise | Fathead | Sports Tickets |
---
Return to Home Page
About Us | Contact Us | Site Search | Advertise | Terms of Use / Privacy Policy |
---