Best All Time Professional Baseball Manager


When baseball fans talk about who is the best all-time manager or coach in the history of Major League Baseball (MLB), the name Tony LaRussa comes up over and over. For good reason. LaRussa is currently managing the St. Louis Cardinals and has been since 1996. He is a highly respected manager by both players, fans, owners and other managers.
Anthony "Tony" LaRussa started his baseball career in 1962, when he was signed with the Kansas City Athletics. He then played with a couple of Minor League and then Major League clubs before deciding to earn a Juris Doctor (J.D.) – law degree. But LaRussa never practiced law; instead he decided to be a baseball team manager. An interesting story has it that he told a law school professor he was thinking of taking a minor league baseball coaching job and the professor said: "Grow up, you're an adult now, you're going to be a lawyer."

LaRussa started his coaching career with the Chicago White Sox in 1978, as skipper of their Double-A affiliate, the Knoxville Sox. Since then, he's known little else but success. LaRussa led the White Sox to the AL West Division title in 1983. He also won the American League Manager of the Year award that season. However, the White Sox fired him in 1986. No matter, Tony quickly was offered the job of managing the Oakland A's. He lead them to three straight World Series from 1988 - 1990, winning it in 1989. He was named AL Manager of the Year while at Oakland in 1988 and 1992.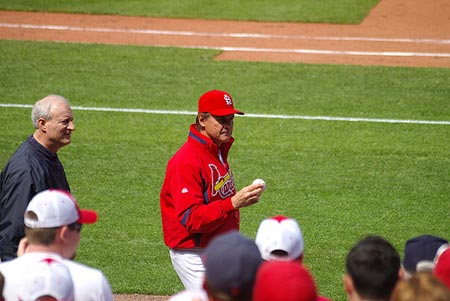 Tony LaRussa Ready to Give Game Balls to Fans. Thanks to flickr.com for the picture. Source: bk1bennett
---

LaRussa took over managing at St. Louis in 1996 and immediately led the team to the National League Central Pennant. With Tony LaRussa as Manager, the Cardinal's have won the National League's Central Division Title 8 times (1996, 2000, 2001, 2002 (NL Manager of Year), 2004, 2005, 2006, and 2009); the National League Pennant -- 2 times (2004 and 2006); and won the World Series once (1996 over the Detroit Tigers; 2d World Series title for LaRussa). The amazing thing about the '06 team is they had a regular season record of only 83-78; the worst ever for a World Series Champion.

LaRussa is also the first manager to be named Major League Baseball's "Manager of the Year" four times (1983, 1988, 1992, and 2002). He also is only the second manager to win a World Series title in both the National League and American League. [Sparky Anderson was the other.]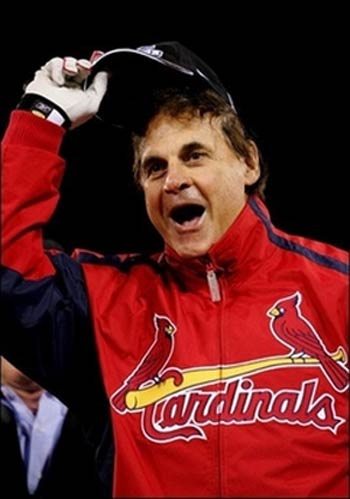 Tony Larussa...usually SO serious, but here he wears a BIG world series winning smile.
Thanks to flickr.com for the picture. Source: carolanross
---

An important factor in our decision to rank LaRussa #1 all-time is that amazingly he is still going strong. He has now managed the 2d most professional baseball games of any manager ever (4,773 as of the end of the 2009 season). The only person in front of him is the immortal Connie Mack who managed an incredible 7679 games for the Pittsburgh Pirates and Philadelphia A's from 1894 to 1950. But, obviously, that was a very different era.

And, again, Tony LaRussa is still going strong. He's amazing. We have no doubt that LaRussa is the top manager in the history of Major League Baseball.
What do you think?

We'd love to hear your comments and/or opinions. If you submit them here, other visitors can read them, rate them and comment on them. An e-mail address is not required.


---
Best All Time Professional Baseball Player
|
Best All Time Baseball Franchise
|
Best All Time Professional Baseball Franchise
|
Best All Time Professional Baseball Hitter
|
Best Current Professional Baseball Hitter
|
Best All Time Professional Baseball Pitcher
|
Best All Time Professional Baseball Stadium
|
Best All Time Professional Baseball World Series
|
Best All Time Baseball Fielder
|
Best All Time First Baseman
|
Best All Time Right Handed Pitcher
---
From Best All Time Professional Baseball Manager to MLB History | Best All Time Sports Blog | History of Professional Football | History of NBA | History of Hockey | NCAA Football History | NCAA Basketball History | NCAA Baseball History | History of College Sports | Olympic Sports History | History of All Sports | Best Moments in Sports History | Worst All Time Sports Moment | Current Best All Time Sports News | NFL Football Apparel and Merchandise | MLB Baseball Apparel and Merchandise | NBA Basketball Apparel and Merchandise | NHL Hockey Apparel and Merchandise | College Fan Apparel and Merchandise | Other Sports Fan Apparel and Merchandise | Fathead | Sports Tickets |
---
Return to Home Page
About Us | Contact Us | Site Search | Advertise | Terms of Use / Privacy Policy |
---