Who is the best NFL quarterback of all time? It is a question that is almost impossible to answer since so many of the reasons for any persons' decision come "from the gut" and cannot be explained statistically or quantified effectively. For instance, even though, after twenty seasons, Packer legend Brett Favre has captured nearly every major passing record in the game, he still barely cracks the top five on my all-time list.
Regardless of their esoteric nature, Greatest of All Time (GOAT) discussions always seem to capture everyone's imagination. After all, there is no fun in having a pool of greats who are all equal; we have to have one player who stands above them all, at the top. While always a difficult one, the question is easier to answer for certain sports than others. In basketball, Michael Jordan is, more or less, generally considered the GOAT because he won six championships, dominated the game for over a decade, and created an outsized personality that nearly saw him deified after his second retirement in 1998. However, in football, there is hardly a recognized GOAT for the entire game. The best we can do is identify the highest impact position, quarterback, then anoint the best player at that position as the "greatest to have ever played".

My top five pro football quarterbacks are, in reverse order, Brett Favre, Peyton Manning, Tom Brady, John Elway, and Joe Montana. Sixth, and just left off, would be the immortal Dan Marino. This is my attempt at impartiality considering my favorite quarterback ever, Steve Young, didn't crack the list.

So how did I form my opinion of the top pro quarterback ever? First, I considered the bottom of my top five and realized that I could actually fit only one of the two, statistically speaking, best quarterbacks to have played since Favre currently holds all the major records and stole them from Marino. In separating the two I had to decide between Marino's legendary accuracy and Favre's hardware.
Brett Favre from the New York Jets during the coin toss on the field at the Meadowlands.
Thanks to Joe R. Campa Jr. at wikipedia.org for this photo.
---

In the end, despite his flair and exceptionally passing ability, I simply could not rank Marino above his statistical counterpart because, despite the interceptions, Favre also has three MVP awards (tied with Manning for the record) and a superbowl ring. Marino's lack of a ring, in addition to the fact that he only attended one in a fifteen year career, simply precluded him from being ranked above any of the top five even though his Dolphin defenses were by far the worst of the group.

Ahead of the former Packer legend is Peyton Manning. Here Favre's accuracy woes finally came to bear since Manning is expected to reach, and perhaps break, Favre's touchdown, passing, and perhaps even start records. Furthermore, both have a superbowl ring, three league MVPs, and ten probowl berths. The main difference between their achievements is a double digit separation in the percentage accuracy of their passes. As a result, Manning has to be considered the better of the two overall.

However, despite all their accomplishments, both Favre and Manning are, as it stands today, eclipsed by John Elway and Tom Brady. The Manning-Brady top NFL QB debate is still going on currently and, admittedly, many consider Peyton to be the better of the two right now. While that may be true, the fact is that Brady, whose career yardage and touchdown statistics are hardly in line with his rivals', nonetheless has three rings in four appearances to Manning's one. Ultimately, the goal of any NFL quarterback is to win the Superbowl as many times as possible so, despite Manning's golden stats, Brady is clearly the better of the two in the clutch over their entire careers. Of course, should Manning win a couple more in his remaining years, that ranking could easily be shuffled.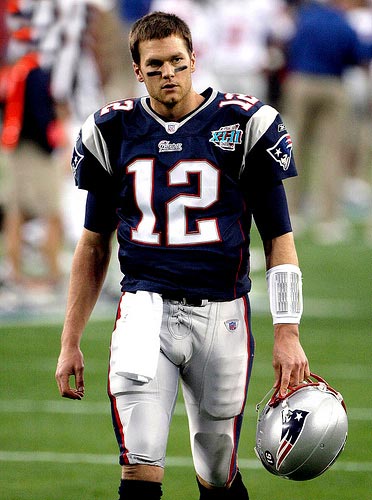 Thanks to americanistadechiapas Puskar from Flickr.com for this great picture of Tom Brady.
---

The last two men on this list, Elway and Montana, stand above the rest because they combined statistical exceptionalism with multiple rings. While Elway has ten thousand more career yards then Montana, and actually has more superbowl appearances (5) than the 49ers legend, Montana was still the more complete player. Though not in Marino's class statistically, he is still in the top ten all time in yards and touchdowns while possessing one of the best TD/INT ratios. Furthermore, his four superbowls stand as a record, tied with Terry Bradshaw (and the Iron Curtain) that other quarterbacks gave yet to match.

Give Peyton Manning (who just topped 50,000 career yards and is likely to win his fourth MVP -- here's a view that Peyton is not only the best QB ever, but the Best NFL Player Ever) and Tom Brady (who is only one away from tying the Superbowl wins record) some time. But, as it stands today, Joe Montana, the immortal 49er, stands above them all as the best all-time professional football quarterback.

Check out our NFL All-Time Team; you'll find Joe Montana there.
What do you think?

We'd love to hear your comments and/or opinions. If you submit them here, other visitors can read them, rate them and comment on them. An e-mail address is not required.


What Other Visitors Have Said
Click below to see contributions from other visitors to this page...

---
NFL All-Time Team | Top 2010 Fantasy Football Picks | 2010 NFL Power Rankings Preview | Best Football Player of All Time | Best All Time Professional Football Player | Best All Time Professional Football Team | Best All Time Defensive Professional Football Team | Best All Time Professional Football Coach | Best All Time Professional Football Fans | Best All Time Professional Football Franchise | Top All Time Professional Football Franchise | Best All Time Professional Football Linebacker | Best All Time Professional Football Rivalry | Best All Time Professional Football Runningback | Best All Time Professional Football Linebacker Unit | Best All Time Professional Football Stadium | Best All Time NFL Football Division | Best NFC West NFL Fans | Best All Time Professional Football Defensive Player | Best All Time Dallas Cowboys Linebacker | Best All Time Super Bowl | Best All Time Pro Football Quarterback Never Win Super Bowl | Best All-Time Professional Football Wide Reciever |
---
From Best All-Time Professional Football Quarterback to History of Professional Football | Best All Time Sports Blog | MLB History | History of NBA | History of Hockey | NCAA Football History | NCAA Basketball History | NCAA Baseball History | Small College Football History | History of College Sports | Olympic Sports History | History of All Sports | Best Moments in Sports History | Worst All Time Sports Moment | Current Best All Time Sports News | Best Sports Forum | Best Sports Blogs | NFL Football Apparel and Merchandise | MLB Baseball Apparel and Merchandise | NBA Basketball Apparel and Merchandise | NHL Hockey Apparel and Merchandise | College Fan Apparel and Merchandise | Small College Sports Apparel and Merchandise | Other Sports Fan Apparel and Merchandise | Best Sports Gifts | Fathead | Sports Tickets |
---
Home Page

About Us | Contact Us | Site Search | Advertise | Terms of Use |
---