Best All Time Professional Football Defensive Player

Obviously there have been a ton of great players who have played defense in the National Football League (NFL). We pick Lawrence Julius Taylor, also known as "LT" as the all-time best professional football defensive player because he revolutionized the way linebackers and defensive teams played.
Before LT linebackers and Pro defenses mostly played a "read and react" game. They would observe "read" what the offense was doing and react to it. Lawrence Taylor reversed the roles and led an attacking defense that attacked an offense at its weak point and aggressively busted up plays before they developed.
Taylor was perfect for this attacking role because first of all he was a great athlete. At 6' 3'', 241 pound LT was a solid packed, lean, mean defensive machine. He won three NFL Defensive Player of the Year awards along with the honor of being awarded the National Football League's Most Valuable Player (MVP) in 1986.
Taylor, born in 1959, began to play football at the age of 15 but it wasn't until he was in the 11th grade at Lafayette High School, that he started playing football on the schools team. After leaving high school, Taylor was not heavily recruited by colleges but eventually was recruited by the University of North Carolina (UNC) in 1977 as a defensive lineman. He played that position until 79 when he began playing in the position of linebacker. During his NCAA football career, Taylor impressed his coaches with his tenacity on the football field. Taylor's jersey in college, # 98, was retired by the University of North Carolina.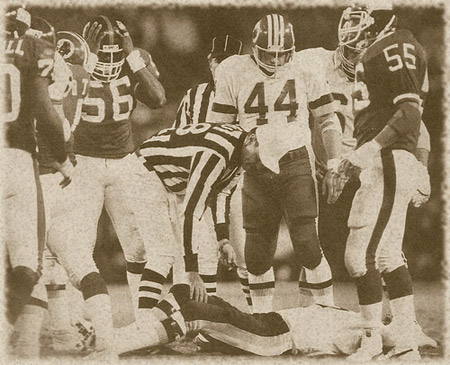 Joe Theismann's career ended on November 18, 1985, just months after he divorced, when he suffered a gruesome compound fracture of his leg while being sacked by New York Giants linebackers Lawrence Taylor(#56) and Harry Carson during a Monday Night Football game telecast. Thanks to flickr.com for the picture. Source: raglind
---
In 1981 Taylor was drafted by the Giants in a first round pick. His professional football career was a turbulent one with alcohol and drug addiction problems scattered throughout. However, Taylor possessed some of the greatest skills any linebacker had in history. At times he seemed almost super-human. He played with an intensity rarely seen before. Speed, strength, agility. He dominated not only the game but the attention of the fans as well.
Lawrence Taylor was selected as an All-Pro his first nine seasons in the NFL. He was All-NFC ten times; played in ten Pro Bowls and finished second all time in career sacks of the quarterback.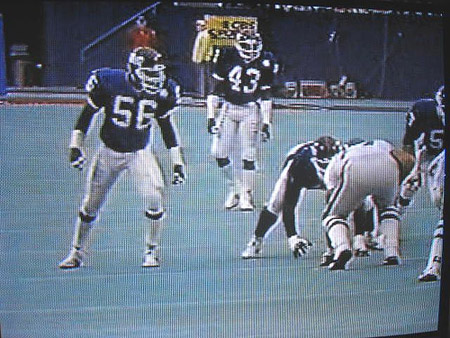 The Giants knocked off the Eagles 35-3 and LT recorded four sacks.
Thanks to flickr.com for the picture. Source: jacorbett70
---
[Wondering who had the most sacks in the history of pro football? Deacon Jones. While with the Los Angeles Rams as a defensive end, Deacon coined the term "sack". Jones is in the football history books for getting 173 career sacks, earning him the nickname "Minister of Defense."]
There have been many awesome defensive players in NFL history. But, we think the all-time best professional defensive football player is Lawrence Taylor. He had the full package: Sacks – 132; interceptions – 9; tackles – 1,088, fumbles recovered, etc.
Washington Redskins Coach Joe Gibbs developed an entire offensive scheme (2 tight ends) just to block LT. He said he had "learned the hard way" that Lawrence Taylor had to be blocked somehow. All in all, LT dominated a game like no defensive player before or since.
What do you think?

We'd love to hear your comments and/or opinions. If you submit them here, other visitors can read them, rate them and comment on them. An e-mail address is not required.


---
Best All Time Professional Football Player
|
Best All Time Professional Football Team
|
Best All Time Defensive Professional Football Team
|
Best All Time Professional Football Coach
|
Best All Time Professional Football Fans
|
Best All Time Professional Football Franchise
|
Top All Time Professional Football Franchise
|
Best All Time Professional Football Linebacker
|
Best All Time Professional Football Rivalry
|
Best All Time Professional Football Quarterback
|
Best All Time Professional Football Runningback
|
Best All Time Professional Football Stadium
|
Best All Time NFL Football Division
|
Best NFC West NFL Fans
|
Best All Time Professional Football offensive Line
|
Best All Time Dallas Cowboys Linebacker
|
Best All Time Super Bowl
|
Best All Time Pro Football Quarterback Never Win Super Bowl
|
---
From Best All Time Professional Football Defensive Player to History of Professional Football | Best All Time Sports Blog | MLB History | History of NBA | History of Hockey | NCAA Football History | NCAA Basketball History | NCAA Baseball History | History of College Sports | Olympic Sports History | History of All Sports | Best Moments in Sports History | Worst All Time Sports Moment | Current Best All Time Sports News | NFL Football Apparel and Merchandise | MLB Baseball Apparel and Merchandise | NBA Basketball Apparel and Merchandise | NHL Hockey Apparel and Merchandise | College Fan Apparel and Merchandise | Other Sports Fan Apparel and Merchandise | Fathead | Sports Tickets |
---
Return to Home Page
About Us | Contact Us | Site Search | Advertise | Terms of Use / Privacy Policy |
---