You may be surprised by our pick for the best all-time professional football running back. There have been a ton of great running backs in the NFL throughout the league's history. Jim Brown had the best combination of power and speed. Herschel Walker & Eric Dickerson were next in that category. Gale Sayers, O.J. Simpson and Marcus Allen were the most elusive, but they were not the best either.
The best running back in the history of professional football was the great Barry Sanders from the Detroit Lions. Sanders played his entire NFL career with the Detroit Lions. The Lions picked Sanders up with their first round pick; the 3rd player chosen in the 1989 draft. Actually, at the time of the draft, the Lions considered drafting Deion Sanders but with the high recommendations they received from Barry's college coach, Wayne Fontes from Oklahoma State (where he won the Heisman Trophy; check out
Barry Sanders' College Statistics
), the Lions, nabbed Barry. And they certainly were never sorry.

Barry was a mere 5'8 fellow but weighed in at 203 pounds (mostly muscle). His legs were solid packed muscles. The 203 pounds didn't slow him down one bit; the man was a bullet! His quick moves, agility, and speed made it hard for opponents to even get a hit on him. Catching Barry Sanders was a like trying to catch a cheetah. He was known by his signature move, the spin. He had the ability to find a hole in the line of scrimmage and turn it into a mishmash of confusion.

Sander's led the NFL in 1990, 94, 96, and 97 in rushing yards and rushed for over 1500 yards in a season making an NFL record four straight years. He also rushed for 1,000 yards ten straight years. Each year of his NFL career from 1989 to 98, Sanders was first or second-team All-Pro and selected to the Pro Bowl.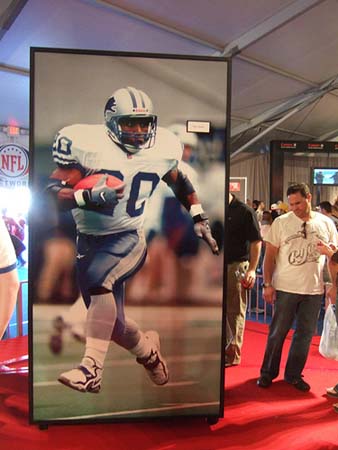 Barry Sanders at his best -- on the run. Thanks to flickr.com for the picture. Source: JohnSeb
---

Barry Sanders was not a powerful back, but he was difficult to tackle. Barry Sanders was not the fastest back in the league when he played, but he was difficult to catch from behind. What Barry Sanders had that set him apart was his field vision and his willingness to lose in order to win. He would keep running until he had daylight, much like Sayers or Allen or Walter Payton, and he had the stamina, toughness and elusiveness to stay on his feet until he could find a seam and head for daylight.

The thing that made Barry Sanders truly great was the fact that he could pull 200 yards per game and 2000 yards per season on teams without functional offensive lines. The Lions were horrible the entire time that Barry was there, but he still found a way to keep them in games and do tremendous things on the football field.

When Sanders retired he had a career rushing yard total of 15,269 placing him second in NFL's history behind Walter Peyton's 16,726 yards (but Sanders had a higher per-game rushing average – second only to Jim Brown in NFL history). Shy of 31 yards, Sanders could have been the second NFL running back to average 100 yards a game.

Barry Sanders shocked the football world when he announced his retirement from pro football to the public in July of 1999. Had he stayed another year, Sanders likely would have broken Walter Payton's record for all-time rushing yards. But Barry Sanders never was one to play for the record books. He played for love of the game. Maybe that's what made him so likeable.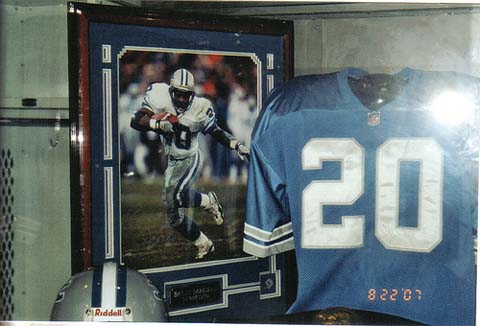 A fan's collection of Barry Sanders memories. Thanks to flickr.com for the picture. Source: femaletrumpet02
---

Sanders made his retirement announcement by faxing his hometown paper the Wichita Eagle his intent. Barry retired several years earlier than his contract expiration which led to a legal battle when he refused to pay back the $7.3 million signing bonus. The Lions eventually won the suit leaving Sanders to pay back $5.5 million of the suit over three years with interest.

The reason for the mysterious early retirement was not found out until several years after Sanders left the NFL. Sanders finally explain that losing within the Lion's organization was just too much for him to deal with and that it was robbing him of his competitive nature.

The bottom line is that if I had to pick one running back, in his prime, to play one game for me – it would be Barry Sanders. He was the most electrifying and creative running back ever. That's why we pick him as the best all-time pro football running back.