Of all the world's major sports, football is arguably the most position-driven. It is the ultimate team sport and each player has a role; from the quarterback to the kick returner. Moreover, any great team requires talent at almost every position and future hall of famers at several. As a result, finding and naming the player who was truly the most dominant performer of all time is close to impossible. The answer depends on what positions you value, whether you prefer good offense or defense, and any number of other factors.
That said, when I looked at some statistics, several things became immediately apparent. The first was that the most important position in the NFL is the quarterback, but there have been a number of dominant performers at that position and I could hardly find a consensus top quarterback, let alone one that I could anoint as the best overall player in the history of the sport. My personal pick,
Joe Montana
, won four Superbowls but never even won a league MVP.

The second thing I noticed was that it was impossible to choose a defender as the best of all time. This is because defenses in the NFL operate in groups-the front four, front seven, defensive backs, twin safeties, corners, etc-and every defensive player is enabled by the performance of his group peers. For instance, as tempting as it was to name a player like Lawrence Taylor, his dominance was enabled by the Giant's legendary front four. This was even more true of players like Mike Singletary (enabled by the perennially underrated Dan Hampton), Jack Ham (a member of the Iron Curtain defense), and Troy Polamalu.

Therefore, I reached the conclusion that the best player in NFL history would have to be a running back. Though running backs are enabled by the strength of the offensive lines, the talent at the position is often unique. The ability to move the ball dynamically on the ground is central to the offensive game plan of any great team and, even in a quarterback-driven league, an inability to run the ball on the ground will sink any team.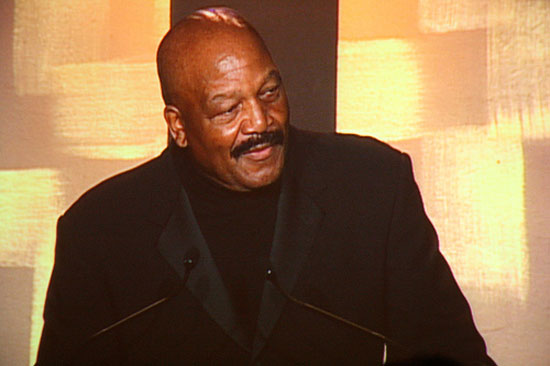 Thanks to Nicki Dugan from Flickr.com for this great picture of Football legend Jim Brown.
---

I chose Jim Brown because he was unquestionably the best running back of all time. Though, as a Bears fan, I was strongly tempted to pick Walter Payton, the statistics simply do not back that up effectively. In his short nine year NFL career, Brown was named to the Probowl every single season, was an All-Pro in eight of those years, won three NFL MVPs, and dragged a mediocre and one-dimensional Browns team to the franchises' only Superbowl victory in 1961.

However, it was Brown's per game averages that make him stand completely above the rest with 104.3 yards per game and 5.2 yards per carry. By comparison, Walter Payton averaged 88 yards per game and 4.4 yards per carry. Therefore, Jim Brown's accomplishments leave him as an obvious choice for both best running back and best football player of all time.
If you liked this story you probably would enjoy best all-time baseball player and here's another article picking Jim Brown as the best pro football player of all time.
What do you think?

We'd love to hear your comments and/or opinions. If you submit them here, other visitors can read them, rate them and comment on them. An e-mail address is not required.


What Other Visitors Have Said
Click below to see contributions from other visitors to this page...

---
2010 NFL Power Rankings Preview | Best All Time Professional Football Player | Best All Time Professional Football Team | Best All Time Defensive Professional Football Team | Best All Time Professional Football Coach | Best All Time Professional Football Fans | Best All Time Professional Football Franchise | Top All Time Professional Football Franchise | Best All Time Professional Football Linebacker | Best All Time Professional Football Rivalry | Best All Time Professional Football Quarterback | Best All Time Professional Football Runningback | Best All Time Professional Football Linebacker Unit | Best All Time Professional Football Stadium | Best All Time NFL Football Division | Best NFC West NFL Fans | Best All Time Professional Football Defensive Player | Best All Time Dallas Cowboys Linebacker | Best All Time Super Bowl | Best All Time Pro Football Quarterback Never Win Super Bowl | Best All-Time Professional Football Wide Reciever |
---
From Best Football Player of All Time to History of Professional Football | Best All Time Sports Blog | MLB History | History of NBA | History of Hockey | NCAA Football History | NCAA Basketball History | NCAA Baseball History | Small College Football History | History of College Sports | Olympic Sports History | History of All Sports | Best Moments in Sports History | Worst All Time Sports Moment | Current Best All Time Sports News | Best Sports Forum | NFL Football Apparel and Merchandise | MLB Baseball Apparel and Merchandise | NBA Basketball Apparel and Merchandise | NHL Hockey Apparel and Merchandise | College Fan Apparel and Merchandise | Other Sports Fan Apparel and Merchandise | Fathead | Sports Tickets |
---
Return to Home Page

About Us | Contact Us | Site Search | Advertise | Terms of Use |
---