Before we can start talking about the greatest receiver ever, let's eliminate some of the pretenders and contenders.

Randy Moss:
Moss is the biggest talent in the game, and when he wants to be, he can be the most dangerous offensive weapon. He just does not want to be often enough to merit consideration as the best ever.
Steve Largent:
Tremendous hands, excellent route runner, and for all his limitations, was enormously productive. But he was essentially a possession guy. A great possession guy, a Hall-of-Famer, but he would not throw the fear of God into opposing defenses.

Lance Alworth:
I haven't seen much of him, but you listen to the old-timers speak of him, and it's hard not to notice the awe in their voices. They speak not only of his speed and athleticism, but the sheer grace and the impact he had on games. He averaged almost nineteen yards per catch. That is a number of an explosive playmaker. The other numbers are so impressive, but he played prior the late-70's rule changes which opened up the passing game. The first player from the AFL to be elected to the Pro Football Hall of Fame. Maybe just a whisker away from being the best ever.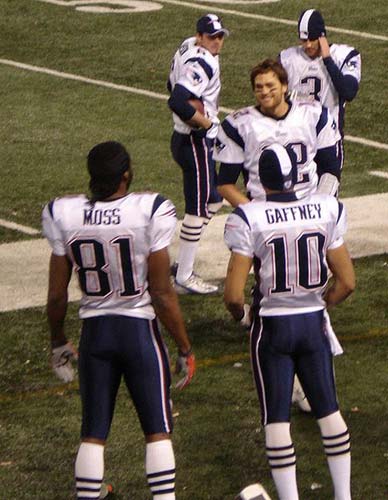 Randy Moss with Tom Brady and Jabar Gaffney after throwing for record 50th td against NY Giants. Thanks to wikipedia.org for the picture.
---

Cris Carter:
Not an easy person to like, there still are those who say he has the best hands of anybody I'll name, and that's saying a lot. Second among receivers in TDs, he set the record for catches in a season, which was later broken. He was also productive with a variety of different QBs throwing to him. Just barely on the outside of being considered the greatest ever.

Lynn Swann:
His numbers don't stack up, but his combination of speed, unbelievable body control and hands merit him a mention. Also, played his best in the playoff and Super Bowl, when great competitors really shine.

Michael Irvin:
Yes, he was hugely competetive and productive, but it's hard for me to put into a consideration a guy who made a career out of finding ways to push off and not get called for it. (By the way, this isn't just my opinion. I've read the same thing in quotes from NFL scouts.)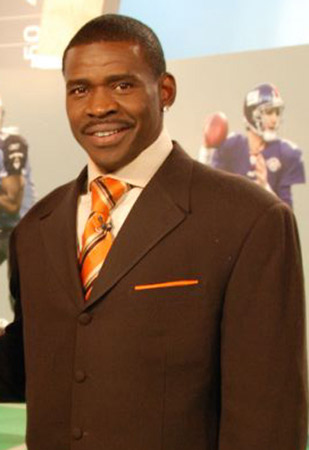 Michael Irvin. Thanks to Lobberich at wikipedia.org for the picture.
---

So if none of these outstanding receivers are not the best ever, who is?

It's Jerry Rice. How can it not be? He holds the NFL records for receptions, receiving yards, and receiving TDs. He could beat you deep, he could go over the middle. He was outstanding in the clutch, and he was an effective blocker. He would get you the first down you needed on third and long, not just once or twice a game, but on a regular basis. He was consistent, and he was as tough as any receiver who ever played. He could take a hit from a speeding bullet and hang onto the ball. He played some of his best games in the playoffs and the Super Bowl. I'm sure there are those who will say he was a system receiver, but if the system was what made him, how is it the system did not make another Jerry Rice, or at least someone close to his productivity? As great as the others are, the answer to the question: Who is the best wide receiver ever?

Has to be Jerry Rice; greatest professional football wide receiver in the history of the game. Bar none.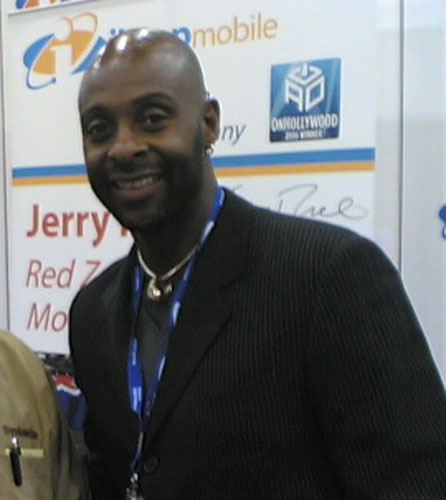 NFL legend Jerry Rice at CTIA Wireless in Las Vegas.
Thanks to Glenn's GISuser.com at wikipedia.org for the picture.
---

Check out our NFL All-Time Team; you'll find Jerry Rice there.
What do you think?

We'd love to hear your comments and/or opinions. If you submit them here, other visitors can read them, rate them and comment on them. An e-mail address is not required.


---
NFL All-Time Team | Top 2010 Fantasy Football Picks | 2010 NFL Power Rankings Preview | Best Football Player of All Time | Best All Time Professional Football Player | Best All Time Professional Football Team | Best All Time Defensive Professional Football Team | Best All Time Professional Football Coach | Best All Time Professional Football Fans | Best All Time Professional Football Franchise | Top All Time Professional Football Franchise | Best All Time Professional Football Linebacker | Best All Time Professional Football Rivalry | Best All Time Professional Football Quarterback | Best All Time Professional Football Runningback | Best All Time Professional Football Linebacker Unit | Best All Time Professional Football Stadium | Best All Time NFL Football Division | Best NFC West NFL Fans | Best All Time Professional Football Defensive Player | Best All Time Dallas Cowboys Linebacker | Best All Time Super Bowl | Best All Time Pro Football Quarterback Never Win Super Bowl |
---
From Best All-Time Professional Football Wide Reciever to History of Professional Football | Best All Time Sports Blog | MLB History | History of NBA | History of Hockey | NCAA Football History | NCAA Basketball History | NCAA Baseball History | Small College Football History | History of College Sports | Olympic Sports History | History of All Sports | Best Moments in Sports History | Worst All Time Sports Moment | Current Best All Time Sports News | Best Sports Forum | Best Sports Blogs | NFL Football Apparel and Merchandise | MLB Baseball Apparel and Merchandise | NBA Basketball Apparel and Merchandise | NHL Hockey Apparel and Merchandise | College Fan Apparel and Merchandise | Small College Sports Apparel and Merchandise | Other Sports Fan Apparel and Merchandise | Best Sports Gifts | Fathead | Sports Tickets |
---
Home Page

About Us | Contact Us | Site Search | Advertise | Terms of Use |
---