Best All Time Professional Football Linebacker Unit


If you like hybrids, if you are a baseball fan and like 5-tool players, if you like players in any sport who can do it all, you have to love linebackers. They need to be strong like lineman, fleet like defensive backs, and the best of them love to collide with a ballcarrier.
There have been many outstanding linebacking units in NFL history- the 1985 Bears had the hyper-intense Hall of Famer Mike Singletary, flanked by All-Pros Otis Wilson and Wilber Marshall; the New Orleans Saints had a swarming crew led by Sam Mills in the late 80's and early 90's; and it's difficult not to choose the 1986 NY Giants, who had perhaps the best linebacker of all time in Lawrence Taylor, as well as Hall of Famer Harry Carson.

But if I were forced to choose, I would take the linebacking trio of the Pittsburgh Steelers of 1974-1976 as the top linebackers ever.

It's true, they had the advantage of playing behind Mean Joe Greene and L.C. Greenwood, but even on their own they were so good as to be scary. On one side you had Andy Rusell, known for his smarts and instincts, who was chosen as a Pro-Bowler seven times and named team defensive captain for nine years. Believe it or not, Andy Russell is the LEAST accomplished of the three.

On the other side, you had Jack Ham, who was equally talented at playing the pass or the run. A devoted student of the game, he rarely took missteps or bad angles, and had good enough hands and range to make 32 career regular-season interceptions, which is third-best all-time among linebackers. Big time players make big plays in the most important games, and Ham was no exception. He had five interceptions in the post-season, two of them in the 1974 AFC championship game which sent the Steelers to their first Super Bowl. Jack Ham was elected to the Hall of Fame in 1988.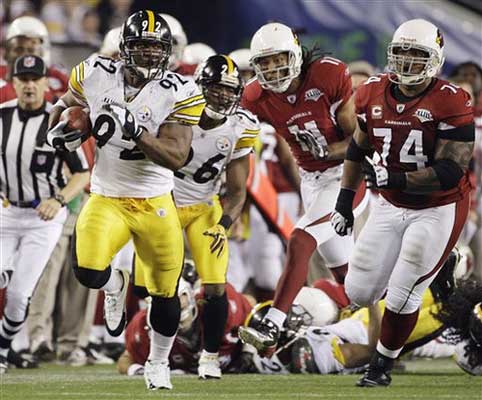 Pittsburgh Steelers linebacker James Harrison (92) returns the ball 100 yards for a touchdown after an interception in the second quarter against Arizona Cardinals the NFL Super Bowl XLIII football game, Sunday, Feb. 1, 2009, in Tampa, Fla.
Thanks to tchuntfr at flickr.com for the picture.
---

Intimidation was what middle linebacker Jack Lambert was all about. "He was so mean," Joe Greene once said, "that he don't even like himself." He had athletic traits that a great linebacker needs - quickness, speed, range - plus the football intelligence, intensity, and a love for the vicious hit that made him one of the greatest of all time. In addition, at 6'4", his height made it difficult for quarterbacks to throw over him when he was defending the middle of the field. Lambert had good enough hands to snare 28 career regular-season interceptions, and his interception late in the fourth quarter of Super Bowl XIV preserved Pittsburgh's fourth Super Bowl title. Jack Lambert was named All-Pro eight times, and was voted into the Pro Football Hall of Fame in 1990.

This trio led the Steel Curtain defense to Super Bowl championships in Super Bowl IX, where they dominated the Minnesota Vikings, and in Super Bowl X, when they defeated the Dallas Cowboys. Perhaps the best year they had was in 1976, widely considered one of the greatest defenses of all time. That defense led the league in total yards allowed, points allowed, rushing yards allowed and rushing yards per attempt. It's difficult to fathom a defense playing better than that. That Steelers team fell in the playoffs only when injuries sidetracked the Pittsburgh offense.

Between two Super Bowl wins, two Hall of Famers and one of the greatest defenses of all time, it's hard to vote any unit of linebackers higher. I pick the '74 - '76 Steelers linebackers as the greatest of all time.
What do you think?

We'd love to hear your comments and/or opinions. If you submit them here, other visitors can read them, rate them and comment on them. An e-mail address is not required.


---
Best All Time Professional Football Player | Best All Time Professional Football Team | Best All Time Defensive Professional Football Team | Best All Time Professional Football Coach | Best All Time Professional Football Fans | Best All Time Professional Football Franchise | Top All Time Professional Football Franchise | Best All Time Professional Football Linebacker | Best All Time Professional Football Rivalry | Best All Time Professional Football Quarterback | Best All Time Professional Football Runningback | Best All Time Professional Football Stadium | Best All Time NFL Football Division | Best NFC West NFL Fans | Best All Time Professional Football Defensive Player | Best All Time Dallas Cowboys Linebacker | Best All Time Super Bowl | Best All Time Pro Football Quarterback Never Win Super Bowl |
---
From Best All Time Professional Football Linebacker Unit to History of Professional Football | Best All Time Sports Blog | MLB History | History of NBA | History of Hockey | NCAA Football History | NCAA Basketball History | NCAA Baseball History | History of College Sports | Olympic Sports History | History of All Sports | Best Moments in Sports History | Worst All Time Sports Moment | Current Best All Time Sports News | NFL Football Apparel and Merchandise | MLB Baseball Apparel and Merchandise | NBA Basketball Apparel and Merchandise | NHL Hockey Apparel and Merchandise | College Fan Apparel and Merchandise | Other Sports Fan Apparel and Merchandise | Fathead | Sports Tickets |
---
Return to Home Page

About Us | Contact Us | Site Search | Advertise | Terms of Use / Privacy Policy |
---