What can you say about a football player so dominant, his college changed their school's mascot to fit his nickname?

The nickname "Mean Joe" caught-on during Greene's first year with the Pittsburgh Steelers in 1969 when the fan base mistakenly assumed that Mean Green (a nickname for the defensive squad of his alma mater, North Texas State) was derived from a nickname they thought he had inherited while at North Texas. Nonetheless, the athletic department, media, and fans loved the novelty of a young standout's surname being a homophone of the university's school color.
Greene was chosen with the fourth overall pick in the 1969 NFL Draft by the Pittsburgh Steelers and spent his entire career in Pittsburgh.  He was also on hand when another nickname was given out, and that was known as the Steel Curtain Defense. When Greene was drafted, a newspaper headline asked, "Who's Joe Greene?" The media, as well as everyone connected with pro football would not have to wait long to find out.

He was named Rookie of the Year in 1969, even though the Steelers went 1-13, which, ironically, was Hall of Fame coach Chuck Noll's first year.

In 1972 and 1974, he was selected as the NFL Defensive Player of the Year. It was in 1974 that he really came into his own. That year, he also achieved something no other defensive line had ever accomplished, and that was to have his picture, along with teammates L.C. Greenwood, Ernie Holmes and Dwight White on the cover of Time magazine.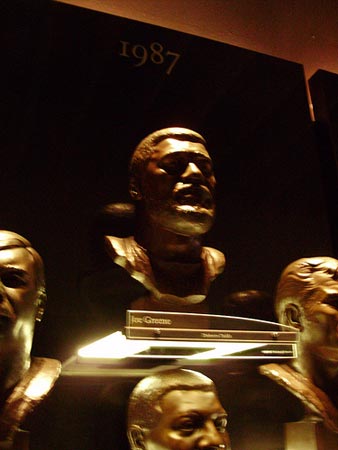 Mean Joe Greene who wasnt really mean. Thanks to Viewoftheworld from flickr.com for the picture.
---

Also in 1974, Greene led the Steelers to their first ever Super Bowl as they beat Minnesota 16-6. He became the first player ever to record an interception, a forced fumble, and fumble recovery in a Super Bowl. After leading the Steelers to another Super Bowl win in 1975 over the Dallas Cowboys, Green was a member of two more Super Bowl championship teams in 1978 and 1979.


Among his long list of awards, number 75 was selected to the Pro Bowl 10 times, was inducted into Pro Football Hall of Fame in 1987, named to NFL All-Time Team in 1994, and named to Pro Football Hall of Fame's Team of the 1970s.

Although the Steelers do not officially retire jersey numbers, Greene's number has not been issued since his retirement and there is an unwritten understanding that the number will never be worn by another Steeler player. What many people might not know is Greene briefly wore number 72 during his rookie season before switching to his more familiar 75 during the midseason.

Of all the stories of being a monster on the field, there was one incident that forever blew away the notion that Joe Green was nothing more than a bully with no regard for anyone but himself, and it came in 1978. Coke was looking for a big time athlete to not only pitch their product, but act in a mini drama, which was something not seen during the 70's advertising. Green agreed to do it, although he had never had any formal acting experience.

In the commercial, Green is shown limping back to the locker room when a little boy holding a Coke approaches him. When the boy gives Greene his Coke, he takes a long gulp of it. The little boy exhales in admiration, then walks away. Greene then tosses him his jersey and says thanks.

It was one of the most remembered commercials of all time, and one that was awarded a prestigious Clio award. The commercial not only was a huge hit for Coke, but it changed Greene's life as it showed him in a much softer, gentler light. It loosened him up and made him warmer to his fans and the people asking him for his autograph.

We named Mean Joe Greene to our NFL All-Time Team. Check out the article to see who else made it.
What do you think?

We'd love to hear your comments and/or opinions. If you submit them here, other visitors can read them, rate them and comment on them. An e-mail address is not required.


---
Anthony Munoz Biography | Bob Lilly Biography | David "Deacon" Jones Biography | Dick Butkus Biography | Gene Upshaw Biography | Jack Ham Biography | Jerry Rice Biography | Jim Brown Biography | Joe Montana Biography | Kellen Winslow Biography | Ken Houston Biography | Lawrence Taylor Biography | Mel Blount Biography | Mel Hein Biography | Orlando Pace Biography | Randy Moss Biography | Rod Woodson Biography | Ronnie Lott Biography | Walter Payton Biography |
---
From "Mean" Joe Greene Biography to History of Professional Football | Best All Time Sports Blog | MLB History | History of NBA | History of Hockey | NCAA Football History | NCAA Basketball History | NCAA Baseball History | Small College Football History | History of College Sports | Olympic Sports History | History of All Sports | Best Moments in Sports History | Worst All Time Sports Moment | Current Best All Time Sports News | Best Sports Forum | Best Sports Blogs | NFL Football Apparel and Merchandise | MLB Baseball Apparel and Merchandise | NBA Basketball Apparel and Merchandise | NHL Hockey Apparel and Merchandise | College Fan Apparel and Merchandise | Small College Sports Apparel and Merchandise | Other Sports Fan Apparel and Merchandise | Best Sports Gifts | Fathead | Sports Tickets |
---
Home Page

About Us | Contact Us | Site Search | Advertise | Terms of Use |
---