2012 College Football Predictions

1. Arkansas
It'll be Arkansas vs USC in the 2013 BCS title game. USC will lose, because they are not ready for the SEC. Arkansas has waited patiently in this conference for it's time and now it has come. They have both a running game and a passing game. They can play against a run or pass on Defense. They have a good coaching staff and no one has a big head. This year it's all about the team. Tyler Wilson is the greatest leader this team has ever had and he will lead them to the promised land.
2. USC
USC will emerge as a clear cut front runner in the conference and in the NCAA for much of the season. They are quick and smart. Their coach is tricky good. He is a mind freak. They can toy with you and they are solid on defense. They have waited through their probation and now it is time to try to take the trophy back home, but there's a hog in the way and they can't move it.

3. Alabama
I wanted to pick Alabama on pure talent, but the thing is, is that Saban strikes me as cocky. They will get arrogant and not prepare enough for Arkansas and Arkansas will take that one in a very close game where Arkansas will have too much offense for Nick's defensive minded team.

4. Wisconsin
Wisconsin finished up last year strong and will do the same this year. They can run hard and will be able to again. They can throw a bit and as always are strong on Defense. They just need to stay smart and not turn it over and they will be in the BCS.

5. Georgia
Georgia will play it's way into this position with a weaker SEC schedule and the fact that they will blow many teams out. This will be one of the final years for that, the east is getting better. Richt has done a fine job assembling a well balanced team that can do a lot of damage early in ball games.

6. Virginia Tech
They may not even have to play Beamer ball to get here. This team jumped out last year toward the end of the season and surprised us all. They got a lot better and will continue towards the beginning this year. They have a lot to prove that they can maintain a winning year, they haven't in the past.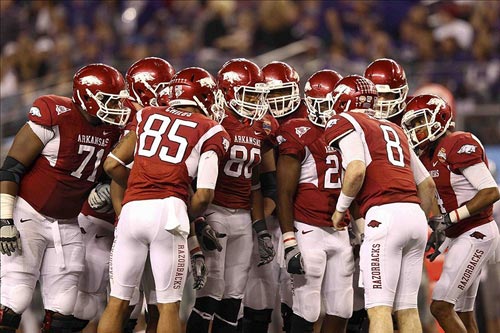 Arkansas Razorbacks quarterback Tyler Wilson (8) calls a play in the huddle during the game against the Kansas State Wildcats in the 2012 Cotton Bowl at Cowboys Stadium. Arkansas won 29-16. Photo Courtesy By: Kevin Jairaj-US PRESSWIRE.
---

7. LSU
Not a typical banner year for LSU, where they will have at least two losses and not be able to play in a BCS game by my estimations. It's rough, but that's the way it goes in the SEC West. The only thing they can hope for is a thing like last year and some sort of tie at the top and Alabama and Arkansas playing for the title and Georgia losing some games.

8. Oklahoma
Oklahoma really made an impression on me last year. They will get better this year and do some big things. I still don't see them matching up with the SEC teams or Wisconsin or USC. Virginia Tech could be a different story though. They defiantly are a powerhouse and should win most of their conference games. It could come down to strength of schedule.

9. Florida State
Florida State will win a lot of games. I feel they have more talent than any team in Florida or in their conference. The thing is I don't think they will be ranked high at the beginning of the season and that will hurt. If they keep their heads in the game, though, the sky is the limit for this ultra talented, ultra quick team.

10. Notre Dame
Notre Dame is finally back in the building! I know, it's a stretch, but hear me out. They have a tough schedule I know, and a young team I know, and the coach hasn't gotten it done yet I know. But they keep getting better. They do all the right things. With of course the exception of their quarterback this week, whom I think they should dismiss. They will prevail and I believe have some running backs that look really good lined up, finally have help up front and have 2 good quarterbacks. It's time.

Here's some early, pre-season 2012 SEC Football Predictions.
What do you think?

We'd love to hear your comments and/or opinions. If you submit them here, other visitors can read them, rate them and comment on them. An e-mail address is not required.


---
Best All Time College Football Quarterback | Best All Time College Football Running Back | All-Time NCAA College Football Fantasy Team | Best All-Time College Football Player | Best All Time College Football Coach | Best All-Time College Football Team | Best All Time College Football Conference | Most Underrated College Football Conference | Best All Time College Football Program | Best All Time College Football Cornerback | Best All Time College Football Fans | Best All Time College Football Linebacker | Best All Time College Football Revalry | Best All Time College Football Stadium | Best College Football Quarterback | Michigan - Ohio State Rivalry Damaged by Big Ten Divisions |
---
From 2012 College Football Predictions to NCAA Football History | Best All Time Sports Blog | History of Professional Football | MLB History | History of NBA | History of Hockey | NCAA Basketball History | NCAA Baseball History | Small College Football History | History of College Sports | Olympic Sports History | History of All Sports | Best Moments in Sports History | Worst All Time Sports Moment | Current Best All Time Sports News | Best Sports Forum | Best Sports Blogs | NFL Football Apparel and Merchandise | MLB Baseball Apparel and Merchandise | NBA Basketball Apparel and Merchandise | NHL Hockey Apparel and Merchandise | College Fan Apparel and Merchandise | Small College Sports Apparel and Merchandise | Other Sports Fan Apparel and Merchandise | Best Sports Gifts | Fathead | Sports Tickets |
---
Home Page

About Us | Contact Us | Site Search | Advertise | Terms of Use |
---