Best All-Time College Football Fans
Sometimes it is important that the best all-time college football fans get the recognition that they deserve. That is why it is a joy for me to share with you who I think they are - the Nebraska Cornhusker fans.
There are a few good reasons to select the fans of the Nebraska Huskers for this illustrious title. Let's look at a few of them here:
Nebraska Cornhusker fans are recognized as the best because they say so - really! Over every entrance of Memorial Stadium, you will see the words "Through these gates pass the greatest fans of college football." Talk about your self-affirming statements. Here is a school that really recognizes what the game is all about…the fans.
The next major reason the Husker fans are recognized as best all-time college football fans world over is simple, old-fashioned devotion. Back in 2005, the Huskers had to add an additional 6,000 seats to their stadium. Even with these new seats the stadium reports selling out completely year after year.
That is a crowd of more than 80,000 every single year! Pretty exciting for a college football team named after an essential, albeit monotonous, aspect of farming corn. At the time that the new seats were added, the college had received more than 15,000 requests for the additional seats. That many folks wanted to watch their favorite college football team play.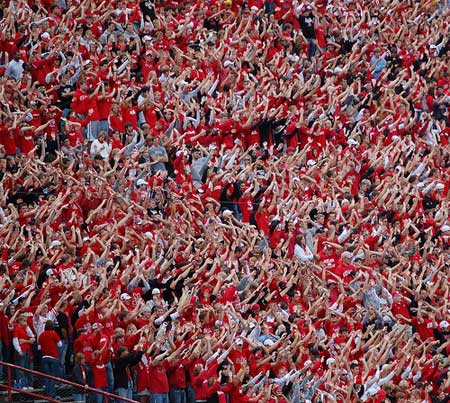 Huskers Touchdown Celebration. Thanks to flickr.com for the picture. Source: beatboxbadhabit
---
Besides the home games, which anybody can make it to, the fans keep up with their team on the away games too. An estimated 30,000 fans are reported to catch every single game in support of their favorite college football team. Even a non-fan has to admire that sort of devotion.
These best NCAA football fans in history even set a record for the single largest attendance of a college spring game by attending to the tune of 80,149 attendees. No other college can boast such an impressive record. With fans like those of the Huskers behind you, how could any team ever go wrong?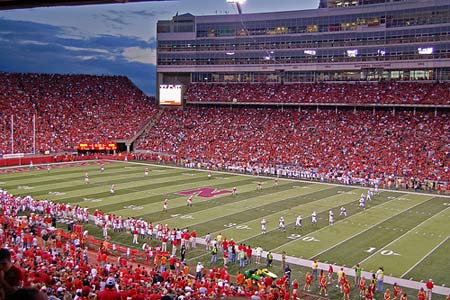 Huskers vs. New Mexico State Aggies was a total blast. The crowd was louder than usual, the Huskers played a good solid game. Thanks to flickr.com for the picture. Source: beatboxbadhabit
---
It makes sense that the fans of the Huskers are so loyal. After every winning game, the team themselves join in with the raving fans in singing "There's No Place like Nebraska." This tradition may have only begun in 2005, but it is sticking pretty hard fast.
You would know the song too if you had grown up singing it as so many Huskers fans and players have and it doesn't take an outsider long to pick up when the Huskers are running a winning season.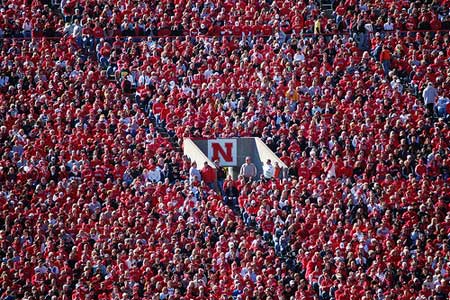 Huskers South Stadium. Thanks to flickr.com for the picture. Source: beatboxbadhabit
---
However, the biggest reason I recognize the Husker fans as the greatest college football fans ever is sheer consistency. The Huskers get to boast a consecutive 289 stadium sellouts in a row. That is pretty phenomenal in and of itself. "The Sea of Red" (as Husker fans are affectionately known as) has stood behind, and beside, the Huskers to the point that they deserve the title that is seen by all as you enter Memorial Stadium.
Now if the NCAA could just begin recognizing the Husker fans for being the best all-time college football fans ever, that would be the recognition they absolutely deserve.
What do you think?

We'd love to hear your comments and/or opinions. If you submit them here, other visitors can read them, rate them and comment on them. An e-mail address is not required.


---
Best All Time College Football Player
|
Best All Time College Football Coach
|
Best All Time College Football Conference
|
Most Underrated College Football Conference
|
Best All Time College Football Program
|
Best All Time College Football Cornerback
|
Best All Time College Football Linebacker
|
Best All Time College Football Revalry
|
Best All Time College Football Stadium
|
Best College Football Quarterback
|
---
From Best All Time College Football Fans to NCAA Football History | Best All Time Sports Blog | History of Professional Football | MLB History | History of NBA | History of Hockey | NCAA Basketball History | NCAA Baseball History | History of College Sports | Olympic Sports History | History of All Sports | Best Moments in Sports History | Worst All Time Sports Moment | Current Best All Time Sports News | NFL Football Apparel and Merchandise | MLB Baseball Apparel and Merchandise | NBA Basketball Apparel and Merchandise | NHL Hockey Apparel and Merchandise | College Fan Apparel and Merchandise | Other Sports Fan Apparel and Merchandise | Fathead | Sports Tickets |
---
Return to Home Page
About Us | Contact Us | Site Search | Advertise | Terms of Use / Privacy Policy |
---