Best All-Time College Football Stadium

College football stadiums are the equivalent of Mecca for NCAA football fans. They flock to the great stadiums to experience the amazing event that college football is.
However, these places are not just a place for a team to play and fans to watch an intense game. College football stadiums also are a community resource for employment and hosting other events. Millions of dollars are invested in the construction, maintenance, and marketing of college football venues, fields and stadiums. If the community is not behind their stadium and their team, not only does the home team lose out, but the community as well.
Picking the best ever college football stadium is a challenge as there are so many aspects that one would have to consider, from the seating, crowds, tailgate parties, food, even the price of the beer not to mention another 100 other things. So, to play it safe, I am just listing what I feel is the best all time NCCA stadiums by capacity. I know, the easy way out. Anyhow, here is my line up, argue it or not.
1. Michigan Stadium - University of Michigan - Ann Arbor, MI - 107,501The Michigan Stadium was built back in 1927 and since it was built it is nearly sold out to capacity at every game. Michigan Stadium has an amazing history as it hosts college football's all-time winningest team – the Michigan Wolverines. It's hosted dozens of National Championship teams; Heisman Trophy winners; and of course, every other year, the great Ohio State – Michigan rivalry game. No NCAA football team has won as many games as Michigan. What a great football history and tradition. Naturally, then, its stadium is the biggest and best college football stadium in America today.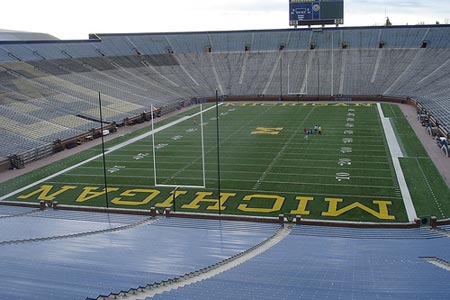 Michigan Stadium. Thanks to flickr.com for the picture. Source: andyphelan45
---
2. Beaver Stadium - Penn State University - State College, PA - 107,282 Until very recently the Beaver Stadium held the position as the biggest. There is no doubt though about the fans having some of the biggest hearts in the game. Their last expansion of seating was in 2001 for a game against Miami. Beaver Stadium is an outdoor stadium named after James A. Beaver, a former governor of Pennsylvania.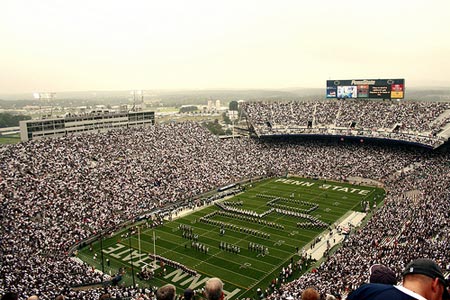 Beaver Stadium. Thanks to flickr.com for the picture. Source: Caitlinator
---
3. Neyland Stadium - University of Tennessee - Knoxville, TN - 103,037 Okay, I am aware that the Neyland Stadium has been ranked the best all time college football stadium by a Sporting News Poll back in 2001, so just keep in mind I am ranking these purely by capacity, although they do house a pretty loud crowd of fans. Neyland Stadium is home to the Tennessee Volunteers and lays claim to bragging rights to having housed over 50 million screaming fans since 1950 when capacity records began being kept. There has been multiple expansions over the 86 years of business with the record attendance of 109,061 (way over capacity) fans who showed up to watch the great showdown game between the Volunteers and Florida Gators; back in 2004. The VOLS won 30-28 by the way.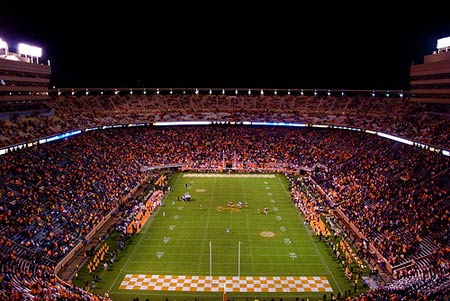 Neyland Stadium. Thanks to flickr.com for the picture. Source: Tennessee Journalist
---
4. Ohio Stadium - Ohio State University - Columbus, OH - 102,329 Built in 1922, the Ohio Stadium, home to the Buckeye's, started out with a 66,000-seat venue, which was sold out over capacity on its dedication day when 71,138 patrons showed up for the game against Michigan. Since opening day, the stadium has had revisions along the way, now houses 102,329 excited fans, and has had more then 36 million fans stream through its doors. Ohio Stadium is lovingly referred to as "The Horseshoe" because of its former shape before recent renovations.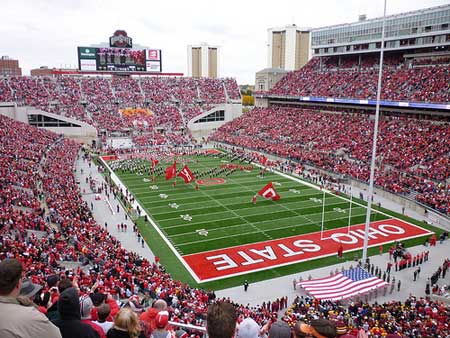 Ohio Stadium. Thanks to flickr.com for the picture. Source: Mat_the_W
---
5. Los Angeles Memorial Coliseum - University of Southern California - Los Angeles, CA - 93,607. Home to the University of Southern California Trojans football team The Coliseum opened its doors in June of 1923 but didn't play its first football game there until October of that year. The initial capacity of the Coliseum was 76,000 and has since grown to 101,574. For a couple different reasons, the Coliseum makes a great runner for the best all time college football stadium. For one, it is the only stadium that has ever housed an Olympic game, and not only once but twice, in 1932 and 1984. Secondly, it is the only Olympic stadium to have also hosted Super Bowls and World Series games.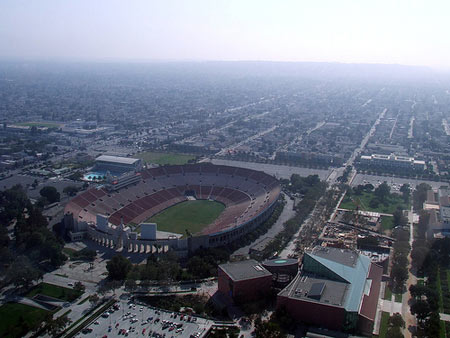 Site of the 1984 Olympics, and now home to the University of Southern California Trojans. Thanks to flickr.com for the picture. Source: scpgt
---
There you go. Picking the greatest college football stadium involves so many subjective factors, I decided to make the size of the stadium, number of fans who can fit, the determinative factor. So, biggest = best. And, naturally, in doing so, many other factors, like history, wins, atmosphere, just go along with being the biggest. In any event, undoubtedly, the five stadiums listed above are all spectacular and each could argue it is the best all-time college football stadium.
What do you think?

We'd love to hear your comments and/or opinions. If you submit them here, other visitors can read them, rate them and comment on them. An e-mail address is not required.


---
Best All Time College Football Player
|
Best All Time College Football Coach
|
Best All Time College Football Conference
|
Most Underrated College Football Conference
|
Best All Time College Football Program
|
Best All Time College Football Cornerback
|
Best All Time College Football Fans
|
Best All Time College Football Linebacker
|
Best All Time College Football Rivalry
|
Best College Football Quarterback
|
---
From Best All Time College Football Stadium to NCAA Football History | Best All Time Sports Blog | History of Professional Football | MLB History | History of NBA | History of Hockey | NCAA Basketball History | NCAA Baseball History | History of College Sports | Olympic Sports History | History of All Sports | Best Moments in Sports History | Worst All Time Sports Moment | Current Best All Time Sports News | NFL Football Apparel and Merchandise | MLB Baseball Apparel and Merchandise | NBA Basketball Apparel and Merchandise | NHL Hockey Apparel and Merchandise | College Fan Apparel and Merchandise | Other Sports Fan Apparel and Merchandise | Fathead | Sports Tickets |
---
Return to Home Page
About Us | Contact Us | Site Search | Advertise | Terms of Use / Privacy Policy |
---