Best All Time College Football Coach


The best all time college football coach, in my humble opinion, would have to be Tom Osborne. The reason I have chosen Tom Osborne is obviously not because of the three national championships (Bryant had six), but looking at all of his other numbers, you will see an amazing coaching record.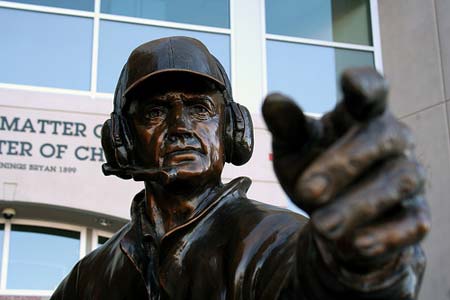 Tom the consummate coach and teacher. Thanks to flickr.com for the picture.
Source: RLEVANS
---
There are many similarities between Bear Bryant and Tom Osborne. Both were great coaches. Naturally, SEC Sports Fan picks the Bear as the greatest ever. Both coached for twenty-five years. Osborne had more wins than Bryant with 255. National championships are very important, but the overall total game wins where there is so much less glory, is what appeals to me. It is about the game.
Now, what NCCA football fan can't appreciate that? Any true fan does. Just look at the way Osborne finished up his last five years. Four undefeated regular seasons, playing for the championship four times, and winning three of them with a 60 to 3 record…wow! Now that's my kind of coach.
Osborne led the Huskers in '95 so well that many, including Athlon, considered that Huskers team the greatest college football team ever. And they may have been.
I know it is a stretch, but you could say of the last 5 years that Nebraska was certainly 1 play away from 4 national championships and 2 plays away from possibly playing for 5 championships in each of Tom Osborne's last 5 years. Awesome.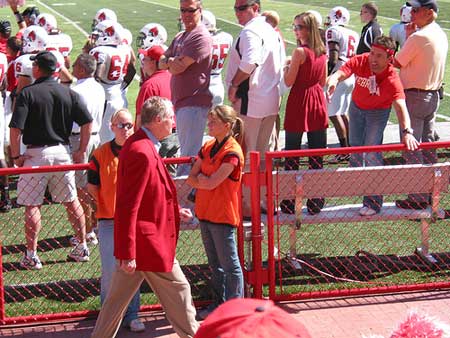 Tom Osborne Huskers Game. Thanks to flickr.com for the picture. Source: mdesive
---
There is more to any best all time college football coach than just their on-field actions though. It is only fair that we also look at the man behind the legend when he was not coaching the team. Tom Osborne held a PhD in Educational Psychology. Not many coaches held a Doctorate in something not sports-related. Maybe it was his psychology background that helped him make up some terrific game plans, psyching the components out. Whatever it was, he was damn good at it.
Tom Osborne was not known for screaming, yelling, and goading by threat. (This could have also been his educational background at play.) Just the mere fact that Osborne believed that building up the minds of his players first was just as important as building the players inside the uniforms, in my eyes makes him the best all time college football coaches ever. The Huskers loved him for it too.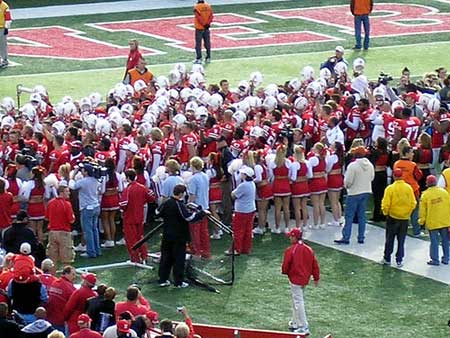 Huskers win and sing in the southeast corner of Tom Osborne Field.
Thanks to flickr.com for the picture. Source: beatboxbadhabit
---
The one single point that put Coach Osborne over the top in my choice of best all time NCCA football coach in history is that he fully recognized that there was more to his team than just the winning of the game. Coach Osborne understood that he was also helping to shape the future of the world in how he treated his players. Not all college football players go on to become pros. In fact, most don't . Osborne's ability to get the best from his players – both on and off the field, make him the greatest college football coach of all time. In my opinion.
What do you think?

We'd love to hear your comments and/or opinions. If you submit them here, other visitors can read them, rate them and comment on them. An e-mail address is not required.


What Other Visitors Have Said
Click below to see contributions from other visitors to this page...

Tom Osborne Was The Top Coach in College Football History






In 1973, Tom Osborne was handed the reigns to the successful Nebraska Football team. Just a year prior, his mentor and former boss Bob Devaney had won …
---
Best All Time College Football Player
|
Best All Time College Football Conference
|
Most Underrated College Football Conference
|
Best All Time College Football Program
|
Best All Time College Football Cornerback
|
Best All Time College Football Fans
|
Best All Time College Football Linebacker
|
Best All Time College Football Revalry
|
Best All Time College Football Stadium
|
Best College Football Quarterback
|
---
From Best All Time College Football Coach to NCAA Football History | Best All Time Sports Blog | History of Professional Football | MLB History | History of NBA | History of Hockey | NCAA Basketball History | NCAA Baseball History | History of College Sports | Olympic Sports History | History of All Sports | Best Moments in Sports History | Worst All Time Sports Moment | Current Best All Time Sports News | NFL Football Apparel and Merchandise | MLB Baseball Apparel and Merchandise | NBA Basketball Apparel and Merchandise | NHL Hockey Apparel and Merchandise | College Fan Apparel and Merchandise | Other Sports Fan Apparel and Merchandise | Fathead | Sports Tickets |
---
Return to Home Page
About Us | Contact Us | Site Search | Advertise | Terms of Use / Privacy Policy |
---