On September 3rd, the Big 10 conference announced the composition of its newly expanded divisions. What would otherwise have been a somewhat hum-hum event immediately became the most significant event of the young college football season when the conference commissioner confirmed that the two historically-best teams in the conference-Michigan and Ohio State-would be split between the two new Big 10 divisions.
The conference, which will contain twelve teams with the addition of Nebraska in 2011, will be divided into two divisions of six teams each. The first division will consist of Michigan, Nebraska, Iowa, Michigan State, Minnesota, and Northwestern while the second will have Ohio State, Penn State, Wisconsin, Illinois, Purdue, and Indiana. According to Big 10 commissioner Jim Delaney, conference leaders reached this decision because they felt that this split gave the conference its best chance at preserving local rivalries and achieving internal parity.

So what makes it such a massive travesty? Such a horrible mistake? Conference parity is fine and, to be fair, the Big 10 seems to have done a good job with that: each division has two elite programs (Michigan and Nebraska; Ohio State and Penn State), two capable programs (Iowa and Michigan State; Wisconsin and Illinois) and filler. Moreover, preserving internal local rivalries like Purdue and Indiana is laudable. But what makes it such a massive travesty is that the switch will end the nearly century long tradition of a Michigan vs. Ohio State rivalry game to end the Big 10 season.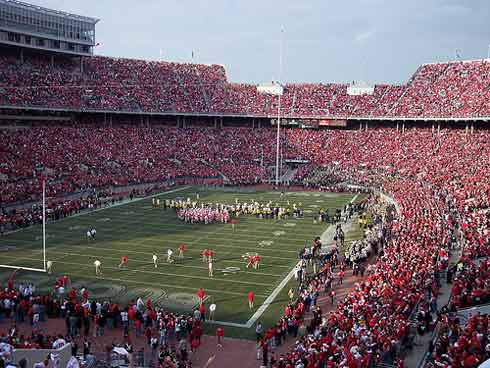 Michigan - Ohio State Football Rivalry.
Thanks to DRust at flickr.com for the picture.
---

The Michigan vs. Ohio State rivalry is the oldest, and likely most passionate, rivalry in all of college football. Part of the reason that it has remained so charged even when one program or the other entered a period of decline was that the weaker team could always summon all its energies and play spoiler for the other. This happened on more than one occasion, kept the rivalry strong, and provided Big 10 fans with the most interesting regular season game of the college football season every single year.

If the game is moved to the early part of the season as a result of this conference realignment, the rivalry will lose much of its luster. Michigan and Notre Dame are major rivals, but how many people are paying major attention to their upcoming game this weekend? Not many, which is because it is in the second week and does not have the significance of a late season game between powerhouse programs looking to attend marquee bowls. If you take that super-charged atmosphere out of the Michigan-OSU game, then you will take quite a bit of the heat out of the program's rivalry. That would (will unfortunately) be a shame for all of college football.
What do you think?

We'd love to hear your comments and/or opinions. If you submit them here, other visitors can read them, rate them and comment on them. An e-mail address is not required.


What Other Visitors Have Said
Click below to see contributions from other visitors to this page...

Oldest Football Rivalry Not rated yet
The oldest and most-played rivalry in Division I-A football is Minnesota-Wisconsin. They play for Paul Bunyan's Axe.
---
All-Time NCAA College Football Fantasy Team | Best All-Time College Football Player | Best All Time College Football Coach | Best All-Time College Football Team | Best All Time College Football Conference | Most Underrated College Football Conference | Best All Time College Football Program | Best All Time College Football Cornerback | Best All Time College Football Fans | Best All Time College Football Linebacker | Best All Time College Football Revalry | Best All Time College Football Stadium | Best College Football Quarterback |
---
From Michigan - Ohio State Rivalry Damaged By Big Ten Divisions to NCAA Football History | Best All Time Sports Blog | History of Professional Football | MLB History | History of NBA | History of Hockey | NCAA Basketball History | NCAA Baseball History | Small College Football History | History of College Sports | Olympic Sports History | History of All Sports | Best Moments in Sports History | Worst All Time Sports Moment | Current Best All Time Sports News | Best Sports Forum | Best Sports Blogs | NFL Football Apparel and Merchandise | MLB Baseball Apparel and Merchandise | NBA Basketball Apparel and Merchandise | NHL Hockey Apparel and Merchandise | College Fan Apparel and Merchandise | Small College Sports Apparel and Merchandise | Other Sports Fan Apparel and Merchandise | Best Sports Gifts | Fathead | Sports Tickets |
---
Home Page

About Us | Contact Us | Site Search | Advertise | Terms of Use |
---