According to Sugar Ray Robinson's autobiography, he was born in Detroit, Michigan, on May 3, 1921, even though his birth certificates states his birthplace was Ailey, Georgia. Robinson's father, Walker Smith Jr, was a cotton, peanut and corn farmer in Georgia and eventually moved his family to Detroit and found work as a carpenter. After his parents divorced, Robinson's mother, Leila Hurst, moved her three children to Harlem, when Robinson was twelve.
At an early age, Robinson chased dreams other than being a professional boxer. Robinson's original career goal of becoming a doctor was shatter when he dropped out of De Witt Clinton High school during the ninth grade. Robinson fell in love with the sport of boxing and quickly turned his attention toward the sweet science. At the age of 14, Robinson was turned away from his first potential AAU tournament because he did not meet the minimum age requirements. Robinson was eventually able to circumvent the AAU age restrictions by borrowing an identification card from a childhood friend, Ray Robinson. Robinson went on to have a stellar armature career, including an 85–0 record, with 69 knockouts, 40 coming in the first round and later went on to win the Golden Gloves featherweight championship in 1939 and the organization's lightweight championship in 1940.

After turning pro, Robinson continued to blow away all competition. On October 4, 1940, Robinson made his professional debut and defeated Joe Echevarria via second-round knockout. In 1941, he defeated world champion Sammy Angott, future champion Marty Servo and former champion Fritzie Zivic. In fact, the Robinson-Angott bout was held above the lightweight limit, since Angott did not want to risk losing his lightweight title. Robinson went on to build a 40-0 record before losing for the first time to LaMotta in a 10 round re-match.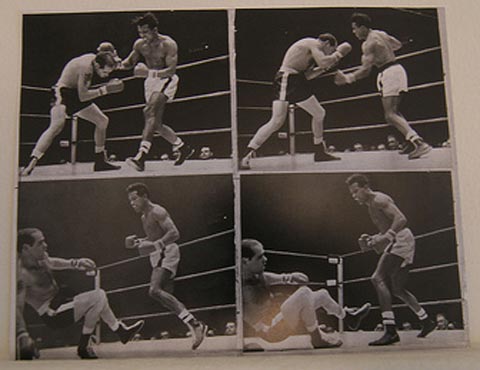 Best All-Time Boxer Sugar Ray Robinson (Left).
Thanks to shalbs at flickr.com for the picture.
---

Already considered one of the top fighters in the world, Robinson had to battle a non-athlete to secure his first title shot. By 1946, Robinson amassed an amazing record of 73–1–1 and had beaten every legitimate contender in the world. Although Robinson categorically refused to "work" with the mafia, who controlled most of the high profile boxing matches at the time, Robinson was finally given a chance to complete for a title against Tommy Bell on December 20, 1946. In the fight, Robinson, who only a month before had been involved in a 10 round brawl with Artie Levine, was knocked down by Bell. The fight was called a "war," but Robinson was able to pull out a close 15 round decision, winning the vacant welterweight title. Robinson went on to fight 19 times in 1950 and successfully defended his welterweight title for the last time with a lopsided 15 round decision over Charley Fusari.
Buy This Allposters.com

After dominated the welterweight division for over a decade, Robinson moved up to the middleweight division. In 1950, Robinson defeated Robert Villemain to win the Pennsylvania state middleweight title. One year later, Robinson and LaMotta fought for the sixth time and Robinson won the undisputed world middleweight title with a 13th round technical knockout. "I fought Sugar Ray so often, I almost got diabetes," LaMotta later said.

A near-perfect pugilist at welterweight, was less dominant at middleweight, but was still able to win the title an unprecedented five times, including three times after he had retired for two and a half years. Even Muhammed Ali referred to Sugar Ray as the greatest fighter ever. Over the course of his career, Robinson amassed a record of 75-19-6-2 and demonstrated his devastating punching power with 109 KOs. The majority of Robinson's losses were at the end of his career, in his prime, he was nearly unbeatable.
Here's an article about probably the best boxer in the world right now --
Manny Pacquiao
.
What do you think?

We'd love to hear your comments and/or opinions. If you submit them here, other visitors can read them, rate them and comment on them. An e-mail address is not required.


---
Best All Time Badminton Player | Best All Time Cross Country Runner | Best All Time Diver | Best All Time Field Hockey Player | Best All Time Gymnast | Best All Time Olympian | Best All Time Rowing Team | Best All Time Rugby Player | Best All Time Skier | Best All Time Soccer Player | Best All Time Soccer Team | Best All Time Swimmer | Best All Time Table Tennis Player | Best All Time Tennis Player | Best All Time Track and Field Athlete | Best All Time Volleyball Player | Best All Time Wrestler |
---
From Best All-Time Boxer to Olympic Sports History | Best All Time Sports Blog | History of Professional Football | MLB History | History of NBA | History of Hockey | NCAA Football History | NCAA Basketball History | NCAA Baseball History | Small College Football History | History of College Sports | History of All Sports | Best Moments in Sports History | Worst All Time Sports Moment | Current Best All Time Sports News | Best Sports Forum | Best Sports Blogs | NFL Football Apparel and Merchandise | MLB Baseball Apparel and Merchandise | NBA Basketball Apparel and Merchandise | NHL Hockey Apparel and Merchandise | College Fan Apparel and Merchandise | Small College Sports Apparel and Merchandise | Other Sports Fan Apparel and Merchandise | Best Sports Gifts | Fathead | Sports Tickets |
---
Home Page

About Us | Contact Us | Site Search | Advertise | Terms of Use |
---