Best All Time Wrestler

You may have to step into the ring to face off with another wrestling fan if you want to pick one professional wrestler as the top wrestler in the history of the sport of wrestling. People hold very strong opinions about their favorite wrestler. We're going to go with Hulk Hogan. There are those who will disagree, but Hogan is a twelve-time World Heavyweight Champion. His was the face of professional wrestling in the 80s. He played a hero character and, at times, also played the bad guy.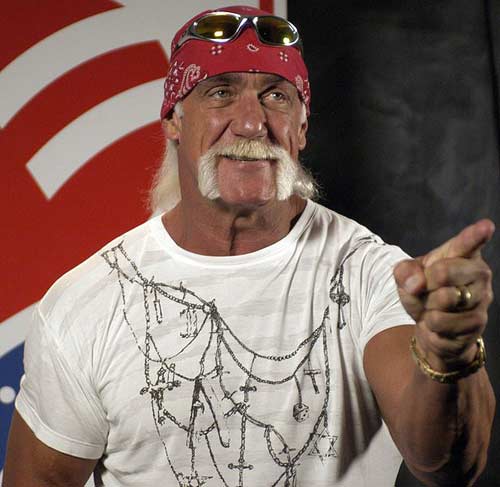 World Wrestling Entertainment star Hulk Hogan was the first to tape a message of support for the troops before the start of SummerSlam at the MCI Center in Washington on Aug. 21. Thanks to wikipedia.org for the picture.
---
Hulk Hogan was born Terry Gene Bollea in 1953. He liked wrestling as a teen and later, after dropping out of college, he became a professional wrestler. He had several ring names and after appearing on TV next to the Incredible Hulk, Bollea began performing as Terry "the Hulk" Boulder. He has also used the names Mr. America, Sterling Golden, and the Hulkster. He is 6-foot-8 and at his wrestling weight he weighed in at 303. His signature move was the leg drop.
Bollea wrestled in the World Wrestling Federation and also spent time touring Japan as part of the New Japan Pro Wrestling. He later was part of the American Wrestling Federation before returning to the WWF. By the late 1980s, "Hulkamania" had spread across the nation. Hogan was easily picked out of a crown by his bleached blonde mustache and bandana. He feuded with other wrestlers and was in and out of wrestling leagues. His image was as a tough guy, but he works with charities and has a gentler nature.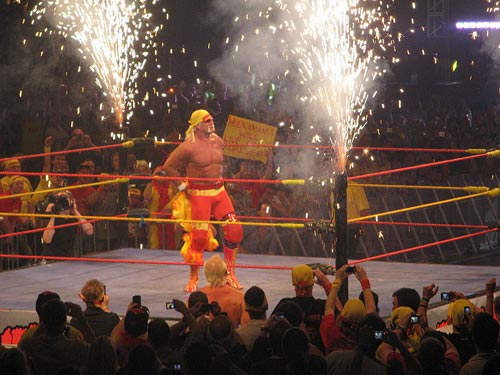 Hulkamania Tour Rod Laver Arena. Melbounre, AUS. Thanks to mattglover88 on flickr.com for the picture.
---
A steroids scandal came to light in 1994 which hurt his reputation. He was down but made a comeback. A nasty divorce and time in jail for his son have colored his personal life.
Hogan's popularity brought him roles on TV and in movies. He appeared in Rocky III. In 2002, he published his autobiography called "Hollywood Hulk Hogan." In 2005, he was inducted into the WWF Hall Of Fame. Hogan was responsible for the great popularity of professional wrestling during the 1980s.
Buy This Allposters.com
So, no matter what you think about Hulk Hogan as the all time best wrestler, you have to admit that he did a lot for the sport. He brought it exposure that another person might not have had the panache to pull off. Today you can even get the music he used for his entrance to use as your cellphone ringtone. Can there be a better indicator of popularity?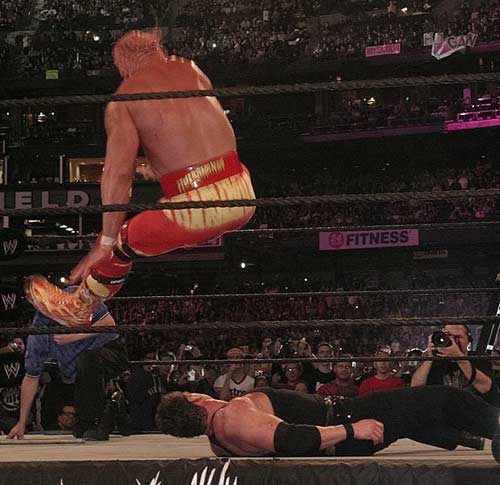 Hulk Hogan hitting his infamous Leg Drop on Vince McMahon March 30 2003 Safeco Field Seattle, WA. Thanks to Mshake3 on wikipedia.org for the picture.
---
---
What do you think?

We'd love to hear your comments and/or opinions. If you submit them here, other visitors can read them, rate them and comment on them. An e-mail address is not required.


---
Best All Time Badminton Player
|
Best All Time Cross Country Runner
|
Best All Time Diver
|
Best All Time Field Hockey Player
|
Best All Time Gymnast
|
Best All Time Olympian
|
Best All Time Rowing Team
|
Best All Time Rugby Player
|
Best All Time Skier
|
Best All Time Soccer Player
|
Best All Time Soccer Team
|
Best All Time Swimmer
|
Best All Time Table Tennis Player
|
Best All Time Tennis Player
|
Best All Time Track and Field Athlete
|
Best All Time Volleyball Player
|
---
From Best All Time Wrestler to Olympic Sports History | Best All Time Sports Blog | History of Professional Football | MLB History | History of NBA | History of Hockey | NCAA Football History | NCAA Basketball History | NCAA Baseball History | History of College Sports | History of All Sports | Best Moments in Sports History | Worst All Time Sports Moment | Current Best All Time Sports News | Best Sports Forum | NFL Football Apparel and Merchandise | MLB Baseball Apparel and Merchandise | NBA Basketball Apparel and Merchandise | NHL Hockey Apparel and Merchandise | College Fan Apparel and Merchandise | Other Sports Fan Apparel and Merchandise | Fathead | Sports Tickets |
---
Return to Home Page
About Us | Contact Us | Site Search | Advertise | Terms of Use / Privacy Policy |
---