The best all-time olympian is an athlete whose athletic achievements were not only spectacular and unparalleled; but who also displayed personal courage in using his athleticism to make an important political statement.
The Olympian I'm talking about is Jesse Owens. Owens was a gold medal winner in the 1936 Olympics in Berlin, Germany. He was the first American to win four gold medals in track and field events. As an African-American, his performance disproved the Aryan supremacy ideology of Adolph Hitler and the Nazi party. And, incredibly Owens did it in Berlin, as that was the site of the 1936 Olympic Games.

Of course, in 1936 the world was tense as Hitler was flexing his muscles throughout Europe. Only 3 years later, WWII began with Germany's invasion of Poland. So, what an amazing moment in Olympic and sports history Jesse Owens' victory was. By the way, the fact that Owens beat German athletes caused Hitler to avoid congratulating Owens on his victories.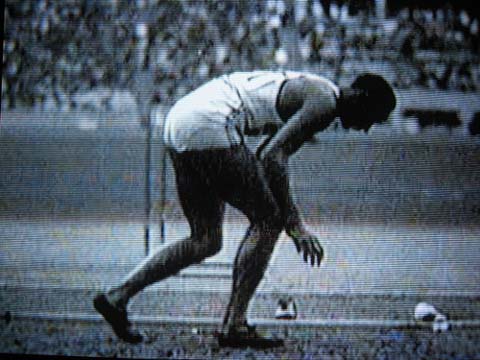 Jesse Owen 1936 Olympics. Thanks to telethon on flickr.com for the picture.
---

James Cleveland (Jesse) Owens was born in Alabama. He found his passion for running under the guidance of a favorite junior high track coach. When he went to college at Ohio State he won eight NCAA championships and set many records. Although he was welcomed at the track, he still had to eat at "black-only" restaurants and live off-campus.

At the 1936 Games, Hitler and the Nazis believed that African-Americans were inferior and wanted to use the Olympic games to prove it. Obviously, they were completely frustrated in their attempt to show white superiority by Owens' stellar performance. Hitler refused to attend the medal ceremonies and he was chastised for being selective in which athletes he greeted. The German people however, cheered Owens on. Owens won four gold medals which is something that was not matched until Carl Lewis did it in the 1984 Olympic Games.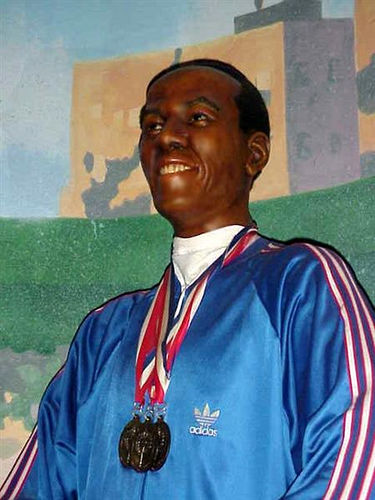 Jesse Owen gold medal winner in the 1936 Olympics in Berlin, Germany.
Thanks to mharrsch on flickr.com for the picture.
---

After the Olympic Games, Owens was honored with a ticker-tape parade in New York City. He then found that the lucrative offers he had heard of were not coming to him. He held several jobs including working at a gas station but ran into trouble with the IRS and filed for bankruptcy. Owens spent a lot of time working for underprivileged children. He was awarded the Medal of Freedom by President Carter in 1976.

After being a long-time smoker, Owens died of lung cancer in 1980. He was 66. He was posthumously awarded the Congressional Medal of Honor. The grandson of a slave, Owens made great strides in educating people about bigotry. Those four gold medals, in the face of Hitler's racial supremacy campaign, became a legend and one of the top moments in Olympic history.

Jesse Owens was an inspiration not just to those in the world of Track and Field, but also to the rest of the world. Not only is Owens one of the athletes who shaped sports history; his actions at the 1936 Berlin Olympics helped shape world history. This is why we name Jesse Owens the best all-time Olympic athlete.