The 5 Best Players of All Time in NBA History
By Aaron Saas

Today I'm going to be counting down the top 5 greatest players in NBA history, which is always a hotly debated topic. Most people agree on who's number one, but the rest of the list is almost always the issue.
Before I get started, I want to make mention that Bill Russell will not be included on this list, not because he's not one of the greatest players of all time, he is. But because he played long before my time, and other than a couple of black and white highlight videos, I've never actually seen him play, however, I acknowledge that he is the greatest winner in NBA history.

Now, let's get started!

5 – LeBron James
LeBron James is by far the most scrutinized player in NBA history dating back to his days in Cleveland, and of course, he was scrutinized for not only leaving Cleveland, but how he left.

In his first NBA Finals appearance in 2007, his Cleveland Cavaliers were swept by the San Antonio Spurs. Many people placed the blame on LeBron for getting swept, which is ridiculous. The Spurs were one of the greatest teams of that decade. Also, Tim Duncan's 2nd banana was Tony Parker, LeBron's was Larry Hughes, who bounced around between four different teams over the subsequent four seasons, and was out of the league in 2011.

Part of LeBron's legacy will be "The Decision" and how he chose to leave Cleveland. While I understand Cavs fans being upset about it, I also understand how LeBron wanted to take the opportunity to play with two of the best players of his generation in Chris Bosh and Dwyane Wade.

After losing in the 2011 finals to the Dallas Mavericks, LeBron captured his first NBA title the following year by defeating the Oklahoma City Thunder, and won his second in a row last season by defeating the San Antonio Spurs in what was one of the greatest NBA finals of all time.

This season, "The King" is shooting for his third NBA championship, and is the best player in the world right now. People will try to make a case for Kevin Durant, but to me, LeBron is still above him.

What makes LeBron a top 5 all-time great? First, his physicality. At 6'8" 250 pounds, he has the body of an old-school power forward, and he is the best athlete in the entire league right now. There's no one from this generation or any other that can stop him, and the future is still bright for LeBron, as he'll probably continue to rule the league for another 8 to 10 years.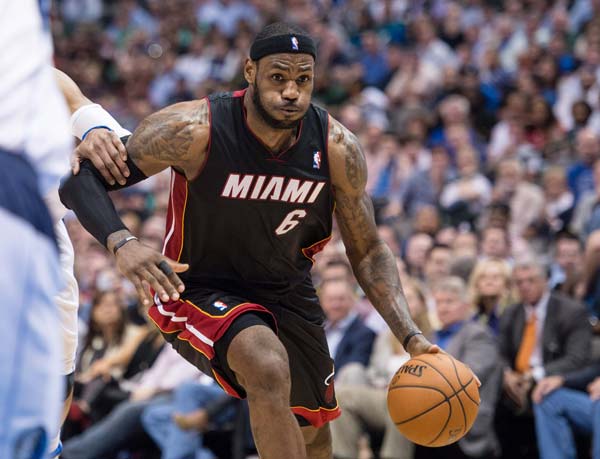 He's won 4 out of the last five regular season MVP awards, and has also won the last two finals MVP awards. He can do it all, totaling career regular season averages of 27.5 points, 6.9 assists, and 7.2 rebounds. His playoff numbers are similar, averaging 28.1 points, 6.7 assists, and 8.4 rebounds. On top of all of that, he's a 9-time all-star, he has made first team all NBA 7 times, second team all NBA twice, and first team all defense 5 times.

We've never seen a player like LeBron James before, and it's likely we'll never see a player like him ever again.


4 – Kareem Abdul-Jabbar
When people talk about the greatest centers of all-time, it seems that Kareem is almost always left off the list for whatever reason. Everyone always brings up Shaq, Russell, Wilt, and Hakeem. It baffles me that people can forget the NBA's all-time leading scorer, and the innovator of the sky-hook, possibly the most unstoppable shot we've ever seen.

Kareem began his NBA career in Milwaukee, as a member of the Milwaukee Bucks, and with the help of the aging Oscar Robertson, who was near the end of his career, he brought the Bucks franchise its first and only NBA championship.

Kareem played 3 more seasons in Milwaukee with "The Big O", but when Robertson called it a career, Adbul-Jabbar decided it was time for a change, and headed to the Los Angeles Lakers, where he would have to wait another 3 seasons for Magic Johnson to arrive.

With Johnson's help, Kareem and the Lakers won the NBA championship in 1980. As the years went on, it became more apparent that Kareem would have to take a secondary role, and Magic would be the man in LA.

Having Magic as his point guard probably extended Kareem's career a little bit longer than if he had played with almost any other point guard, as Magic was the greatest set-up guy the game had ever seen. He knew when to get Kareem the ball, and where he wanted it.

In my book, Kareem is the greatest center to ever play the game. He's at least the greatest center that I have ever seen. He's one of the few centers that had one go-to move that no one could ever stop, that being the famous sky-hook.

In terms of individual achievements, Kareem has 6 regular season MVP awards, 2 finals MVP awards, he's the NBA's all time leader in points with 38,387, and is a 19-time all-star, which is by far the most appearances any player has ever had. On top of all of that, Kareem has 6 championship rings, and his career regular season averages are 24.6 points, 2.6 blocks, and 11.2 rebounds.

Simply put, Kareem Abdul-Jabbar is the greatest center of all-time.


3 – Earvin "Magic" Johnson
It's not often that you'll see a 6'8" NBA player that's a point guard. In fact, outside of Magic Johnson, there haven't really been that many. On top of having great size for his position, he was also everything you would want a point guard to be. Unselfish, poised, and had great court-vision. He probably had the greatest court-vision out of anyone who's ever played the game. Combine that with him being possibly the most exciting player in NBA history to watch, and it's not surprise that most people have him as the greatest point guard in NBA history.

Magic came into the league in a great situation, as Kareem Abdul-Jabbar was already the Lakers center, and it didn't take long for him to make in impact in the league, as Magic won his first NBA championship in his rookie season.

As Kareem began to decline, more was asked of Magic, and he responded quite well, becoming not only a better facilitator, but a more reliable scorer. He was never a phenomenal shooter, as he only shot .303% from beyond the arc in his career, but he could score with his back to the basket, and he was also a terrific ball handler, so even if you sagged off of him, he could still get in the paint and score.

Some people could make the case that Magic won all of his championships because those Lakers teams in the 80's were loaded with talent, and while that's a good argument to make, my argument is that those players that were great on the Lakers in the 80's wouldn't have been nearly as good without Magic as their point guard, with the exception of Kareem of course.

Johnson's career was cut somewhat short, as he contracted HIV and retired in 1991. Even though his career was cut somewhat short, at the time he retired he was the greatest point guard to ever play the game. He returned in 1992 as he was voted into the all-star game, and was the game's most valuable player. In 1995, Johnson came back to the Lakers and played 32 games, starting just 9. He did well in his return, averaging 14.6 points, 6.9 assists, and 5.7 rebounds, but decided to call it a career in 1996.

Magic's individual achievements include 12 all-star appearances, 3 regular season MVP's, and 3 NBA finals MVP's. On top of all of that, his career regular season averages are 19.5 points, 11.2 assists, and 7.2 rebounds. His playoff averages are 19.5 points, 12.3 assists, and 7.7 rebounds. He also has 5 championship rings.


2 – Tim Duncan
Outside of Michael Jordan, Tim Duncan is the greatest winner in NBA history over the last 25 years. The Spurs have won over 70% of the games Duncan has played in, and outside of the strike year in 1999, the Spurs have never won less than 50 games with Duncan.

Early in his career, he played alongside David Robinson, and the two were probably the best center and power forward combo in NBA history. They won two NBA titles together, one in 1999, and the other in 2003.

There may have not been a better team in the 2000's than the San Antonio Spurs, as they claimed 3 NBA titles that decade. You can make the argument for the Los Angeles Lakers, who have 5, but to me, it's the Spurs because of their consistency and stability.

The only knock on Duncan is that he was never able to lead the Spurs to back to back championships, which is the only thing that he doesn't have in common with the game's greatest players such as Jordan, Shaq, Kobe, Hakeem, and LeBron.

Duncan has been a model of consistency for his entire NBA career, and is not only the greatest player of his generation, but the greatest power forward in NBA history. Duncan is currently in his 17th season, and has taken a secondary role to Tony Parker. However, Duncan is still as consistent as ever.

If he wanted to, Timmy could play for another 3 or 4 seasons, and still be just as effective. I think next season will be his last, as he has a player option to come back to the Spurs after this season, which he'll likely accept and retire after the 14-15 season.

Duncan's individual achievements include regular season averages of 20.0 points, 2.2 blocks, and 11.2 rebounds. His playoff averages are 21.9 points, 2.4 blocks, and 12.0 rebounds. On top of all of that, he's made the all-star team 14 times, has 2 regular season MVP's, and 3 NBA finals MVP's. He also has 4 championship rings.


1 – Michael Jordan
There's still no argument, Michael Jordan is the greatest player in NBA history. You combine freak athleticism, with a drive and determination that no one has ever seen or will see again, plus a player who's fundamentally sound, that player will almost always be the best player we'll ever see.

Like most great NBA players, Jordan did have some help along the way, as he didn't start winning his championships until Scottie Pippen arrived. When you have two of the 50 greatest players in NBA history on your team, along with the best coach in NBA history in Phil Jackson, you're destined to be a dynasty, and the Bulls certainly were.

Jordan destroyed the league in his first couple of seasons in the 80's, but as I mentioned before, it was a one man show. Year after year, the Bulls stockpiled adequate role players to go along with Jordan and Pippen. Finally, in 1991, Jordan won his first of 6 NBA titles. The Bulls won three straight titles twice in the 90's, and the only reason they didn't win every title in the 90's is because Jordan retired in 1993.

Michael returned to the court in 1995, and the team lost in the eastern semi-finals to the Orlando Magic. The subsequent season, the team added polarizing star Dennis Rodman, and went on to win an NBA record 72 regular season games, and the first of another three straight NBA titles.

Jordan walked away from the game again in 1998, but returned as a member of the Washington Wizards in 2001. While it was strange seeing Jordan in a Wizards uniform, he was still a very good player, averaging 20+ points in his two seasons with the team. People like to say that he wasn't all that good when he played for the Wizards, and while he wasn't quite "Air Jordan" anymore, he was still a very good player.

The Wizards never made the playoffs in Jordan's two year tenure there, and he retired for a third time in 2003. There has been some speculation of Jordan making another comeback, and playing at least one game with the Charlotte Bobcats, which he is the owner of. If he did, he would be the oldest player to ever play in an NBA game at 51 years old.

Jordan's individual achievements include being the third all-time points leader in NBA history, with 32,292, behind Karl Malone and Kareem Abdul-Jabbar. Jordan's career regular season averages include 30.1 points, 2.3 steals, 5.3 assists, and 6.2 rebounds. His playoff averages are even better, averaging 33.4 points, 2.1 steals, 5.7 assists, and 6.4 rebounds.

Michael won 5 regular season MVP's, 6 NBA finals MVP's, he's a 14 time all-star, and one of only two guards to ever win defensive player of the year. On top of all of those accolades, he has 6 championship rings, and is the best player to ever play the game.


What do you think?

We'd love to hear your comments and/or opinions. If you submit them here, other visitors can read them, rate them and comment on them. An e-mail address is not required.


What Other Visitors Have Said
Click below to see contributions from other visitors to this page...

Kobe Bryant Best All Time Not rated yet
Standing 6'6 205 lbs, the 15 time all star, Kobe Bryant, is the best all around basketball player in the game. Kobe is one of the few players to come to …
The 5 Best Players of All Time in NBA History to History of the NBA