Best All Time College Basketball Fans

The best all time college basketball fans are the fanatical fans ofthe University of North Carolina Tarheels. We all know about the greatcollege basketball rivalry between Duke and North Carolina, butwhat is most inspiring to see is that the UNC b-ball fans are alwaysfired up; for every game.
UNC fans are die-hard fans. Have you ever seen a Tarheel fan alldecked out in their Carolina Blue paint and apparel? Amazing. Evenif their team is losing they never lose their spirit.And, potential recruits often pick UNC over other schools because theyknow they will get great fan support at Chapel Hill.

Of coursegetting top recruits is the first step to getting the great players those recruits later become. Remember Michael Jordan? Phil Ford? Tyler Hansbrough? James Worthy? Bob McAdoo? All former Tar Heels. All picked North Carolina, at least partly because of the great Carolina fans.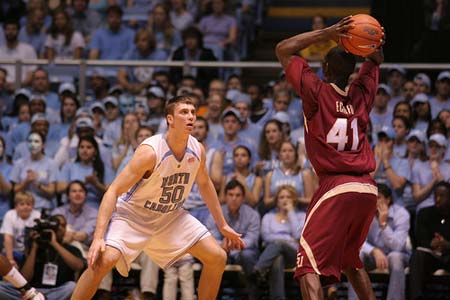 UNC vs. FSU - Tyler Hansbrough. Thanks to flickr.com for the picture. Source: kevin813
---

It's hard to say what came first -- the great Carolina basketballwinning tradition or the fans. However, at this point, it doesn'treally matter. North Carolina has both and they feed on each other: fans and winning. The latest being the 2009 NCAA Basketball March Madness Tournament.

The other thing that great fans do is inspire and motivate the team during games. Carolina games are almost always sold out -- over 20,000 screaming maniacs. The only school that arguably could be ranked ahead of UNC as the top NCAA b-ball fan school would be Kentucky. And, Kentucky is great. The Wildcats are just ahead of UNC in all-time wins and also in fan attendance.
UNC vs. FSU - Brandan Wright. Thanks to flickr.com for the picture. Source: kevin813
---

The reason we pick UNC #1 is because of the conference they are in. It is simply the best all time college basketball onference. Kentucky has rivalries with Tennessee and Florida. But, it's nothing like the Tarheels' rivalries with Duke or NC State or, heck, Wake Forest for that matter. The ACC is simply loaded with great teams with tremendous college basketball history and tradition. That all translates into a better, more intense, fan experience and commitment -- than can possibly happen at an SEC basketball game -- even at UK.

The bottom line is that UNC fans are the top college basketball fans. Period.
What do you think?

We'd love to hear your comments and/or opinions. If you submit them here, other visitors can read them, rate them and comment on them. An e-mail address is not required.




---
Best All Time College Basketball Coach
|
Best All Time College Basketball Conference
|
Best Women's Basketball Conference
|
Best Current College Basketball Conference
|
Best All Time College Basketball Rivalry
|
Best All Time College Basketball Scorer
|
Best All Time College Basketball Arena
|
---
From Best All Time College Basketball Fans to NCAA Basketball History | Best All Time Sports Blog | History of Professional Football | MLB History | History of NBA | History of Hockey | NCAA Football History | NCAA Baseball History | History of College Sports | Olympic Sports History | History of All Sports | Best Moments in Sports History | Worst All Time Sports Moment | Current Best All Time Sports News | NFL Football Apparel and Merchandise | MLB Baseball Apparel and Merchandise | NBA Basketball Apparel and Merchandise | NHL Hockey Apparel and Merchandise | College Fan Apparel and Merchandise | Other Sports Fan Apparel and Merchandise | Fathead | Sports Tickets |
---
Return to Home Page
About Us | Contact Us | Site Search | Advertise | Terms of Use / Privacy Policy |
---