NFL Best All-Time Teams: Can the Baltimore Ravens Repeat?
Take a deep breath, Ravens fans, it's only the preseason.

Still, in the final dress rehearsal before the lights turn on for real, Baltimore can't be thrilled with their performance on Thursday night against Carolina.

For football expert odds to increase your betting chances for this NFL season, try out SportsBet.com for the most up to date information.

The defense did their part – they kept the Panthers offense out of the end zone all night long.Instead, it was the offense and special teams contributing to the final 34-27 score, as the Ravens watched the Panthers score four return touchdowns – one on an interception thrown by Joe Flacco, one thrown by Tyrod Taylor, one on a fumble recovery, and one more on a punt return.

"Sloppy" was the word most bandied about after the game, and there's a note of panic beginning to develop – Flacco, after an interception-free postseason, has been intercepted four times in only six quarters of work, throwing an INT in every game.He's averaging one INT every 10.5 passes.

This isn't Flacco's fault, though – or, at least, not entirely.This is an expected result of the massive turnover in receiving options he's had to go through. With AnquanBoldin out of town and Dennis Pitta out for the year, two of his biggest safety nets from last year are out, and in their place are a lot of players who he's not yet comfortable with. Forget last year – three of his targets weren't in uniform at the beginning of training camp. Dallas Clark was just signed on the 11th!
They haven't had nearly enough time to develop the sort of rapport a quarterback really needs. Take the interception returned from a touchdown from Thursday night, for instance – it's not a bad throw or a bad read, but rather a miscommunication. Flacco's reads the defense doing one thing and throws an out-route, while Tandon Doss reads another and cuts up the field, leaving the ball wide open for Drayton Florence.

Not so much on the Kuechly interception, though -- that comes from Flacco staring down VisantheShiancoe all the way, and then forcing the ball in to coverage. That's the exception to the rule – the other interceptions all come from miscommunication or receivers not fighting for the ball.Flacco hasn't turned into Mark Sanchez overnight, have no fear.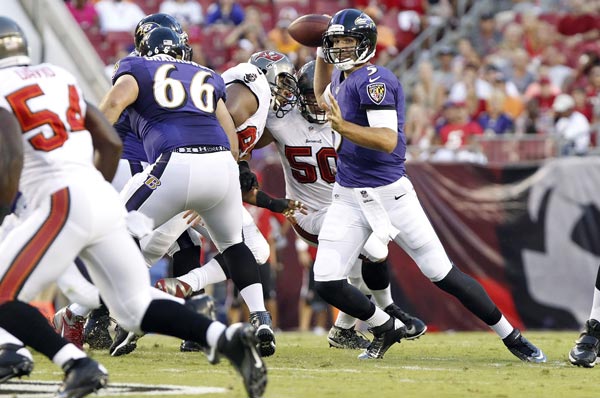 Well, perhaps a little fear – miscommunications and unfamiliarity, while they can be cleared up, can still cause ugly nights like the once against Carolina. "We obviously turned the ball over, and you lose more games than you win in this league when you do that," Flacco said after the game. "With what we did tonight, we're not going to win a lot of football games doing that."

The biggest concern is that there was just a lack of rhythm on offense all game long. The offensive line had trouble picking up rushers in pass protection – Luke Kuechly, in particular, had an amazing night for Carolina. Receivers dropped passes and ran the wrong routes. With the starters unlikely to play long, if at all, against St. Louis, the Ravens wanted to set up some sort of momentum going into the regular season, but got nothing in return.

Fortunately, momentum is overrated, and it's not like the Ravens don't have weapons, with Ray Rice and Torrey Smith and whatnot. But it would be nice to see some life in the offense, and until their final drive against the Panthers, they showed very little.

One player who did step up, though, was undrafted receiver Marlon Brown – with four receptions for 59 yards and a touchdown, he came out looking better than any of the other Ravens receivers on the night. With the position wide open next to Torrey Smith and Jacoby Jones, Brown might get some real action this season, as he had the chemistry that other receivers were lacking. Brandon Stokely also showed some rapport with Flacco, which is impressive because he was only signed two weeks ago. Twice, Flacco found Stokely for big third-down conversions.

There were other high points to take away, as well – the defense, long the calling-card of the Ravens, really did step up, especially linebacker Daryl Smith, who had a sack and three tackles and was visible all over the field. Overall, they held the Panthers to 3.7 yards per play and only 14 first downs – when you hold the other team to a 30% third down conversion rate, you're going to win a lot of games.

With a 0-4 gap in turnovers, they're not going to win a lot of games.

Pump the breaks, don't panic, but the Ravens look to have a bit more tuning up to do before they open the season in Denver on September 5th. With reports that these interceptions have been happening in practice, too, there is cause for concern here. It is just preseason, but if the Ravens want to defend their crown, they've got to work out the kinks soon.


What do you think?

We'd love to hear your comments and/or opinions. If you submit them here, other visitors can read them, rate them and comment on them. An e-mail address is not required.


NFL Best All-Time Teams: Can the Baltimore Ravens Repeat to History of Professional Football