Best College Sports Fans


Which college sports team has the best fans? The most people painted up in team colors tailgating before each game, the loudest cheering section at any game home or away? Which fans are the most faithful who sticks with their team through winning seasons as well as dismal seasons?
The fans of all the SEC schools are a tight knit group of fans that make sure their teams are supported wherever they may be playing. Out of this group of schools probably the best fans to be found are the fans of the University of Mississippi Rebels. Ole Miss fans are proud of their "redneckery". The team mascot "Colonel Reb" is old fashioned rebel, who looks like Colonel Sanders of Kentucky Fried Chicken Fame dressed in red white and blue.
Attending an Ole Miss game means you will see fans of all ages painted in the red white and blue, waving rebel flags, carrying pennants with the large "M" logo and having a great time cheering very loudly for their team.
No matter how the season record stands Ole Miss fans will be out in force, rain or shine to cheer their boys on to victory. If they win you can expect a rambunctious celebration in the stands and parking lot, amusingly if they lose you can expect the same joviality as they will claim that the next game will be theirs. Rebels fans aren't worried about winning or losing they are simply there to show their support for their team and enjoy each game loudly.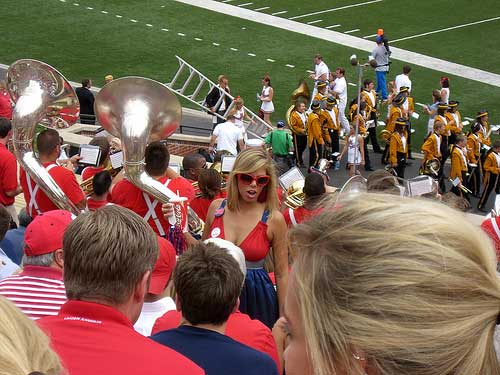 An Ole Miss fan in goofy glasses. Thanks to lordsutch on flickr.com for the picture.
---
When you hear the marching band strike up Dixie, you know you are in Ole Miss country and you should be prepared for fans to storm to their feet and cheer. Ole Miss fans are known for cheering the school cheer "Hotty Toddy" Which goes a little something like this: "Are you ready? Hell Yeah! Damn Right! Hotty Toddy Gosh Almighty Who the Hell are We, Hey! Flim Flam, Bim Bam OLE MISS BY DAMN!" And believe me when they get to the last line of that cheer the fan is trembling with excitement!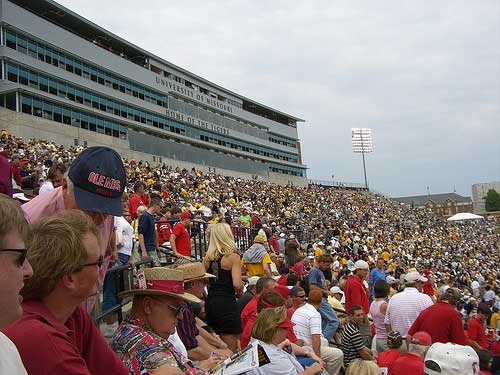 Fans in the west stands. Thanks to lordsutch on flickr.com for the picture.
---
The Mississippi Rebels have football, baseball, and basketball, tennis and volleyball teams. Their fans are as loyal to the women's basketball team as they are to the men's football, which goes to show that Ole Miss Fans simply love the competition of the game. It doesn't matter what the sport is as long as the Rebels are playing they will be there, in force, in colors, and usually announcing themselves at the top of their lungs.
If you've never attended an Ole Miss sporting event, it is worth the price of the ticket simply to watch the fans cheer the team on. Of course there are some wonderful players on all the Ole Miss teams so the games are also going to keep you on the edge of your seat, and before you know it you may be an Ole Miss fan who paints up before going to the game. Brush up on your Hotty Toddy cheer and join in!
What do you think?

We'd love to hear your comments and/or opinions. If you submit them here, other visitors can read them, rate them and comment on them. An e-mail address is not required.


---
Best All Time College Sports Conference
|
Best Sports College
|
Best College Sports Town
|
Best All Time College Hockey Scorer
|
Best All Time College Hockey Arena
|
---
From Best College Sports Fans to History of College Sports | Best All Time Sports Blog | History of Professional Football | MLB History | History of NBA | History of Hockey | NCAA Football History | NCAA Basketball History | NCAA Baseball History | Olympic Sports History | History of All Sports | Best Moments in Sports History | Worst All Time Sports Moment | Current Best All Time Sports News | NFL Football Apparel and Merchandise | MLB Baseball Apparel and Merchandise | NBA Basketball Apparel and Merchandise | NHL Hockey Apparel and Merchandise | College Fan Apparel and Merchandise | Other Sports Fan Apparel and Merchandise | Fathead | Sports Tickets |
---
Return to Home Page
About Us | Contact Us | Site Search | Advertise | Terms of Use / Privacy Policy |
---