Best All Time Quarterback:
Brady vs Montana vs Bradshaw
By: Kory Kinslow
Deciphering the Numbers: Who's the Greatest NFL Quarterback Ever? If you purely looked at the numbers, the three quarterbacks that most of us feel are in the running for best quarterback ever, may not necessarily be at the top. So many great quarterbacks have thrown for so many yards, played in so many games, thrown so many touchdowns, but the true measure of greatness in any sport is winning. Winning is why the game is played. If we played the game and got a score based on how many yards each person threw for or touchdowns and didn't count all of the intangibles then different people would win.
Certainly many quarterbacks have great statistics, but didn't have the defense or other players around them to win, but we must consider the fact that the goal of this game is to win. Considering this I narrow the list down to the three that most of you probably know I am going to name. I say it's between Tom Brady, Joe Montana, and Terry Bradshaw. We will look at some things about each of these quarterbacks to come to a logical conclusion.
If we look at these three quarterbacks according to statistics we see a good comparison. Tom Brady has thrown for the 5th most yards in NFL history with 53, 258. Joe Montana has thrown for 40,551 in 13th all time and Terry Bradshaw ranks out of the top 20. Tom Brady has thrown 4,551 completions which is once again 5th all time. Joe Montana has thrown 3,409 completions which is 12th all time. Once again Bradshaw is not in the top 20. Tom Brady is in 5th all time with 392 Touchdowns thrown. Joe Montana is 11th with 273 touchdowns and Bradshaw again not in the top 20. Looking at career statistics the scales weigh heavily in favor of Tom Brady.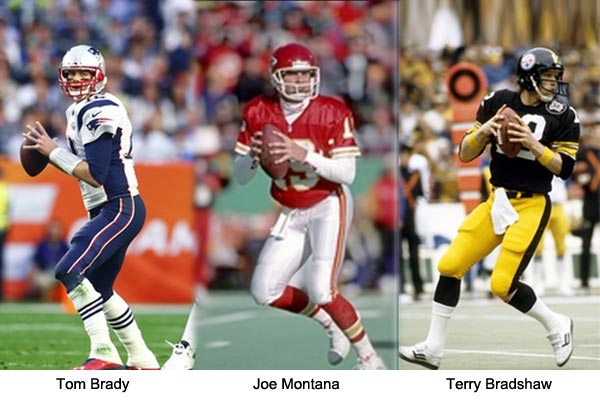 Terry Bradshaw has two Super Bowl MVP's. Joe Montana has three Super Bowl MVP trophies and Tom Brady has three as well. Tom Brady has started in 6 Super Bowls and is 4-2. Joe Montana and Terry Bradshaw are both 4-0 in Super Bowls starts. These statistics show two things, Tom Brady has won as much, lost more, but gotten his team to the game more. 
I think simply looking at statistics is hard to do, but we must also consider the fact that Brady has simply out played the other two quarterbacks in the regular season and has brought his team to the big game more times. It is a quarterback's league more than it ever has been. Players get more attempts per game, so of course the statistics are a bit skewed. I think, however, that we must take into consideration the number of games you must win and percentage of games you must win to get your team to the game 6 times over 4 times. 
I think with all of the evidence we have put together in this article that all three of these quarterbacks were the best of their generation, but if I had to put one of them out on the field for a full game to win it, I take Brady. I do believe if it came to the last second I would go with Montana, but that's not the question either. It's who do I want for a full season and taking all things into consideration, I feel that the best all time quarterback is Tom Brady.


What do you think?

We'd love to hear your comments and/or opinions. If you submit them here, other visitors can read them, rate them and comment on them. An e-mail address is not required.


What Other Visitors Have Said
Click below to see contributions from other visitors to this page...

Best ? pro QB Not rated yet
Three excellent candidates submitted by K.K. But there were other "pre-SB Ring Collectors" we should consider, e.g.: Blanda, Van Brocklin, Unitas and on …
Best All Time Quarterback: Brady vs Montana vs Bradshaw to History of Professional Football