7 Greatest Shooters in NBA History
Posted contributed by Andrew Zurchen with Connor Sports – the basketball sport flooring specialists. Andrew loves reading and writing about anything basketball related. While he always dreamed of a career in the NBA, his lack of coordination, horrible shooting, and inability to jump forced him into early retirement.

I remember watching World B. Free (Lloyd B. Free) of the Philadelphia Sixers play in a game towards the end of his career. This explosive scorer would casually strut down the floor with an ineffable confidence and shoot the lights out of the basket time and time again. Watching this relatively small person (only about 6 feet tall) with a gold chain medallion around his neck, humiliate the opposing team, left a real impression on me. His spinning lay ups and high arching 25 footers were truly a sight to see. He was definitely an incredible all around shooter.
Tough to Make the List
Free legally changed his name to "World" because of his ability to hit shots from around the world. He is actually credited with saving the Cleveland Cavaliers franchise back in the early 80's by taking the team to the playoffs and selling out the previously near vacant arena. World B. averaged over 20 points per game in his 13 NBA seasons and averaged over 30 points per game in the 1979-80 season.  No, he doesn't make the list, but that is the point. There are countless players from the past that were incredible shooters just like World, and yet they don't even make the list.

The Cream of the Crop
That is just how good the top ten shooters really are. Obviously, this list is pretty subjective because the raw stats don't tell the whole story. A supporting cast has a lot to do with the amount and type of scoring opportunities a player really gets. Here is my list of the top ten shooters.

7. Peja Stojakovic
At 6 ft 10, Peja is the tallest player on the list. Despite his size, Peja had a sweet shot and currently ranks 6th on the list of most 3 pointers made in a regular season while averaging over 40% from behind the arc. Peja won the 3 point shooting contest twice and exceeded 100 three pointers 10 different times during his NBA career.

6. Pete Marvich
"Pistol Pete" is not only considered to be one of the best shooters of all time, he is also regarded by many as one of the best ball handlers of all time as well. While not able to match his insane collegiate scoring average of over 44 points per game, Marvich still had a very prolific NBA career. Marvich was known for his great long range shooting, but it actually wasn't until his final NBA season that the league instituted the 3-point shot where he hit 67% of his attemps in very limited play in his final season due to a knee injury.

5. Stephen Curry
Son of former NBA great Dell Curry, Stephen was born with basketball in his blood. After only a few seasons in the league, he has already set the record for 3 pointers made in a regular season at 272. Some NBA fans consider Curry and teammate Klay Thompson to be the best shooting duo at guard in NBA history. They just combined for a record 483 three pointers. Curry shot 45% for behind the arc, and the scary thing is that Curry still has several great years left in him. He could eventually very well go down as the best shooter of all time before it's all said and done.

4. Jerry West
Although the NBA is still reluctant to admit it, it is popular belief that Jerry West's silhouette was used when designing the current NBA logo. West played his entire 14 year career for the Los Angeles Lakers. West still holds the record for most points per game in a playoff series with 46, and I'm pretty sure that is a record that will never be broken. He averaged 27 points per game during his storied career, and was nicknamed "Mr Clutch" for this ability to hit big shots in clutch situations.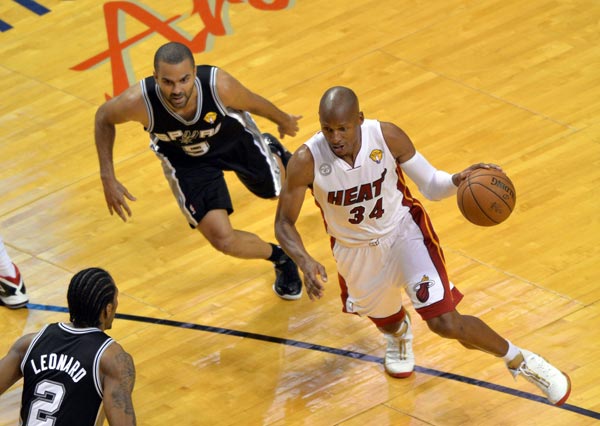 3. Ray Allen
Ray Allen is a ten time NBA all star and current member of the Miami Heat. He will always be remembered as one of the most accurate free throw and 3 point shooters of all time. Allen already has an Olympic gold medal and NBA championship under his belt and could add another NBA championship to his resume before officially calling it quits. He is the all time NBA leader in 3 point field goals made at almost 2,900 and counting.

2. Larry Bird
Bird was famous for being a little slow and not the greatest jumper, but when it came to shooting, he was one of the most prolific scorers in NBA history. He averaged over 24 points per game in his career, and next to Michael Jordan, he is known as one of the ultimate clutch shooters of all time. It was Bird's strong will and competitive spirit that mystically won games. He was a 12 time NBA all star and the leagues's most valuable player three times, and keep in mind that Bird had some great competition for the MVP award back in his day.

1. Reggie Miller
According to bleacherreport.com, "Reggie Miller is the purest and most magnificent shooter to ever step foot on a basketball court. It's not even close." During his 18 years with the Indiana Pacers, he took the team to the playoffs 15 times and to the conference finals six times. Miller was the consummate jump shooter that could run around screens, stop on a dime in a lightning fast motion, and shoot. He simply couldn't be stopped. The bleacherreport considers Miller to be the most efficient shooter in the history of the NBA. In the 1995 playoffs, Miller scored eight points in less than 9 seconds against his fierce rivals the Knicks. Those eight points in the final seconds of game one helped lead the Pacers to a stunning 107-105 victory over the Knicks.

I know. I'm sure I have probably left some great shooters off my list and many will disagree with at least a couple of my selections, but with so many great shooters to come through the league, it sure is hard to narrow the list down to just 7. How does your list of best shooters in NBA history compare?


What do you think?

We'd love to hear your comments and/or opinions. If you submit them here, other visitors can read them, rate them and comment on them. An e-mail address is not required.


What Other Visitors Have Said
Click below to see contributions from other visitors to this page...

Bird Not rated yet
Anyone who saw enough basketball from 1980 on would say Bird was first. Put whoever you want second, but there is no question who was the best. Bird could …
7 Greatest Shooters in NBA History to History of NBA